I interned with Pavitra Rajaram and worked on this project to help with

home furnishing design

,

sourcing, and execution on site.

I worked on

creating and curating art and pairing it with the textile furnishings

to marry spaces and reach the aesthetic vision of each villa.
FEATURE IN

VOGUE

(MAY-JUNE ISSUE): 
FEATURE IN

CONDÉ NAST TRAVELLER

(MAY-JUNE ISSUE): 
FEATURE IN

ARCHITECTURAL DIGEST 

(JULY-AUGUST ISSUE): 
Cotton House is a thoughtfully curated, sensitively designed, sunlit 4-bedroom villa that showcases a beautiful blend of contemporary design influences from India and beyond. It has an eclectic energy that speaks to the global traveller. This is a smart home that celebrates the effervescence of tropical living with a lush landscape and a profusion of airy indoor-outdoor spaces enveloped in gardens that bloom through the year and perfumed creepers that fill the night air. A private pool, generous terrace and garden-courtyard complete the scene. The beauty of craftsmanship surrounds you in every part of the home, with gorgeous textiles like ikat and mashru used in an elevated, contemporary way, as well as artefacts, artworks and accents handpicked from the souks of West Asia, bazaars of the Far East and local Goan markets that punctuate special, unforgettable pieces.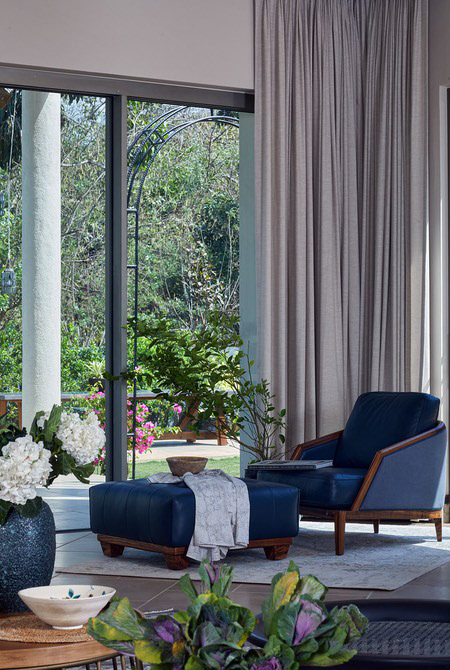 Cinnabar House is a wonderfully expansive, sun-drenched 5-bedroom villa that embodies the soul of the Mediterranean coast in the heart of Assagao. Set in a lushly landscaped private estate, it offers endless views of paddy fields, palm trees and hills—and so many perfect corners and perches from which to take them in. With its large, gracious rooms flooded with light, this smart home sets a warm, inviting tone and plays with a sensuous palette of neutrals and abundant use of natural textures. This villa is designed to optimise your time in the sun, with a sprawling pebbled courtyard and three beautiful terraces for effortless entertaining at any time of day (or night). A luxurious pool along the side of the villa offers unbroken views of the fields stretching to the hills beyond, and a large deck as well as a generous al fresco dining area by the poolside is perfect for lingering brunches and nights under the stars.
Nestled in the tall, dense woods of Assagao, Macassar House is a romantic and glamorous 6-bedroom villa that welcomes in the dappled light and hushed beauty of the forest at every turn. With sophisticated flair and dramatic reveals, this smart home brings in a beguiling mix of design influences from Asia, Africa and Arabia, whether it's in the Bismarckia palms that dot the garden outside, the intricately woven, antique tribal rugs in the living room or the sensual crushed silk curtains in the bedroom. At the heart of the home is a delightful private courtyard awash in a pattern of sunlight and shadows through the day, a warm, versatile space that's perfect for entertaining, dining or even as a stage.
TEXT ON THIS PAGE IS FROM THEIR WEBSITE.