---
YOG LOVE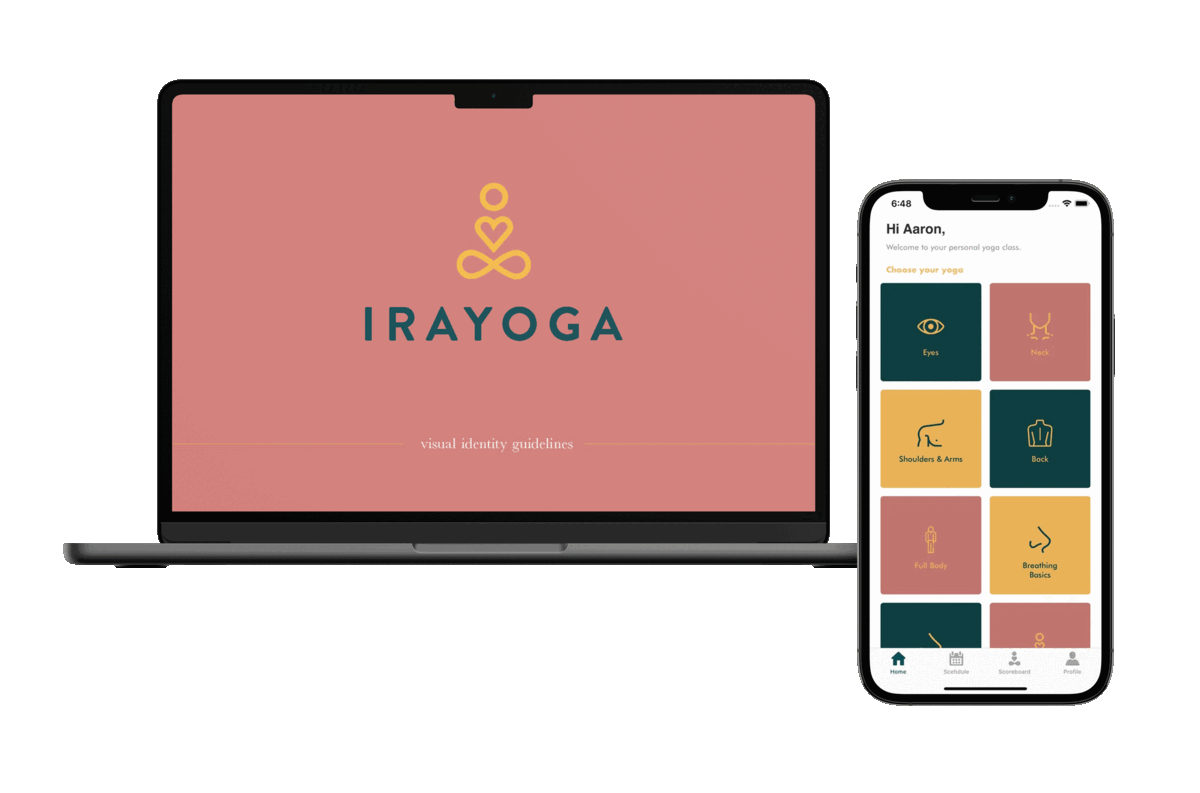 ---
Client
Yog Love (formerly Ira Yoga Wellness)
Timeline
12 weeks (April-June '20)
Tools
Adobe Xd, Adobe Illustrator, Adobe Photoshop, HTML, Pen & Paper
Skills
UI/ UX Design, User Research, Visual Design, Wireframing, Prototyping, User Testing, Branding, Project Management
---
THE PROJECT
The project included conducting UI/UX research for an online Yoga Studio Application focused on

holistic

and authentic South Asian mindfulness techniques.

---
THE CLIENT


Yog Love (formerly Ira Yoga Wellness), is a online yoga studio founded by celebrity author and yogini Ira Trivedi. Yog Love is committed to providing a holistic yoga program for individuals and companies around the world.

They are unique in that their practice of yoga is rooted in the traditions of classical yoga, and provides an authentic experience composed of pranayama (breathwork), asana (posture) and dhyana (meditation).

With a networth of $1M, the start-up was abundantly successful during the CoVID-19 pandemic.



Read More

︎︎︎

Instagram

︎︎︎(15K followers)
---
VISUAL IDENTITY
— DOWNLOAD BRAND BOOK HERE
THE IMPACT
Developed an app with over 2000 users, that creating income upwards of $500,000 for the company, through UI/UX research




Increasing accessibility to mindfulness for the youth and larger public in India through website building for the governmental campaign aired on national television




Increased viewership by 80% through integrated human-centric design while launching the start-up worth $1M, through creative problem solving & strategy planning




Designed a range on eco-friendly, sustainable clothes to be distributed as a part of the campaign, raising upwards of $10,000, which was donated to educate underprivileged children on the benefits of yoga practice
---
MY ROLE
As the head designer for the start-up, I was in charge of designing and setting up the visual identity of the company, and designing their webpage and app.


I focused on brand building, and understanding user needs to design an interface that was easily accessible to people from all age brackets, and experience levels




In addition to that, I designed the 'Yoga-Thon' webpage: for a national 3-day festival for International Yoga Day, aired on National Television, and also designed their clothing merchandize for the campaign
---
THE DESIGN PROCESS
---
DISCOVER & DEFINE
---

THE OPPORTUNITY

During the CoVID-19 Pandemic most people no longer has access to in-person physical activity, and mindfulness practices such as Yoga, Meditation, and Pranayama (Breathwork).


This was seen as an opportunity to provide users with virtual services through an Online Yoga Studio that could be accessed by people across India, and the world.
---
PRELIMINARY RESEARCH
A mixed methodology towards research was used to get a deeper insight into user behaviour and needs.
Quantitative tool helps predict global trends and user behaviours

Qualitative tools help understand specific user needs in order to create a more personalized, human-centered interface
SIGNIFICANCE OF YOGA IN INDIA
Yoga is considered India's gift to the world.

With its origins dating back to

the pre-Vedic era, Yoga offers numerous health and medical benefits through its

different physical, mental, and spiritual exercises.




In 2015, the Indian Prime Minister and the United Nation declared 21st June as International Yoga Day.
DEMAND FOR YOGA APPS
In the last few years, the demand for yoga apps has significantly increased.

Increased by year-on-year

In

2020, during CoVID-19 there was a

40% increase in subscriptions

on most yoga and meditation platforms

Most companies reported a 25% increase in organic growth in the first quarter of 2020 (under 12 years of age) joining meditating communities in the past 8 years


Many apps on

Android & iOS provide yoga services— 89% of them are paid, or have some components of payable ungrades. There are only a handful of apps that provide all features for free.
DOMAIN RESEARCH
KEY FINDINGS:
Yoga helps improve overall health by relieving stress, creating routine, improving bloodflow, and promoting sound sleep




Yoga relieves body ached and pains (lower-back, shoulder and neck pain, among others) and helps promote weight-loss and maintainence




There are multiple Yoga applications available online




Most of them use subscription-based models

Most apps also provide a component of dietary tracking or suggestion features




Different groups of people have different experiences with Yoga, and have a practice focused on achieving different outcomes
---
DEFINING SCOPE & FOCUS
Project goals are focused on benefiting the business and the users. Business goals and user goals were identified to create a path to develop the interface.


BUSINESS OBJECTIVES & KPI
A Key Performance Indicator is a measurable value that demonstrates how effectively a mobile app is achieving key business objectives. We use KPIs at multiple levels to evaluate success at reaching targets. The KPIs of the project are:
MOBILE DOWNLOADS

The number of times that an app is downloaded to a device is one of the simplest ways to track popularity among users.
INSTALLATION, REGISTRATION & SUBSCRIPTION
After installation, the rate of registration and subscription is tracked



RETENTION RATE
The number of users who remain active on the app over a period of time are tracked. The higher the retention rate, the more positive implications there are for future earnings from the app.
USER OBJECTIVES
The Ira Yoga App is targeting people who are adopting yoga for the first time through a virtual platform. Data shows that:

92% of people adopt yoga to improve flexibility, physical fitness & stress relief

73% of people intend for yoga to be their first spiritual experience

22% of people adopt yoga upon their doctor's recommendation

50% of people practicing yoga do so to fight severe health conditions
WHAT DOES THE APP OFFER ?
Improve concentration and decrease irritability

Cater to all users, even beginners

Featuring star-yogi Ira Trivedi and other talented yoga-teachers to create doctor and therapist approved courses

Create a hollistic user experience with soothing musi

Easy-to-use scheduler to track progress, and send daily reminders

Guided bite-sized yoga modules prevent eye, neck, back, arm and shoulder and leg strain.

You don't need a mat, you don't need to change your clothes, you don't need to take off your shoes, you don't even need to leave your chair!



---
DESIGN PROCESS
---
USER RESEARCH
QUANTITATIVE USER RESEARCH

Through a widely distributed survey, some key statistics regarding user behaviours and demographics was obtained:

THE DEMOGRAPHIC
:
87.9% of users are wome

40.7% are between 30–40 years old




73.2% have an income of over Rs. 15 lack ($20,000) annually



THE PRACTICE
:
74.7% do yoga several times a wee

28.6% are comfortable doing any type of yoga

27.5% prefer Vinyasa yoga
16% prefer Hatha yoga
THE PANDEMIC'S EFFECT
:
47.3% users had an in-person practice before the pandemic

75.8% are practicing online during the pandemic

64.6% are willing to resume in-person practice after the pandemic



USER PRIORITIES
:
37.4% of users choose their yoga studio based on Internet and Social Media searches

33% of users prefer to use studios recommended through word of mouth

45.1% choose a studio based on the teachers

61.5% of users practice yoga for overall mental and physical welfare
USER INTERVIEWS—
Interviews, to obtain qualitative data, were conducted with 2 types of users:


Users of pre-existing online applications for yoga

Users who previously used in-person services, but had to switch on an online studio due to the pandemic and were looking for a platform that catered to all their needs.
A list of relevant and structured questions was created, and all interviews were conducted via Skype video conference.

NEEDS
:
Yoga instruction with trained professions at an affordable cost

Daily reminders through notifications to motivate the user to practice
An advertisement-free platform
Personal instructors, or personalized routines, practices, and schedules
In-built videos and downloadable links for beginners, intermediate, and advanced users
Flexibile times for live group and 1:1 classes



GOALS
:
Hollistic practice with attention to physical and mental well-being

Improving fitness, body aches & pains, mental health, posture, flexibility, and concentration

Instill routine and regular practice for a certian amount of time each day to relieve stress and increase energy levels

Incorporate a few minutes of minutes Pranayama or meditation in daily routines

Relieve body aches during work days (

especially due to WFH)

Loosing weight, or curing more severe health conditions



MOTIVATIONS
:
Improving Physical Wellness through

Higher fitness levels

Better posture


Exercise regiments

Increasing flexibility

Weight reduction

Prevention of serious health ailments
Improving Mental Wellness through:

Cultivating patience, gratitude and peace

Fostering a positive attitude

Building confidence by feeling more fit

Reducing stress levels


FRUSTRATIONS:

Some yoga asanas, breathwork and meditation techniques are hard to follow and can be

challenging to perform

Certain instructors might not be able to provide concise and detailed guidance for beginner, intermediate or advanced classes
Technical issues on the website and app can be frustrating for users, such as:
Payment errors (including fear of lacking security, card fraud, identity theft)




Challenging navigation




Difficulties in booking class timings




Long process in creating accounts and setting up details
Certain platforms have advertisements during sessions which can be disturbing to the practice
USER PERSONAS—

Users had a diverse set of needs and motivations. Three user personas were developed to better understand the user:



Alia Sheth (Yoga for Mindfulness Practice)

Nitya Jain (Yoga for Hollistic Development)

Maanya Abbas (Yoga for Physical Exercise)
EMPATHY MAP
Developed to understand user attitudes and behaviors:

KEY INSIGHTS
Making it affordable to a wide audience

Ensuring flexibility of time (through recorded classes, and optional live classes at varied times)

Tailoring classes so that users can practice in small home studios

Providing personalized attention to users in case of queries

Having a section for helpful advice

Provide a short video trailer, mentioning the type of yoga, teacher methods, and intensity levels

Having quick access links to practical information about the practice

Having a step-by-step guide to how to do specific yoga poses and breathwork




---
COMPETITIVE ANALYSIS
Related companies were analysed to understand the competition in the market, and to assess market saturation before entering.

SWOT & FEATURE TRACKING
Competitors' strengths and weaknesses were studied, and the various features, functions, and experiences each application provided was monitored and listed.


FEATURE ROADMAP
After analyzing competitors, the different features and their importance in user functionality is listed schematically to gain insights into interface needs:
---
PROTOTYPING
---
INFORMATION ARCHITECTURE & SITE MAP
The Information Architecture focuses on organising, structuring, and labelling content in an effective and sustainable way. The goal was to make provide effortless navigation of the site to users:

PAPER-BASED WIREFRAME
Through a rigorous process of ideation, some general wireframes were developed:
LOW-FIDELITY WIREFRAME
They were later translated into low-fidelity wireframes on Adobe Xd. They services provided included:
Personalized planning portal

Goal Calendar

Asynchronous Classes

Facilities to book live classes

In-built payment portal
---
USER TESTING
---
OVERVIEW
Created an interactive prototype to receive real-world feedback from users

Participants were chosen based on user persona demarcations

A test plan was designed according to identified test objectives and scenario-based tasks were given to participants

Participants were encouraged to share their opinions while using the prototype.



---
TESTING OBJECTIVES

To determine design efficiency and usability

Establishing ease of user navigation, to improve information architecture, and clarify processes of user onboarding and daily task peformance

To identify usability problems faced by users and establish their priorities

Mid-fidelity prototypes of Ira Yoga Wellness' mobile application were used for usability testing






---
METHODOLOGY
Participants were given a set of tasks to performed using the high-fidelity application prototype.

Assessments were made based on the observation collected on the Skype video calls.

Feedback from the participants was recorded.

PARTICIPANT ANALYSIS—
Number of Participants:

6

Gender Distribution: 4 Females & 2 Males

Age Bracket: 28-45

Demographic: Working Professionals from Tier 1 & Tier 2 Cities in India


TASKS—

Participants were given 3 key tasks to complete:
Create an account for on the mobile application

Complete the 'Create Your Own Yoga Plan Journey'

Complete the guided 6 day yoga package
TEST GOALS—



Observe how users interact with all parts of the interface, including but not limited to:
Navigation Tools

Visual Design Features

Personalized Features

Identify areas of improvement in design and usability to create a better user experience
---
KEY INSIGHTS
Usability Testing helped us to discover some issues in the interface:


Users were having a hard time navigating the log in system on the app— it required profile development before any features could be assessed, which agonized users

The navigation menu was seen as useful and easy to access. However, the profile button was not needed as often as the others

The daily reminders could not be 'snoozed' or reset, and many users wished there was a possibility to do so on the app

Lastly, the largest concern was with the lack of extensive classes to get 1:1

instruction. This was added as a clearer feature in later interations



---
VISUAL IDENTITY
---
Since we were launching the start up, we focused on developing a brand book, to outline the visual identity guidelines of the company. This set the way to developing the visual identity for the web page as well.
Simplicity

and

consistency were prioritized in the visual design, to make allow greater usability and user experience.
---
LOGO DESIGN



---
TYPOGRAPHY & COLOR PALETTE


---
LOGO VARIATION & COBRANDING GUIDES


---
FINAL IDENTITY BRANDING


---
ICONGRAPHY DEVELOPMENT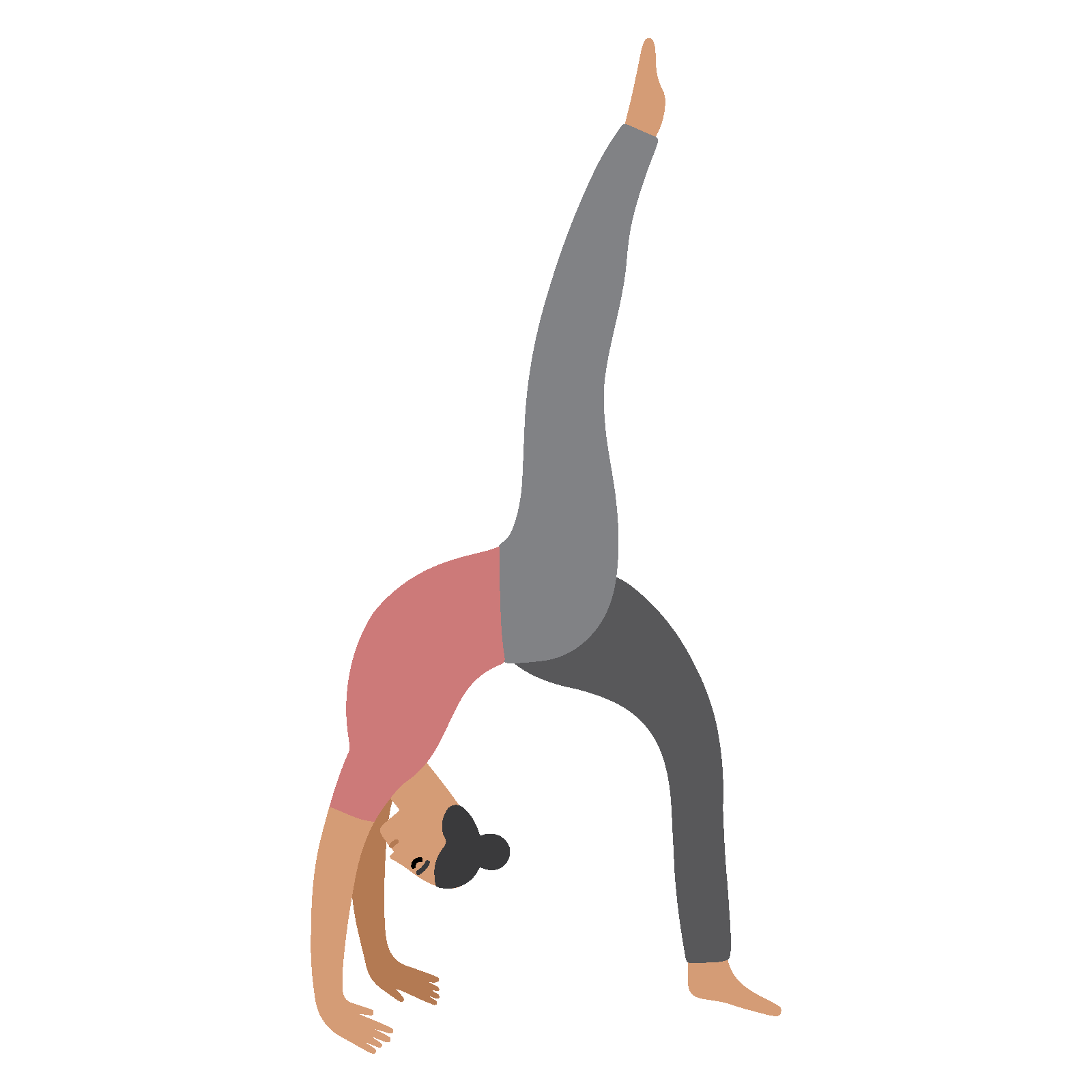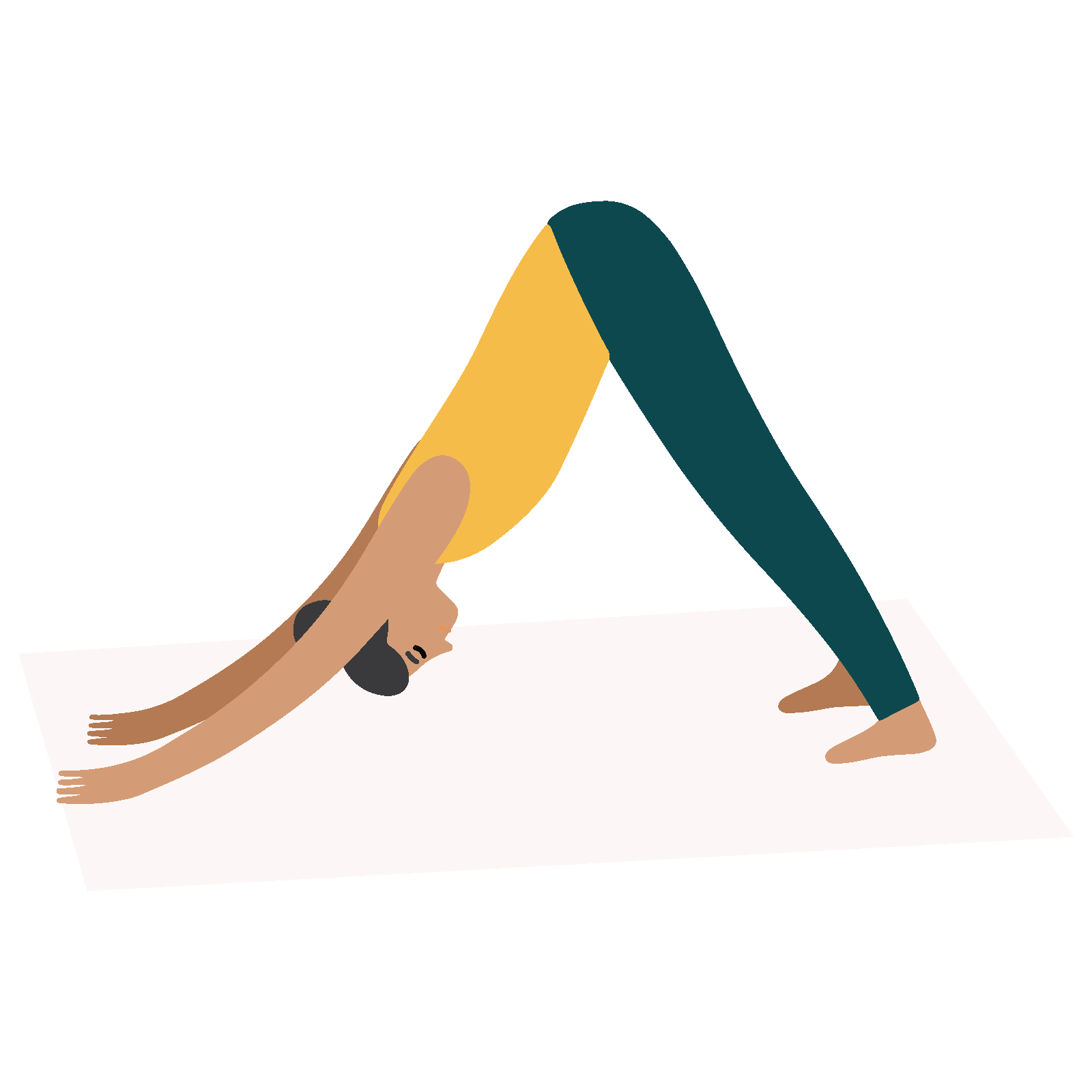 ---
FINAL DESIGN
---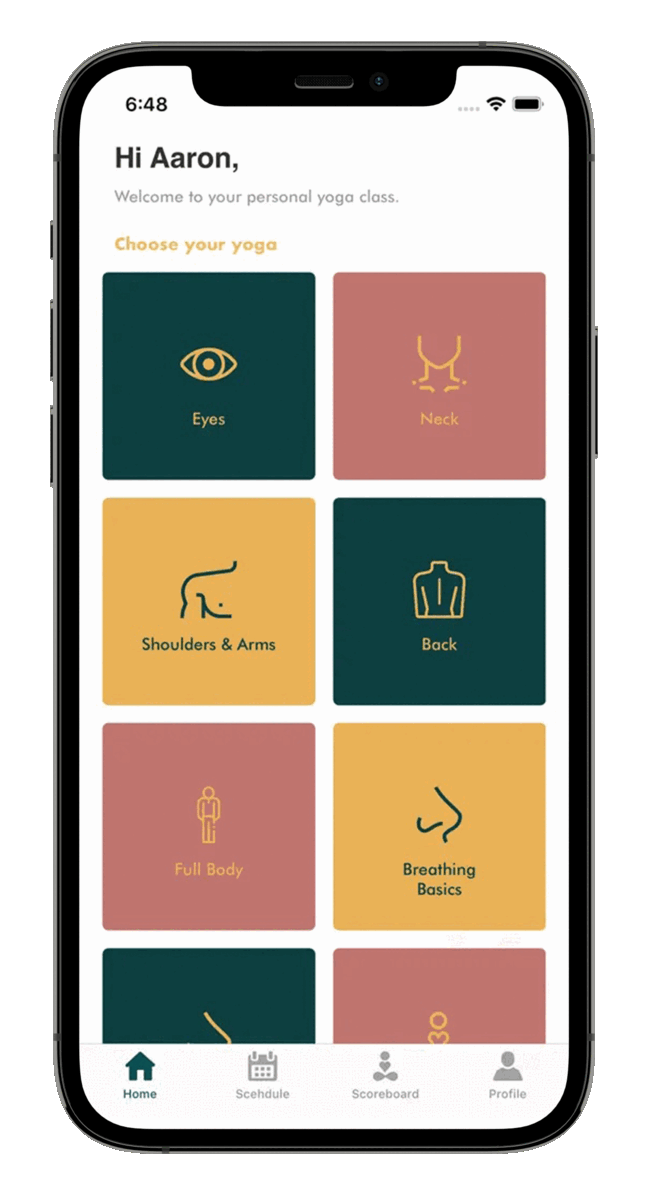 ---
FUTURE SCOPE
---
REFLECTION



The app currently has some issues with usability, which need to be addressed in the updated version, such as problems related to glitches in the interface, issues with booking and attending live classes, and maintain access to asynchronous classes outside of live class time when network and connectivity issues were of an issue.




The app was preliminarily coded by a class of intern coders to set up the initial interface. Future changes will be made to improve on these features.



---
YOGA-THON BRANDING




After developing the app, I was brought on for a singular project related to the branding of the national festival: Yoga-thon 2020 (sponsored by the Indian Government, to celebrate International Yoga Day).
VIRTUAL BRANDING—
FESTIVAL MERCHANDIZE DEVELOPMENT—
"Samputana," in Sanskrit means rising, ascending, and flying together, to reach the highest within ourselves.


Inspired by a miniature painting (from the Deccani region) from the Gulshan i-Ishq' folio which is based on the story of Prince Manohar and Princess Madhumalti.

The poems and sonnets written in Deccani Urdu by the famous Sufi poet Shaikh Sayyid, this work is a contemporary rendition of the female support and empowerment.

The folios are at the Philadelphia Museum of Art and the Metropolitan Museum of Art.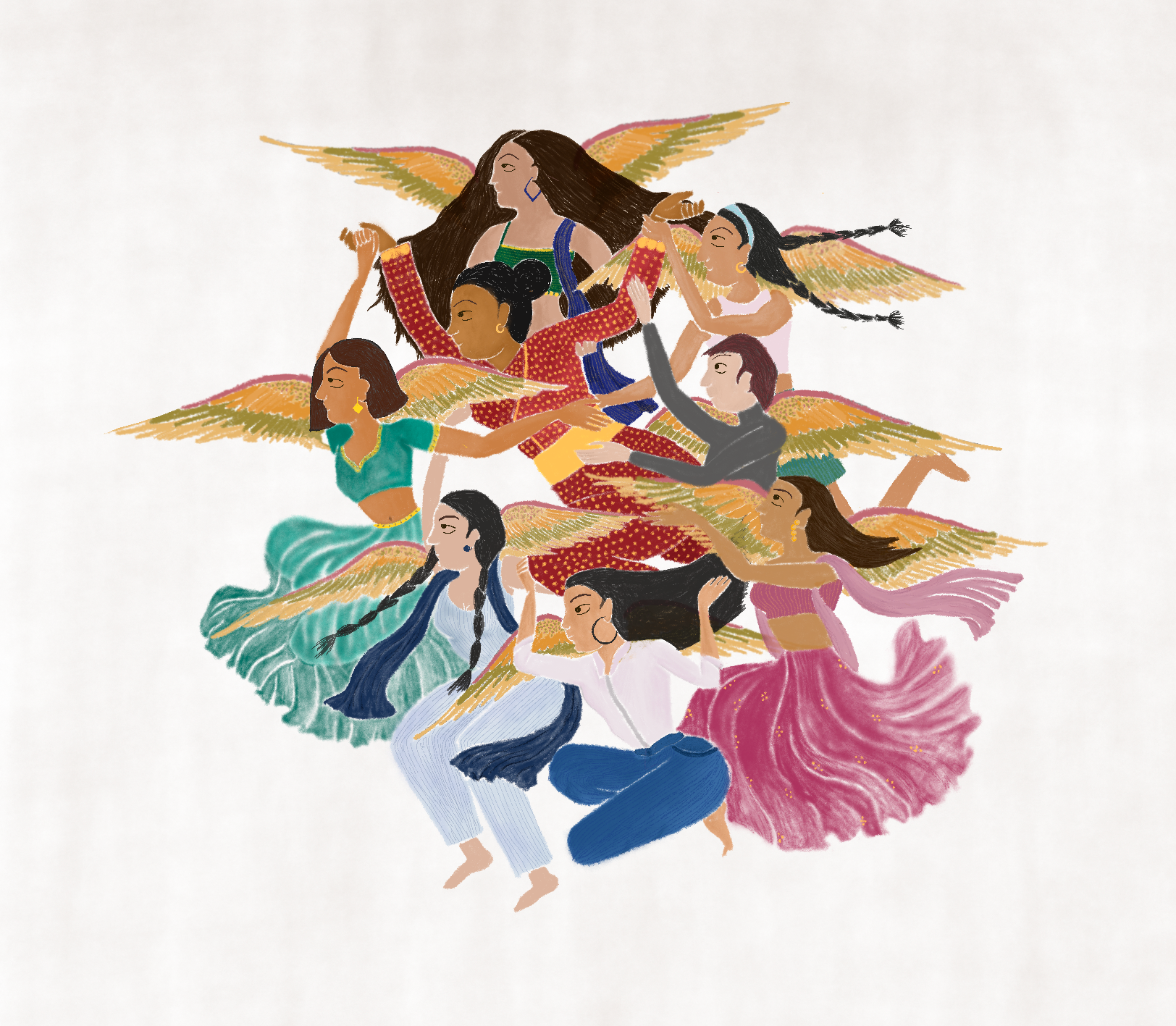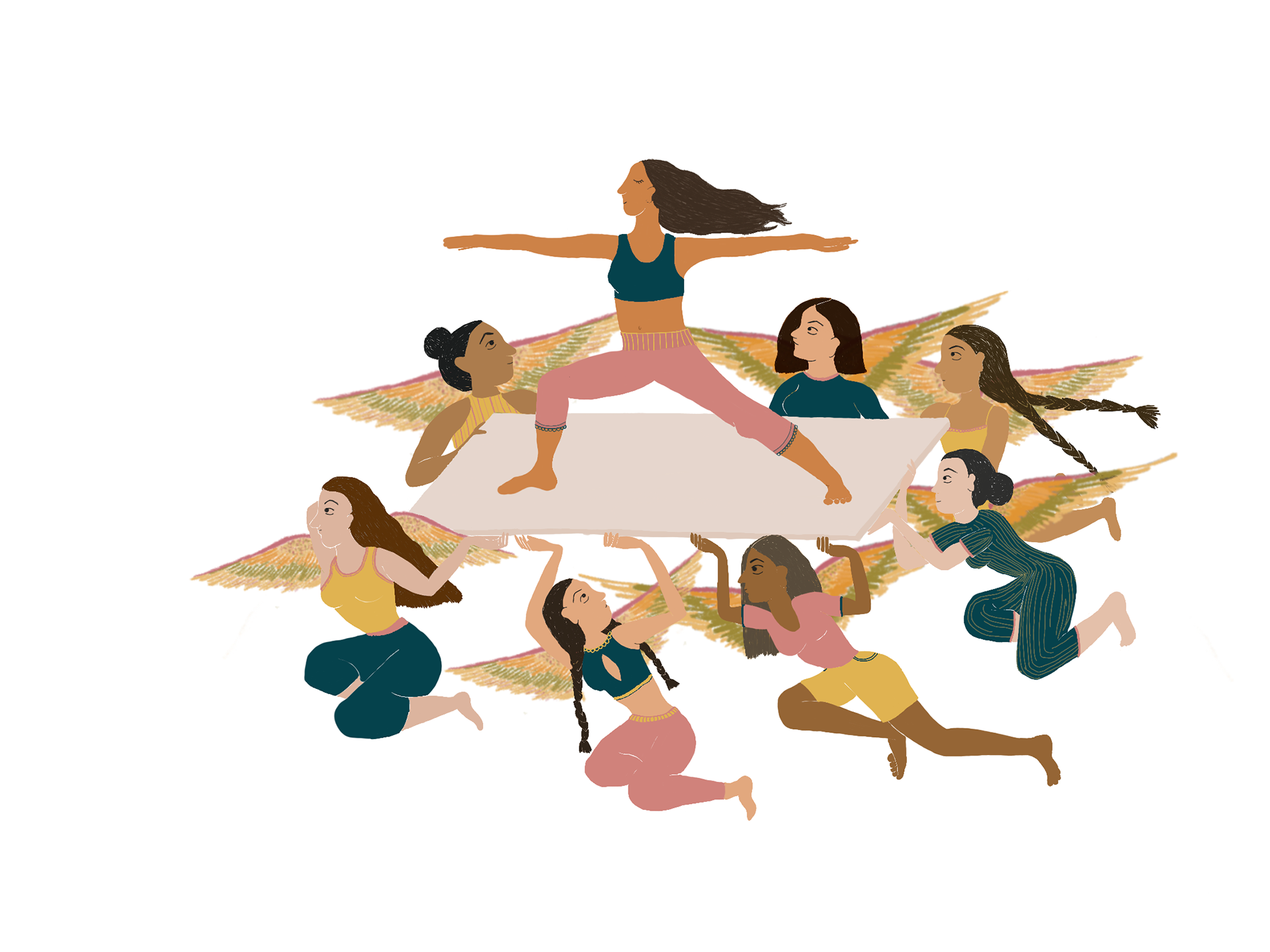 ---
---
DISCLAIMER:
* THIS WORK WAS UNDERTAKEN DURING AN INTERNSHIP WITH IRA YOGA WELLNESS
** ALL WORK PRODUCT BELONGS TO IYW AND IS SUBJECT TO WORK-PRODUCT CLAUSES


---