---
'UNISEX' by POLO RALPH LAUREN
---
Client
Ralph Lauren Corp.
Timeline
5 weeks (June-Aug '22)
Tools
SketchUp, Figma, Adobe Xd, Adobe Photoshop, Adobe Illustrator, Microsoft PowerPoint
Skills
Retail & Experience Service Design, User Experience Design, Surveying, Market Research, Marketing Strategy, Operations Design, Mock Up Developments, Apparel Design
---
THE PROJECT
During the Ralph Lauren Inspire Internship Program, the prompt for a group project was:
"Unisex: From Design to Presenting to Consumers"

The project required an in-dept project proposal to be provided to company executive teams.
---
THE PROBLEM
Unisex clothing is often oversized, and limited to lounge wear, and very rarely a part of the narrative 'story' that the brand sells to its consumers.
---
THE TEAM
Yukti Agarwal

︎︎︎

Brown & RISD


Camille Franklin

︎︎︎ Spelman College
Yasmina Khartami

︎︎︎The New School
Sonia Piaggi

︎︎︎Parsons, The New School


Kyla Rys

︎︎︎Savannah College of Art and Design


Lucio Urrutia

︎︎︎University of Austin
---
THE CLIENT
Ralph Lauren Corporation is a global leader in the design, marketing, and distribution of premium lifestyle products. Reflecting a distinctive American perspective, the company has been an innovator in aspirational lifestyle branding and believe that, under the direction of internationally renowned designer Ralph Lauren. They combine consumer insights with their design, marketing, and imaging skills to offer, along with licensing alliances, broad lifestyle product collections with a unified vision.



THE APPROACH
PHASE 1– Research

Research Brief
︎︎︎Projected Trends Overview
︎︎︎Consumer Spending, Behaviour, and Perception
Diversity and Inclusion
︎︎︎Considering Terminology &
Resizing
Customer Analysis
︎︎︎Existing & Target Consumer Profile
Opportunities and Risks
︎︎︎SWOT Analysis
Competitive Analysis
︎︎︎Internal
︎︎︎External
Competitive Benchmark
︎︎︎Survery Results & Evaluation
PHASE 2– Product & Service

︎︎︎Vision
︎︎︎Product Design Inspiration
︎︎︎Design with Intent
︎︎︎Resizing, Sweater Vest Design
︎︎︎SKU Curation
︎︎︎Concept Rig Wall
︎︎︎Service Description
︎︎︎Pop-Up Store
︎︎︎Pop-Up Moodboard
︎︎︎Interactive Floor Plan
︎︎︎Flat Floor & Interactive SketchUp Plan
PHASE 3– Operations

︎︎︎Roll Out Plan
︎︎︎Guiding Principles
︎︎︎Service & Product Implementation
︎︎︎Internal & External Stakeholders
︎︎︎Distribution
︎︎︎External Partners


PHASE 4– Marketing Plan

︎︎︎Purpose
︎︎︎Marketing Mix
︎︎︎SAVE Model
︎︎︎Market Segmentation
︎︎︎Press Strategy
︎︎︎Seeding
︎︎︎Gifting & Editorial
︎︎︎Visual Campaigns & Press Releases
︎︎︎Digital Marketing
︎︎︎Launch & Sustain Plan


PHASE 5– Financial Overview

︎︎︎Statistical Analysis
︎︎︎Budget
︎︎︎High Level P/L
︎︎︎Return on Investment
︎︎︎Sales & Cost of Goods Sold
︎︎︎Qualatiative Cost Benefit Analysis
---
THE PURPOSE
This project aimed to provide a holistic retail experience focused on resizing pre-existing merchandize, to create a capsule collection of stylish, form-fitting, unisex sweater vests, while selling not just a singular product, but rather the Ralph Lauren 'lifestyle' that champions equity, diversity, and inclusion.
---
THE IMPACT
Of the 5 presentations provided, company executives selected our presentation as the winner of the Ralph Lauren Inspire Challenge

. This project will be considered for implementation by the company for profits extending $ 1 Million, while excersing efforts in increasing diverity and inclusion.
---
PHASE 1– RESEARCH
---
BRIEF
Research into projected trends and customer behaviour have showed that entering the market for unisex clothing will not only be financially beneficial for companies, but rather will also impact company identity positively.
CONSUMER PERCEPTION OF UNISEX CLOTHING:



" I don't feel like I'm being put in a box. I can choose

what I like, what fits me and what matches my style."
---
DIVERSITY & INCLUSION
The discussion on Unisex clothing started with an indept consideration of D&I:

Addresses the shifting norms, and creates a space for a future customer base.
However, also considers the potential backlash or possibility of negative connotations that could be attached to the topic?

TERMINOLOGY: Each word was considered for its connotations and affiliations:
Unisex (Both men and women, usually used for clothing, spaces, etc.)

Gender Neutral (Chooses to not identify with either gender) ︎︎︎Gender Fluid (Assumes a sense of movement between both genders)

Gender-less (Assumes that the concept of gender does not exist)

Androgynous (Having both female and male characteristics– it still assumes that male and female lie at two ends of a spectrum)

We settled wit UNISEX, as it is the most widely recognized, and least politically-charged of the terms.

RESIZING: Analyzing the ways that we tailor this to all body types avoiding insensitivity even after merging sizing charts:
Avoiding labelling any body size as 'large,' 'small' or 'normal'
Avoiding labelling certain body type as 'too feminine' or 'too masculine'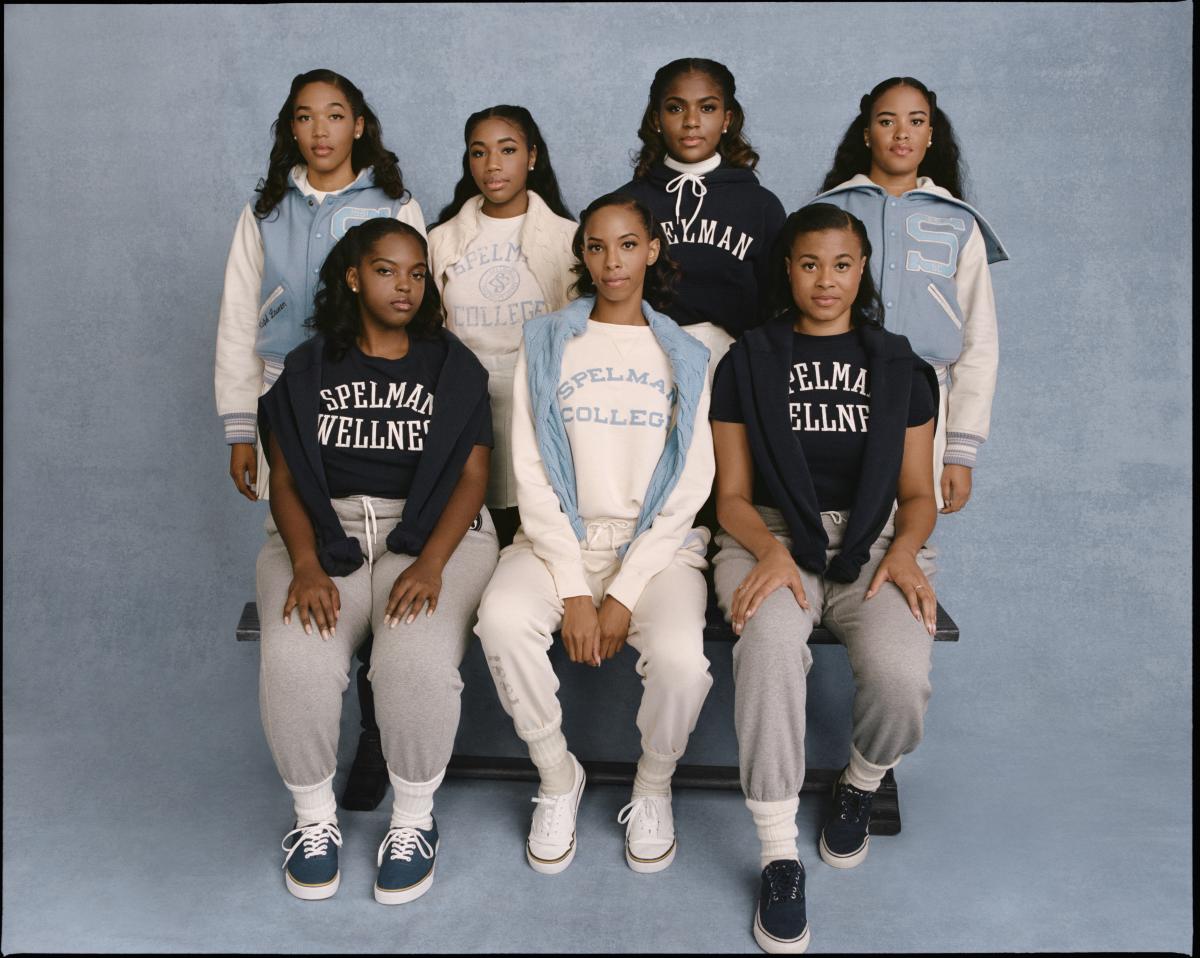 ---
CUSTOMER ANALYSIS


EXISTING POLO CUSTOMER
AGE: 35 years and older

WANTS: Prestige, Leisure, Luxury

VALUES: Quality, Style, Fine Living, Hard Work

ASPIRES TO BE: Respected, Admired, Well Rounded and Sophisticated
TARGET POLO CUSTOMER
AGE: 22 years and older

WANTS: Accessibility, Versatility, Timelessness, Sustainability

VALUES: Quality over Quantity, Health, Diversity

ASPIRES TO BE: Respected, Well Rounded, Authentic and Genuine
---
SWOT ANALYSIS
STRENGTHS



Huge customer base

Positive brand perception

Diversified market

Popular among younger generations

Style versatility options
WEAKNESSES



Saturated market

Market share competition exists

Minimal representation of women and children

Long term identity can be affected
OPPORTUNITIES



Large and emerging market

Innovative products from metaverse to interior design

Developing advertising campaigns

Partnering with local communities

Opening accessibility in design to consumers
RISKS



Increased competitive pressure

Risk of deviating from brand tradition & identity

Could have potential backlash

Loss of profit in initial years

Time and cost to develop new service & product
---
COMPETITIVE ANALYSIS
INTERNAL
Past capsules and collections within Ralph Lauren were studied:

Unisex clothing collections are limited to sweatpants, tees, hoodies, and caps that have graphic logos and are available in vibrant colors.

The clothing is often baggy, and not form-fitting.

The brands within the world of Ralph Lauren that sell these lines are:


Ralph Lauren POLO in the United Kingdom

RLX (the sports subsidiary of Ralph Lauren)

POLO SPORT (the sports subsidiary of POLO)
EXTERNAL
Our internal analysis showed that most of our collections for unisex styles were undifferentiated and limited to SWEATSHIRTS, HOODIES, and SWEATPANTS.

We focused our external competitive analysis on two French houses that championed the most revolutionary line of unisex clothing, that challenged the idea of unisex as BAGGY, OVERSIZED, and 'MANLY':

LACOSTE (Unisex Collection)
"The collection expresses this in-between zonethrough pieces that are as feminine as they aremasculine: dresses are shaped like exaggeratedt-shirts, and classic overcoats are finished likeoversized sweaters."

LOUIS VUITTON (Spring / Summer 2021 Collection)
"What space is there for a category of clothingbetween feminine and masculine? We'redefining a type of clothing that lives in a non-binary zone."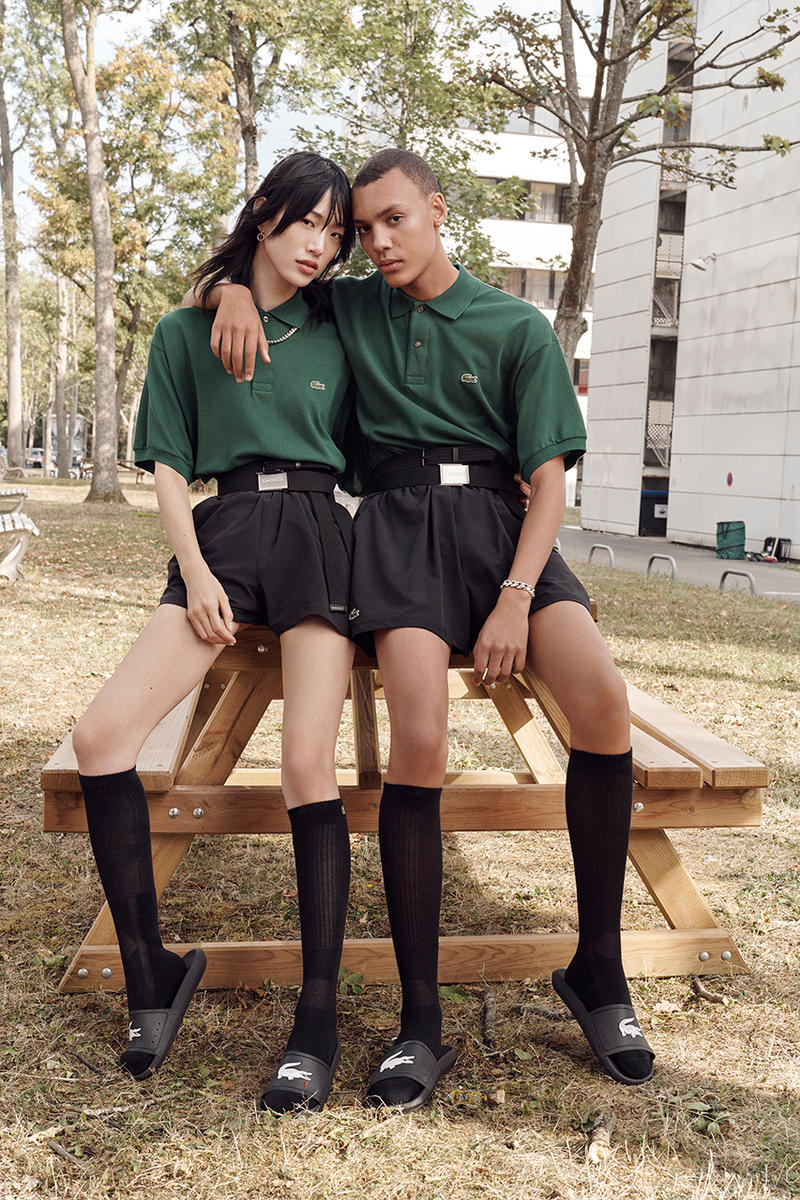 ---
COMPETITIVE BENCHMARKING
SURVEY DEVELOPMENT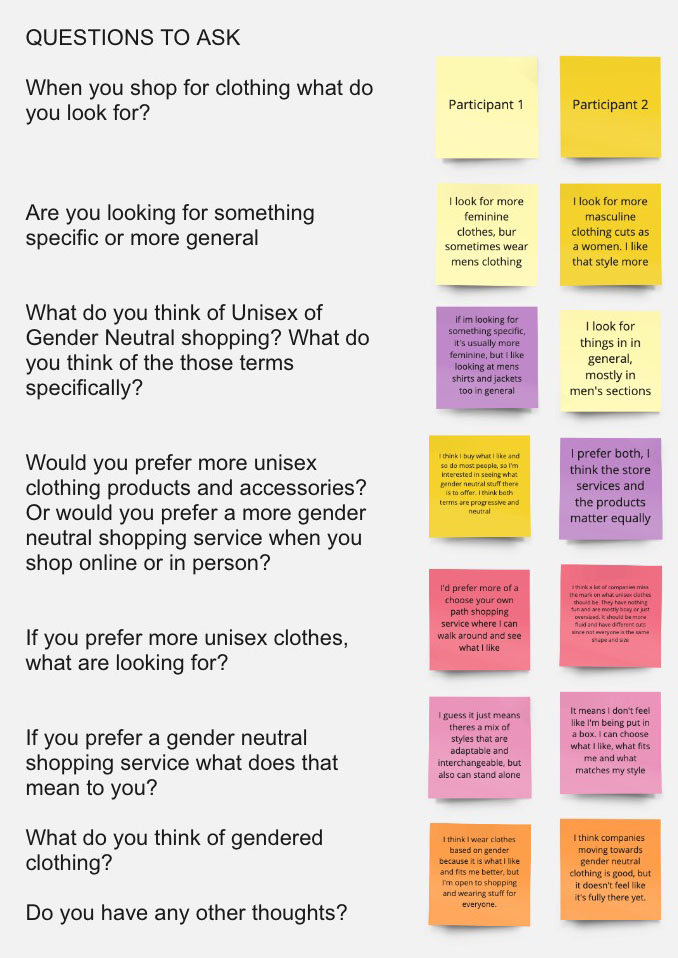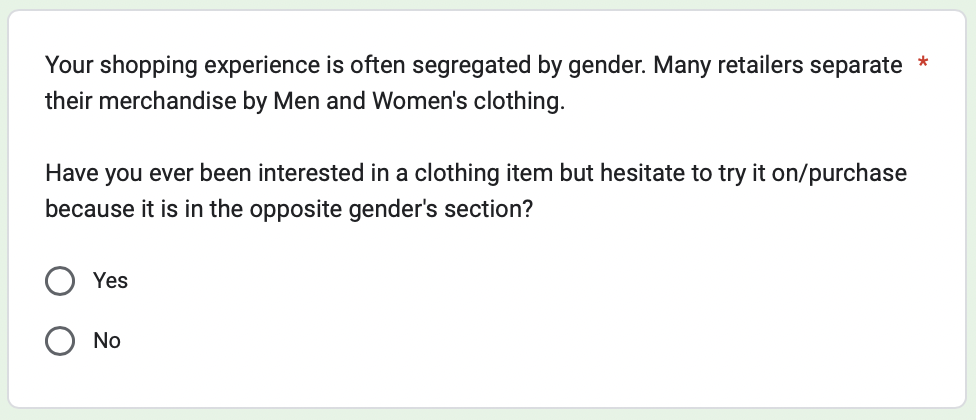 SURVEY POPULATION ANALYSIS
Surveyed consumers who were between the ages of 18 – 35+ years

Sample size of the survey was 55+ people from middle to upper-middle class backgrounds in the New York City area
Sample distribution for age group︎︎︎
QUANTITATIVE RESULTS
Statistics for how often unisex clothing is seen represented in commercial brands (according to the sample):
QUALITATIVE RESULTS
Customer perception of unisex clothes in the market:


"I see a lot of loose-fitting stuff; I want structural pieces too."
"I feel they are limited to casual loungewear or t-shirts."
"(they) steer away from masculinity or femininity in an attempt to be gender neutral when in reality those things are not exclusive to gender."
---
PHASE 2– PRODUCT & SERVICE
---
VISION
Unisex by Polo Ralph Lauren champions an EQUITABLE FUTURE of TIMELESS STYLE through REFINED TAILORING and UPDATED SPACES for an AUTHENTIC EXPERIENCE for ALL.

DESIGN

Refine Iconic Pieces into Unisex Polo Vests
CREATE

Unisex Pop-Up Shopping Experience
MARKET
Integrated Campaign to Drive Brand Awareness
---
PRODUCT DESIGN INSPIRATION
MOVING FORWARD WITH OUR HISTORY IN MIND:
The design process started with a dive into the history, legacy and traditional aesthetic of the company.
This collection aimed to revive old traditions and build a foundation of greater inclusivity, equity and diversity through these deep-grown roots.
The company started as a menswear brand, with mens shirts being styled on women.
A connection between the brand's legacy and unisex clothing had been forged a long time ago.



---
TIMELESS DESIGN WITH INTENT
A Limited Collection of Unisex Sizing Polo Sweaters Inspired by Iconic Ralph Lauren Tailoring and Vintage Collections was developed.



INCLUSIVE DESIGN
Retaining styles that run common between men's & women's by creating a new SIZING CHART.
The sizing chart will be alphabetized rather than numerical to alleviate the concept of 'larger' and 'smaller' sizes.
New sizes are averages of men's and women's sizes to allow consumers to buy clothes that maybe form-fitted or oversized.
SUSTAINABLE DESIGN
Reducing manpower required for redsigning new styles.

Factory communcations for new developments by retainign origional manufacturers.

Reducing Carbon footprint by mainiting same styles.

Reducing number of unsold SKUs by holding same styles by merging male & female styles.
---
STYLE CURATION
Although the capsule collection is aimed at resizing sweater vests, there will be a array of unisex items available for purchase at the pop up.
This is in line with the Ralph Lauren vision, of alway selling a lifestyle, and an experience, not just a product.

The items that have been curated allow:


Provision of inspiration to new consumers to adopt the 'RL Lifestyle'
Various price entry points, for all customers from all walks of life
---
CONCEPT RIG WALL
A concept wall was developed to show the overall look of the 'POLO Ralph Lauren Unisex Look'.

Inspiration was taken from:

Old campaigns, advertisments, and hisotorical collection archives.

Mr. Ralph Lauren's own personal style, as seen through photographs from his albums.

Newer collaborations such as the one with Wimbeldon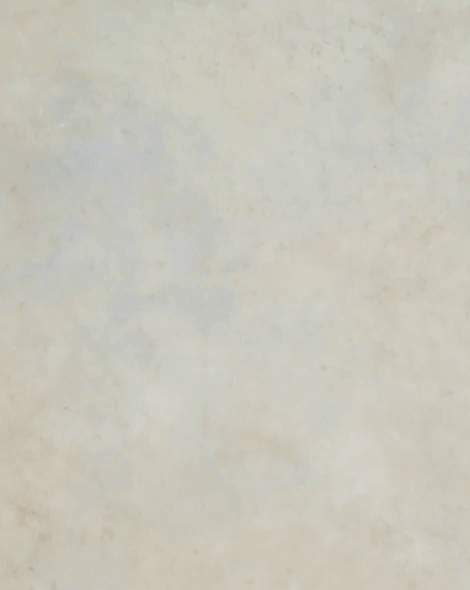 ---
SERVICE DESCIPTION
The products will be launched through a Pop-Up retail experience.



WHY A POP-UP RETAIL EXPERIENCE?

Our intention of a Pop-Up store caters to an audience that will experience our new line in a curated environment, meant to engage with the consumer and inspire their style from the design of the ambiance to the items themselves.
STAYING AUTHENTIC TO THE BRAND VISION–
"We are changing accessibility in stores by creating smaller format stores that are more engaging to younger generations without losing sight of our older consumers."
– Patrice Louvet (CEO, Ralph Lauren Corp.)
---
POP-UP MOODBOARD
OPEN LAYOUT

To invite more customers
To champion a space that is inclusive and welcoming to all
LOCATED IN THE PARK
To allow footfall from the Ralph Lauren Flagship Stores to be redirected to the close by pop-up.
COLOR PALETTE
The color palette is inspired by the iconic RL colors (with French Navy, and Bittersweet Orange for example)
Additional references were taken from nature and the area in which the pop-up will be located



---
INTERACTIVE FLOOR-PLAN
FLAT FLOOR PLAN
INTERACTIVE SketchUp PLAN

RALPH'S COFFEE TRIKE
Invite customers to have a cool coffee on a warm day





Increase customer foot-fall in the merchandize area




Introducing an additional revenue stream to the event




Increasing brand awareness by promoting all branches of the business
FINAL FLOOR PLAN
Open layout to allow easy movement of foot-fall
Rotating merchandize racks to allow greater mobility
UNISEX dressed form, to present the various planned looks, to show how to style curated items



LOCATION MAPS
Pilgrim Hill, Central Park
Four-minute walk from Flagship Store on Madison

Washington Square Park
Eight-minute walk from POLO Store in Soho
---
PHASE 3– OPERATIONAL OVERVIEW
---
ROLL OUT PLAN
GUIDING PRINCIPLES
SERVICE & PRODUCT IMPLEMENTATION
PHASE 1– PROJECT CREATION


Outline launch strategy and development

Draft product, targeting, positioning, and competitor analysis


TIMELINE: 6 MONTHS
PHASE 2– DESIGN & DEVELOPMENT


Determine pricing, design collection and pop- upshops

Develop new size blocks for unisex items


TIMELINE: 1 YEAR
PHASE 3– DISTRIBUTION


Source materials and team to build two pop up shops

Source materials and units from manufacturing for product


TIMELINE: 4 MONTHS
PHASE 4– PROMOTION & TESTING


Test service and product on sample group

Review and activate marketing strategy


TIMELINE: 6 MONTHS
OFFICIAL LAUNCH


Launch of two interactive pop-up stores

Social and website announcement

Demos and interactive campaign to increase impact and spread awareness


SPRING 2024
---
INTERNAL & EXTERNAL STAKEHOLDERS
For 50 years Ralph Lauren has served the interest of both internal and external stakeholderswith the purpose to inspire the dream of a better life through authenticity and timeless style.
---
DISTRIBUTION CHANNELS
The distribution channels used will retain the same factories, manufacturaing channels, and vendors. The oversees manufactoring will be distributed in:
Pop-up Shop

Wholesale

Retail

E-Commerce
---
EXTERNAL PARTNERS
THE NUDGE APP
PARTNERSHIP BENEFITS
Attracting new customer base in the city by appealing to a younger audience– the target audience of this product line & service.




Portraying the Ralph Lauren event as 'the place to be' on a spring weekend, thus enhancing brand image.




Extend promotional relations with new digital platforms that are the primary source of event planning for the newer generation
SAMPLE MESSAGE for NUDGE MEMBERS:
---
MARKETING PLAN
---
PURPOSE
Unisex by Polo Ralph Lauren is championing an equitable future, from what you wear to how you live.


Unisex by Polo RL utilizes the creative power of design to refine our signature Polo collection with thoughtful tailoring and updated spaces foran authentic shopping experience for all.
---
MARKETING MIX
The project followed the SAVE model (as opposed to the 4Ps model) to reach a wide audience:


SAVE MODEL
Solution (instead of Product):
Define offerings by the needs they meet, not by their features, functions or technical superiority.

Access (instead of Place):
Develop an integrated cross-channel presence that considers customers' entire puchase journey instead of emphasising individual purchase locations and channels.

Value (instead of Price)
Articulate the benefit relative to price, rather than stressing how price relates to production costs, profit margins or competitors' prices

Education (instead of Promotion)
Provide information relevant to customers' specific needs at each point in the purchase cycle, rather than relying on advertising, public relations and personal selling that covers the waterfront.
MARKET SEGMENTATION
︎︎︎Demographic ︎︎︎Geographic ︎︎︎Psychographic ︎︎︎Behavioral
---
PRESS STRATEGY
SEEDING
Send capsule to editors and target influencers/ celebrities to create engagement on social media and online publications around launch date

Seeding Plan:
FRIENDS OF THE BRAND: Elliot Page, Janelle Monáe
FAMILY DUOS: Jennifer Lopez and Emme Maribel Muniz
UPCOMING CELEBRITIES: Hari Nef, Hunter Schafer
MACRO INFLUENCERS: Dylan Mulvaney
GIFTING & EDITORIAL
For reinforcement of our campaign with any RL Polo publication feature
Target editors that feature/ cover our campaign launch
VISUAL CAMPAIGNS & PRESS RELEASES
The visual campaign would include:
Billboards (Park Ave. & 23rd St.)
Wild Posts (SOHO, Lower East Side, Nolita)
Digital Platforms (Discussed later)

Press releases targeting magazines that focus on LGBTQ communities:
THEM Magazine


Mission Magazine

GQ Magazine

ID Magazine
---
DIGITAL MARKETING
The campaign aims to LEAD WITH DIGITAL by targeting ayounger demographic through:
Reels

Posts

Advertisements

On platforms such as:
---
LAUNCH PLAN
PHASE 1– PROJECT CREATION


Curate and develop capsule.

Plan and organize pop-up events.

Execute strategic marketing plan.


TIMELINE: 2022–2023
PHASE 2– PRESS STRATEGY


Seeding to editors and target influencers to create engagement on social media and online publications.

Gifting and Editorial content


TIMELINE: OCT 2024
PHASE 3– PRESS RELEASE


PR Press Release announcing capsule and pop-up.

2 parts: Social media marketing and Editorial publication press


TIMELINE: FEB / MARCH 2024
PHASE 4– OFFICIAL LAUNCH


2 interactive Pop-up events in Central Park and Washington Square Park

Website launch, as well as on the RL app


TIMELINE: APRIL 2024
REVIEW


Review project impact from social interaction to financial success and failures.


TIMELINE: AUGUST 2024
---
SUSTAIN PLAN
Discuss service expansion ie. more pop-ups, virtual platforms, metaverse, hospitality

Discuss product and service expansion ie. website, retail, flagship, store front


TIMELINE: SEPT 2024
Discuss possibility of AR and Metaverse digital garments for customers to virtually try on in store sand pop-ups

Discuss product expansion into other parts of the brand identity, ie shoes, hats, pants, jackets, and more
Partner with designers and celebrities to continue unisex as a line

Expand to wholesale accounts such as Urban Outfitters and Macy's

Collaborate with partnerships and initiatives to boost community engagement and philanthropy
TIMELINE: BEYOND



---
FINANCIAL OVERVIEW
---
FINANCIAL STATISTICS
The financial overview provides insights in costing, budgeting, return on investments, expanded sales & cost of goods, and a high level P/L.

The initial financial proposal deck is as outlined︎︎︎
QUALITATIVE COST/BENEFIT ANALYSIS
The financials show that despite losses in the first year, later years will show considerable profits.

In additional to the quanitiative analysis of the costs, a qualitative approach was also taken to assess the benefits & costs of this project:

COSTS
Negative Net Profit for Year 1

Sizing Issues (Troubleshooting New Sizes)

Risk of Failure

Controversy Related to Brand Image

Miscellaneous Fees
BENEFITS
New Customer Base

Brand Elevation (In line with RL Future Goals)

Positive Customer Perception

Hospitality Expansion

Services (In-Person Retail Experience)
---
Collaboration boosts output–
Working with a team of very talented individuals taught me that collaborating, in an interdisciplinary manner allows everyone grow, and makes enriches individual work by constant iteration, feedback, and dialogue.

In a team, you learn and grow–
Working in a team taught me a great deal about the areas that my teammates were specializing in, such as financial outlining, and operation overviews. I learnt from them, while they learnt from me, about processes in design, merchandizing, and marketing.

Communication, efficient organization, and patience are the keys to success–
Especially when working in a group, being organized ahead of time, and maintaining clear communication channels are the way to learn and grow with each other!



---
---
DISCLAIMER:
* THIS WORK WAS AN INDEPENDENT PROJECT DURING AN INTERNSHIP WITH RALPH LAUREN CORPORATION AND IS SUBJECT TO WORK-PRODUCT CLAUSES


---