---
PERIOD (note)PADS & 26/11
---
Client
RISD Fleet Library
John Hay Library
Timeline
01– 1 week (Jan '21) 02– 6 weeks (Feb-March '21)
Tools
Found Materials, Pen and Ink, Collage Materials, Hand-Made Khadi Paper
Skills
Storytelling, Concept Development, Content Writing, Fundraising
Illustration, Collaging, Embroidery, Bookbinding
---
THE PURPOSE
Creating artist books for the 'RISD Fleet Library' and 'John Hay Library' Permanent Collections to share intimate South Asian stories in unconventional media for the purpose of fundraising for target populations
---
THE CLIENT


RISD FLEET LIBRARY
Founded in 1878,

Fleet Library at RISD

is one of the country's oldest independent art college libraries.

JOHN HAY LIBRARY
The

John Hay Library

is the second oldest library on the campus of Brown University in Providence, Rhode Island, United States.

PEMBROKE CENTER
The

Pembroke Center

at Brown University is a feminist research center devoted to critical scholarship on the struggles faced by people across national and transnational contexts.
---
THE APPROACH
South Asian women aren't represented adequately on the campuses of Brown Univeristy and Rhode Island School of Design– especially in the physical records of library, museum, and academic departements.

The two-fold project aimed at creating dossiers of self-expression for the permanent collections of two highly influentional spaces in Providence, Rhode Island.

After developing the two artist books, from concept to design– they were purchased by the Special Collections at both schools.
---
WHAT ARE SPECIAL COLLECTIONS?
"Special Collections" is an umbrella term for archives, rare books and manuscripts, and other materials that are rare, old, or otherwise worth preserving.
'Period (Note)Pads' was awarded the 'Innovative Materials Prize' in 2020 (awarded to 1 of 200 applicants) and purchased by the RISD Fleet Library's Special Collections

'26/11' was awarded the 'Women at Brown Prize' in 2021 (first student of South Asian descent to ever receive this award) and purchased by the John Hay Library's Special Collections
THE IMPACT
162 women in rural India were provided access to feminine hygiene products. Funds from the sale of this artist's book went to buy a machine to hand-make sanitary napkins for these women, providing them with a livelihood and safe sanitation methods.


33 women were provided free-of-cost mental rehabilitation services after suffering loss during the 2008 Mumbai Terror Attacks.
---
PHASE 1– PERIOD (note)PADS
---
CONCEPT DEVELOPMENT:
This series of 4 books, or "pads", have been made out of real sanitary napkins. Each book is a representation of each day of a regular menstrual cycle, outlining the emotions, feelings and blood flow that is typically experienced as a result of hormonal changes in a woman.

Each book is typified with the emotions felt on each day of a regular cycle. The books also include a tampon bookmark which decreases with size as the days go by.

The transparent box is a parody on the manner in which pads are often hidden and sold in many countries. The transparent material is a social commentary on this convention.
---
PHASE 2– 26/11
---
CONCEPT DEVELOPMENT:
The books are dedicated to the different sectors of society that become inevitable casualties of political warfare and terrorism. The books, however, outline different episodic accounts as recalled by me, in mere fragments, of the terrorist attacks in Mumbai on the 26th of November, 2008.

Each book has been made on handmade paper which was purchased from a paper mart that is near Taj: one of the locations of the terrorist attack. I haven't been to the Taj Mahal Hotel in the last 12 years.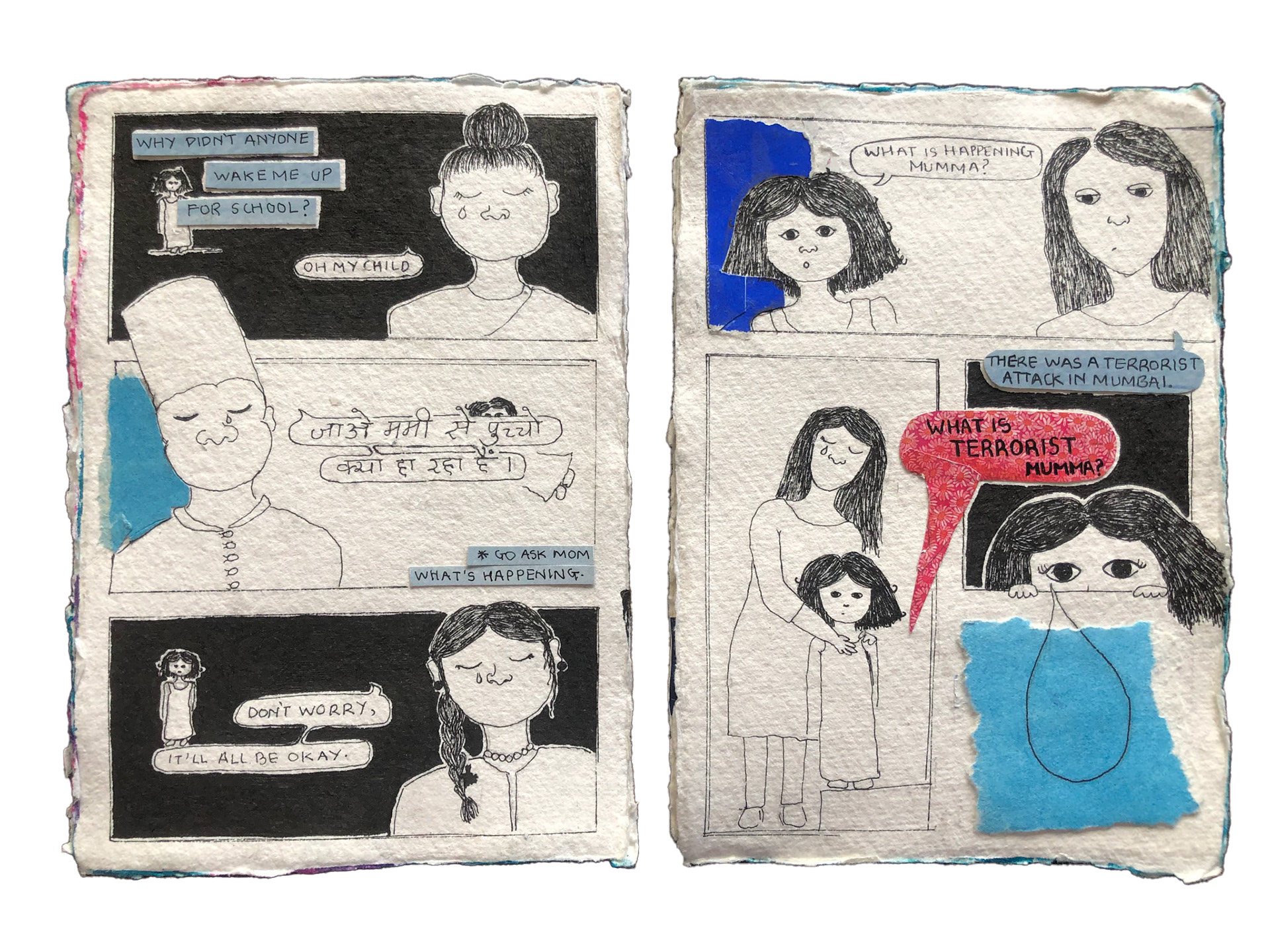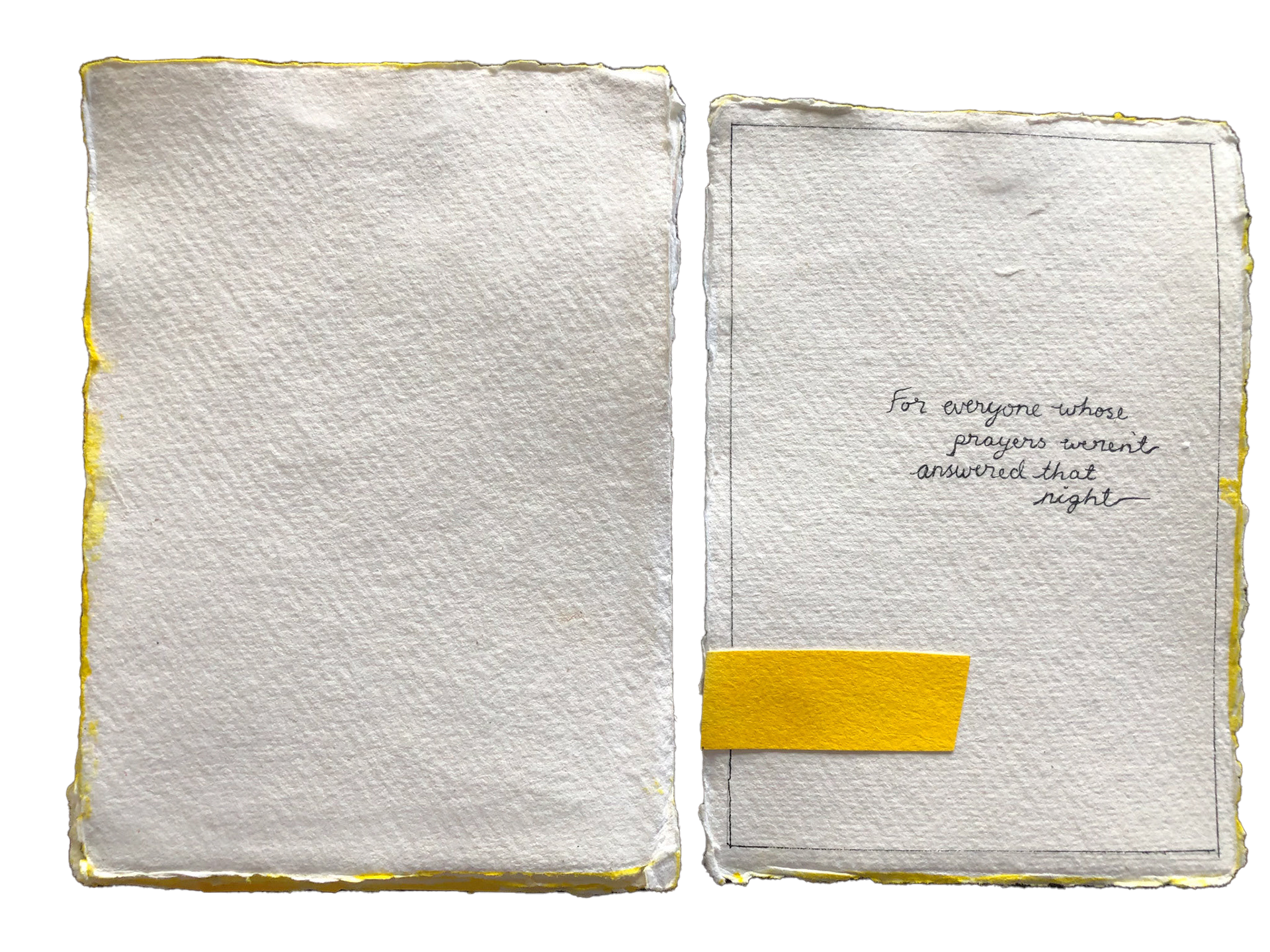 ---
Catharsis can be found in creative expression–
Often, emotions are best let out though creative modes

Lobbying for your work is important–
Through conversations and dialogues about my work and its significace, I was contacted by the aforementioned collections to purchase my work. This would not have been possible without the people who guided me, and listened to me, as I spoke about my work.

Fundraising is only effective when you aim to provide sustainable means, not temporary solutions–
Through conversations with the women who where served through this project, they mentioned their appreciation for the fact that they were provided with sustainable means to cope with certain localizes issues.



---
---