---
NEW ENGLAND HOME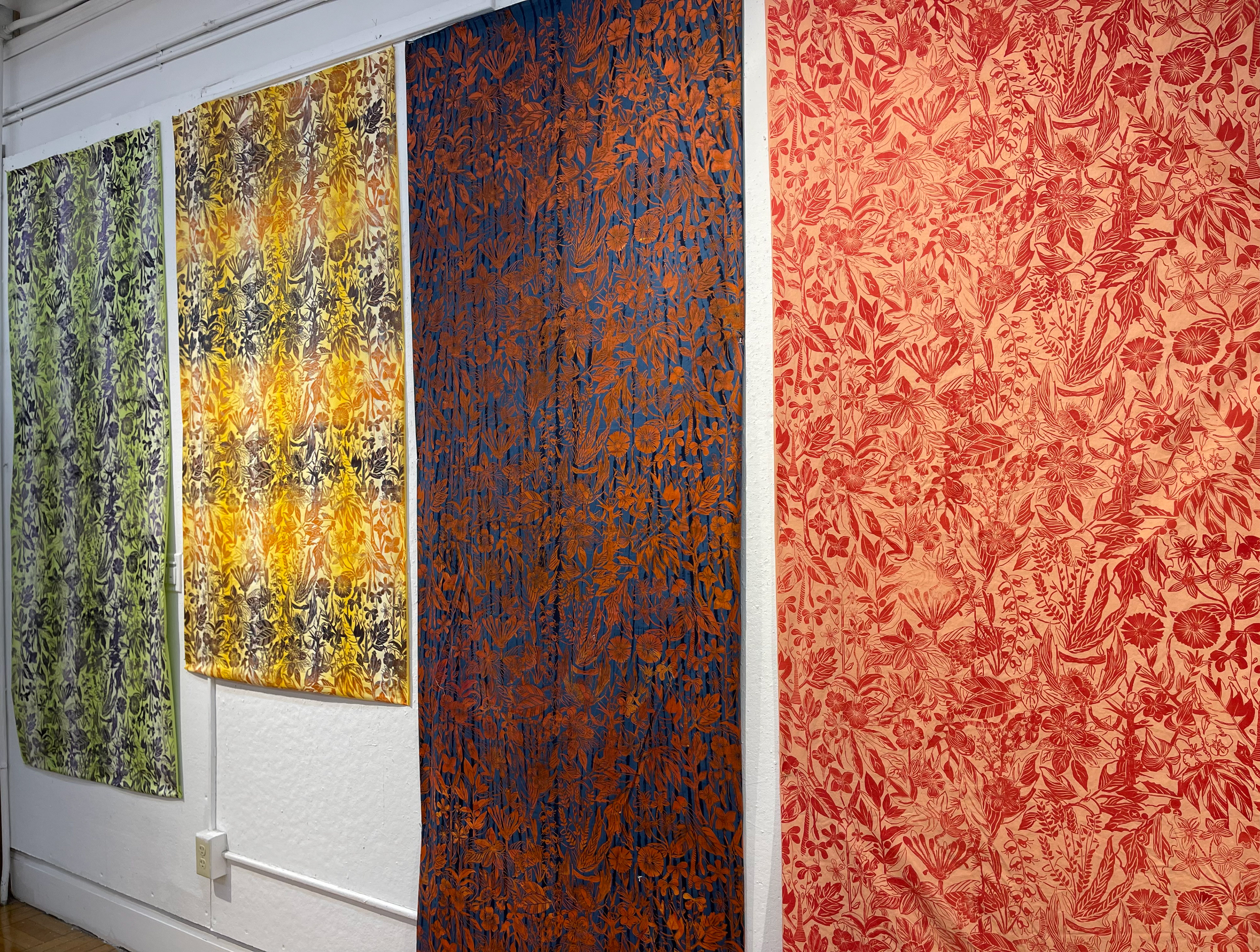 ---

Timeline


5 weeks (Feb-March '22)



Independent Project

Tools


Water-Based Dyes and Pigments; Organic Fabrics, Handmade Papers; Mylar





NedGraphics, Adobe Illustrator, Adobe Photoshop



Skills


Fabric Silkscreening, Collaging, Digital Prototyping, Colorway Development, Repeat Pattern Production, 4-Way Repeat Pattern Development



---
THE PROJECT
Designing a 4-way repeat pattern that is ornate, yet cost-efficient, and not labor-intensive even when handcrafted for mass-production.


---
THE IMPACT
This print can be used to create commercial products such as home textiles, upholstery, and apparel due to its elegance and versatility.

It reimagines plaid textiles using single-color or double-color prints in a cost-efficient manner.


Designing patterns such as this one can reduce labour needs, while still maintaining practices of hand-making textiles on a large scale for commercial uses.
THE APPROACH
This print aims to create a 'domesticated jungle' which is developed using 32 individual flowers and plants which exist in the New England region and are used as ornamental florals.

This process was a constant iterations and series of experimentation using hands-on tools and state-of-the-art technology for pattern development:

Phase 1– Collage
Using handmade papers, floral collages were made. The provided the basis for the iconography and colors.
Phase 2– Digital Pattern Development
A 4-way repeat pattern was developed using the vectorized versions of the floral motifs to create a dense pattern.
Phase 3– Preparing the Screen
After finalizing the pattern, it was burnt into a silk screen frame and the printing table was prepared.
Phase 4– Color Testing
Pigments were mixed to create a variety of dyes, which were then sampled using many iterations to assess color interactions and combinations.
Phase 5– Fabric Dyeing
Floor length pieces of different fabrics were dyes using immersion baths, over-dye techniques, and resist-dye techniques using natural, MX, and Acid dyes.

Phase 6– Printing
The finalized colors were printed onto many fabric varieties to exhibit a play of color, material and effect using simple printing techniques.
Phase 7– Applications
The fabrics were also tested by draping them over dressed bodies, home furnishings, etc. to assess the manner in which the print was interacting with the form it could inhabit.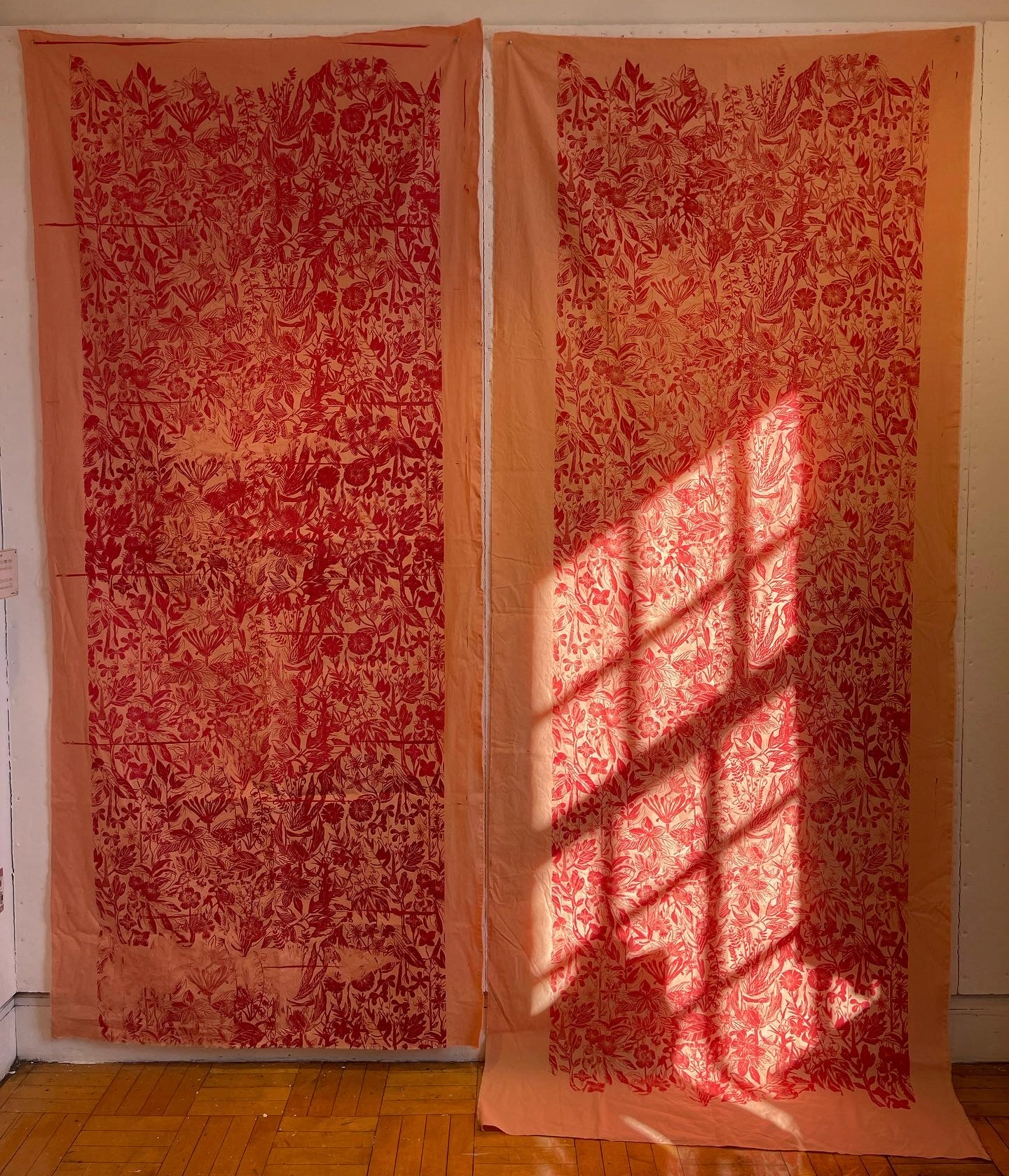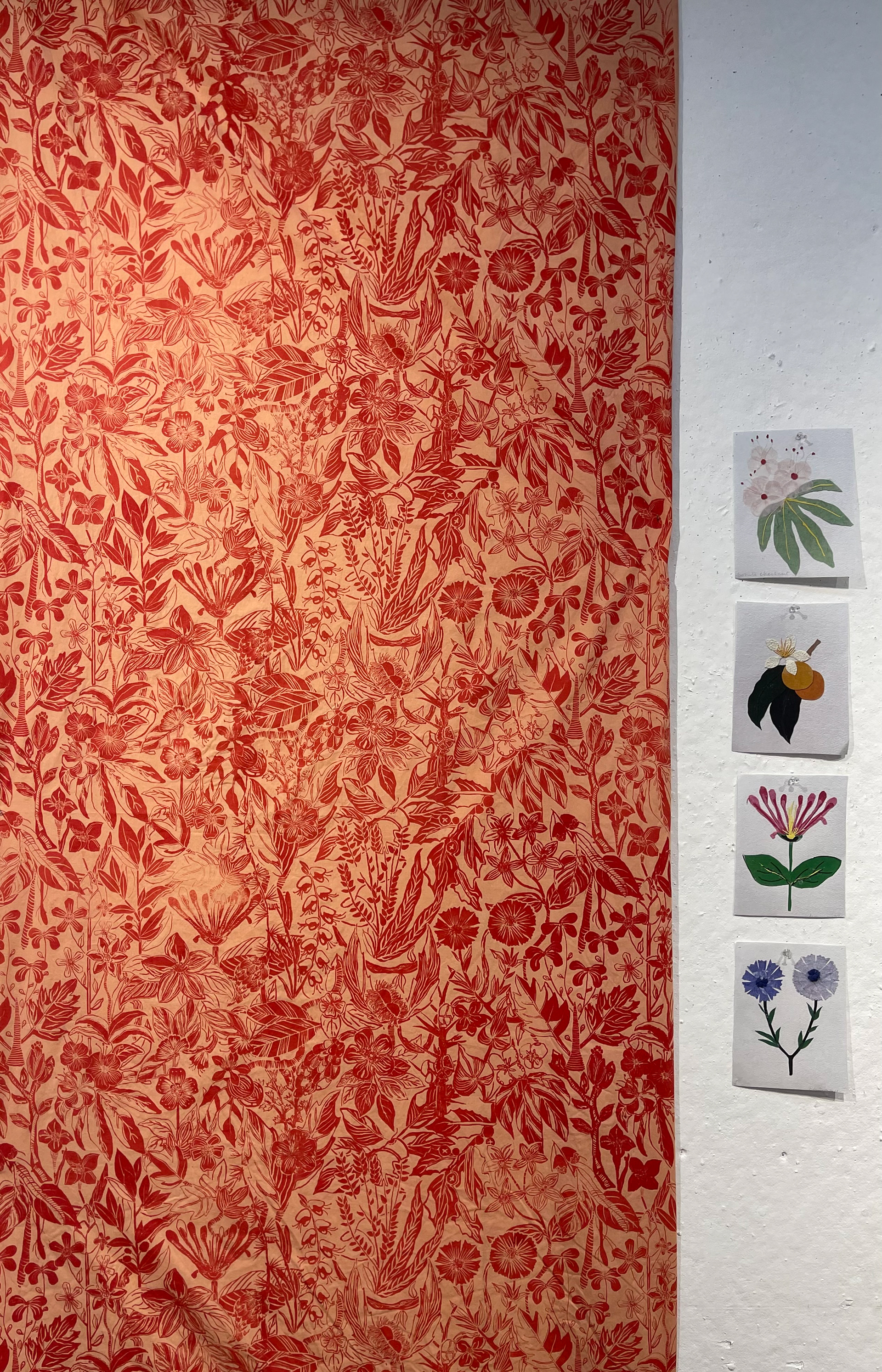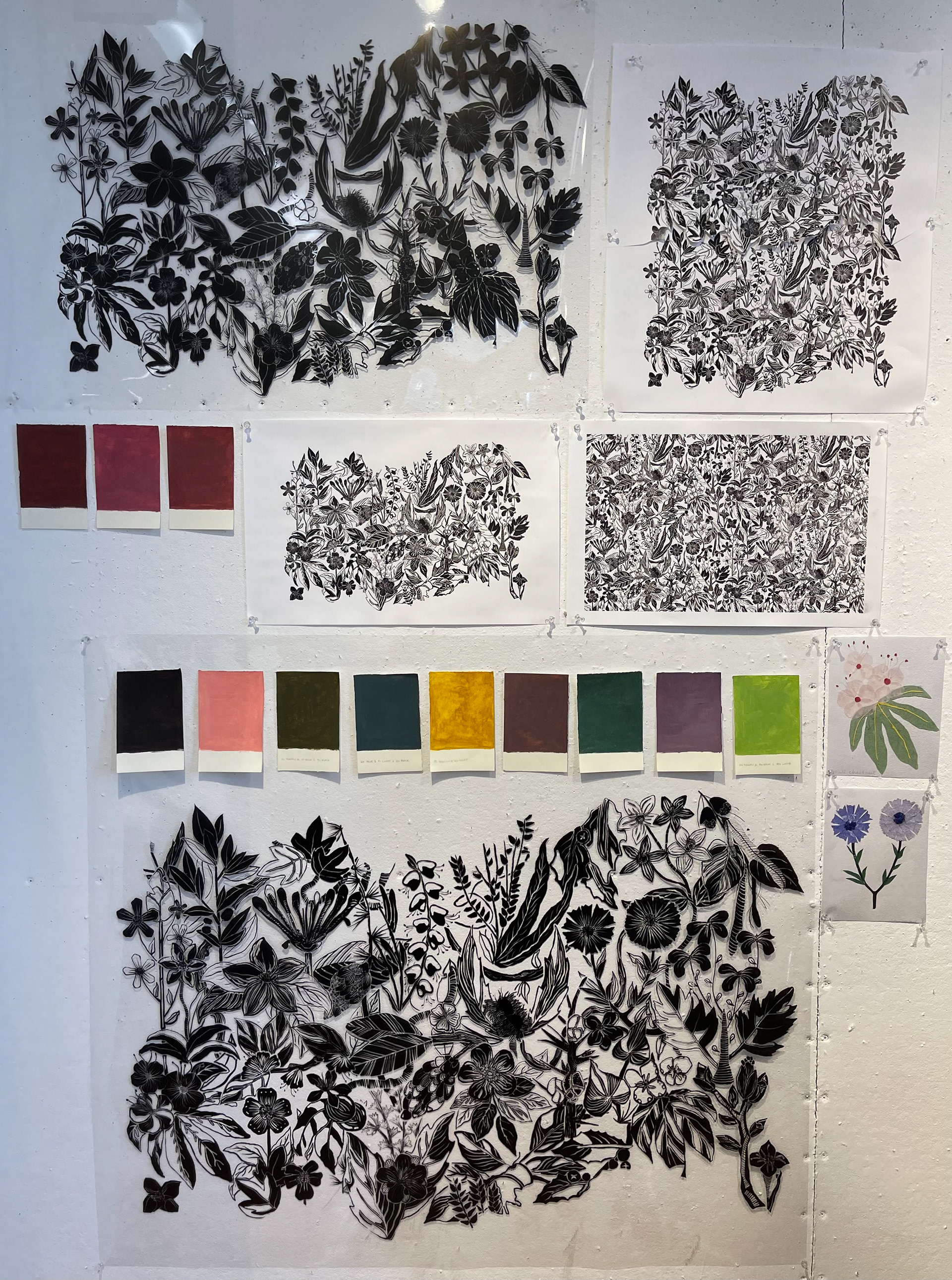 ---
COLOR SAMPLINGS
---
CONTAST

Contrasting a bright orange on Shibori technique, Indigo dyed cotton fabric: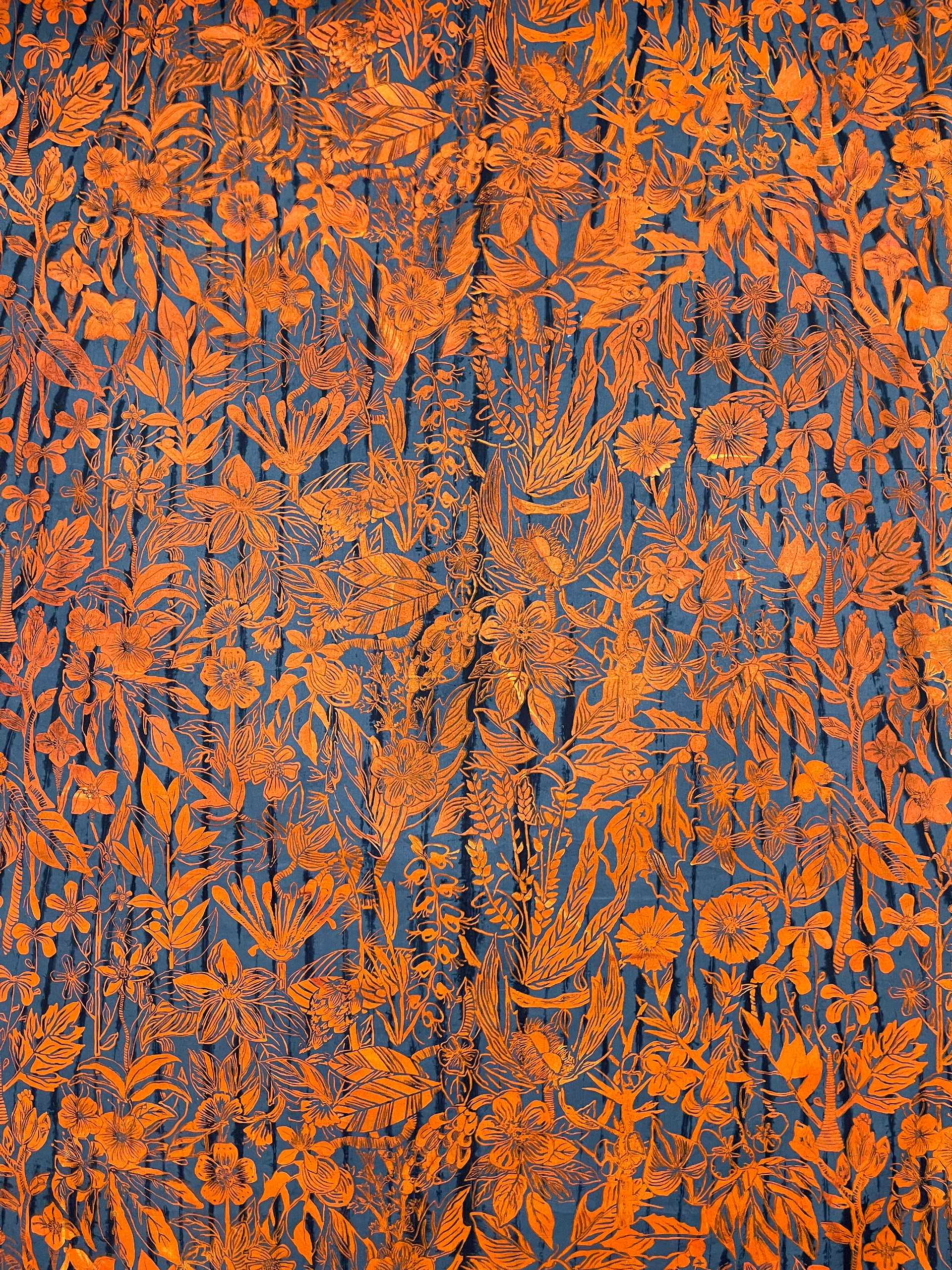 TONE ON TONE

Deeper hues on same tone cotton fabrics for 2 shades of pink, and one lighter olive on satin: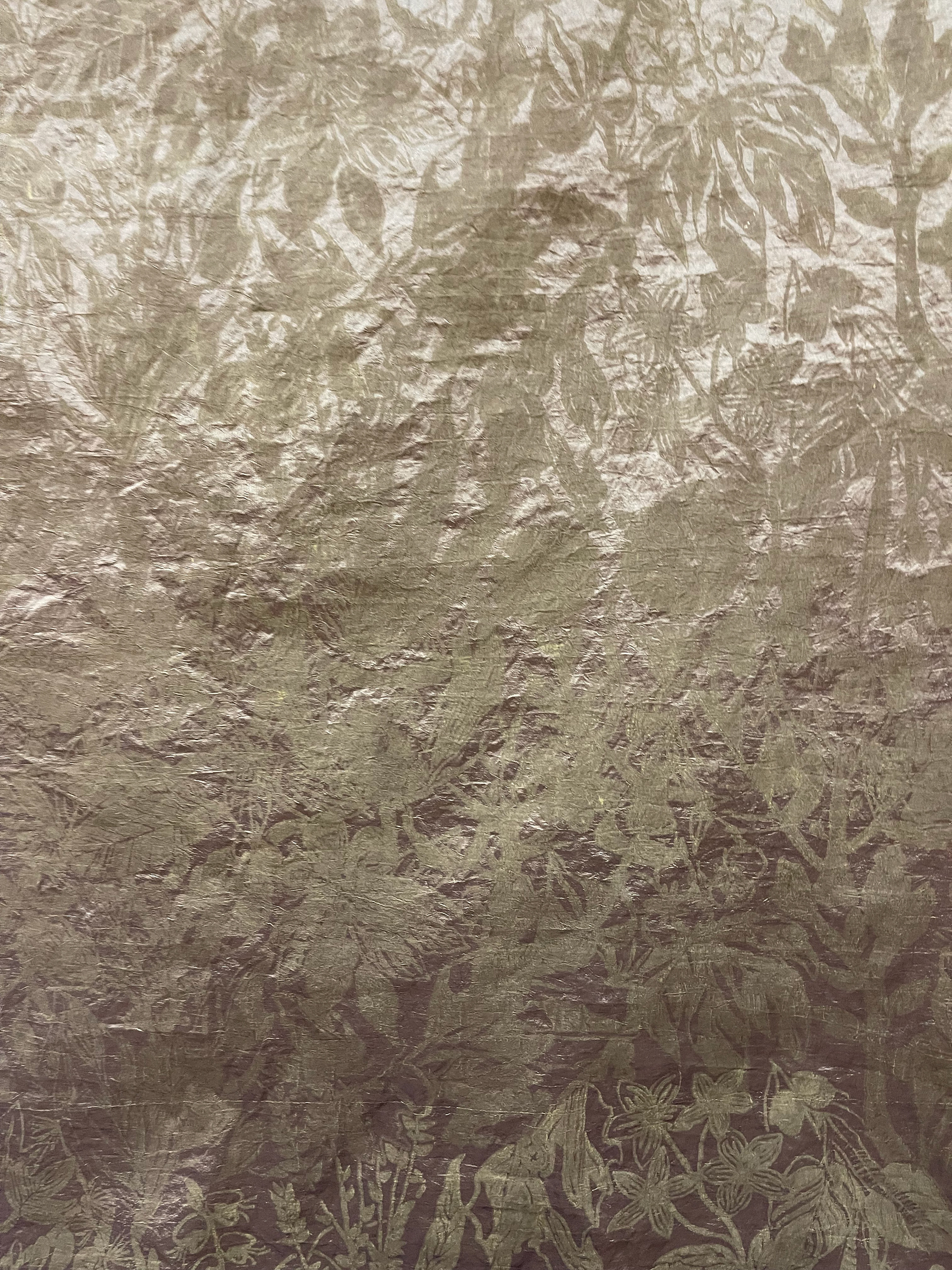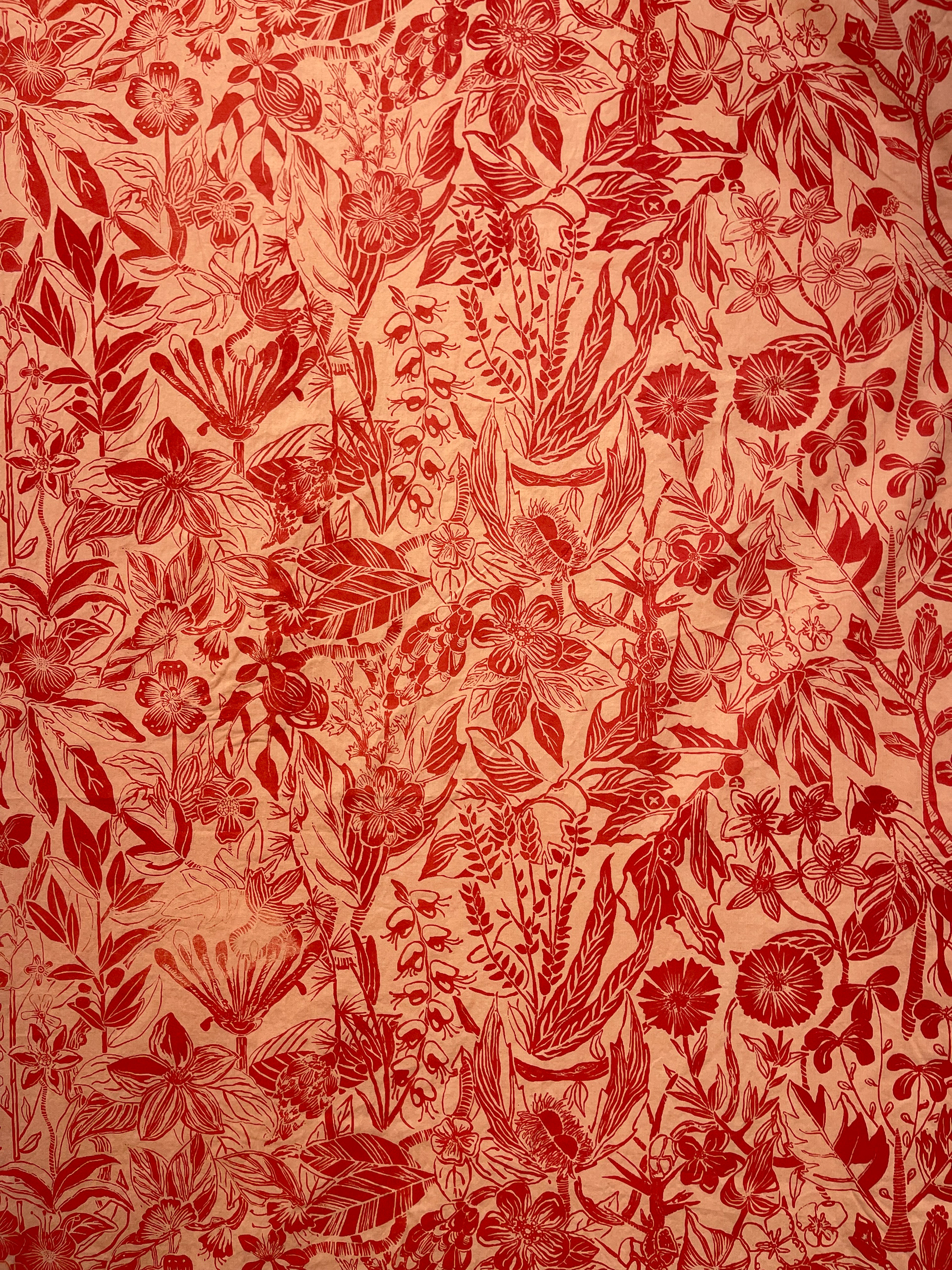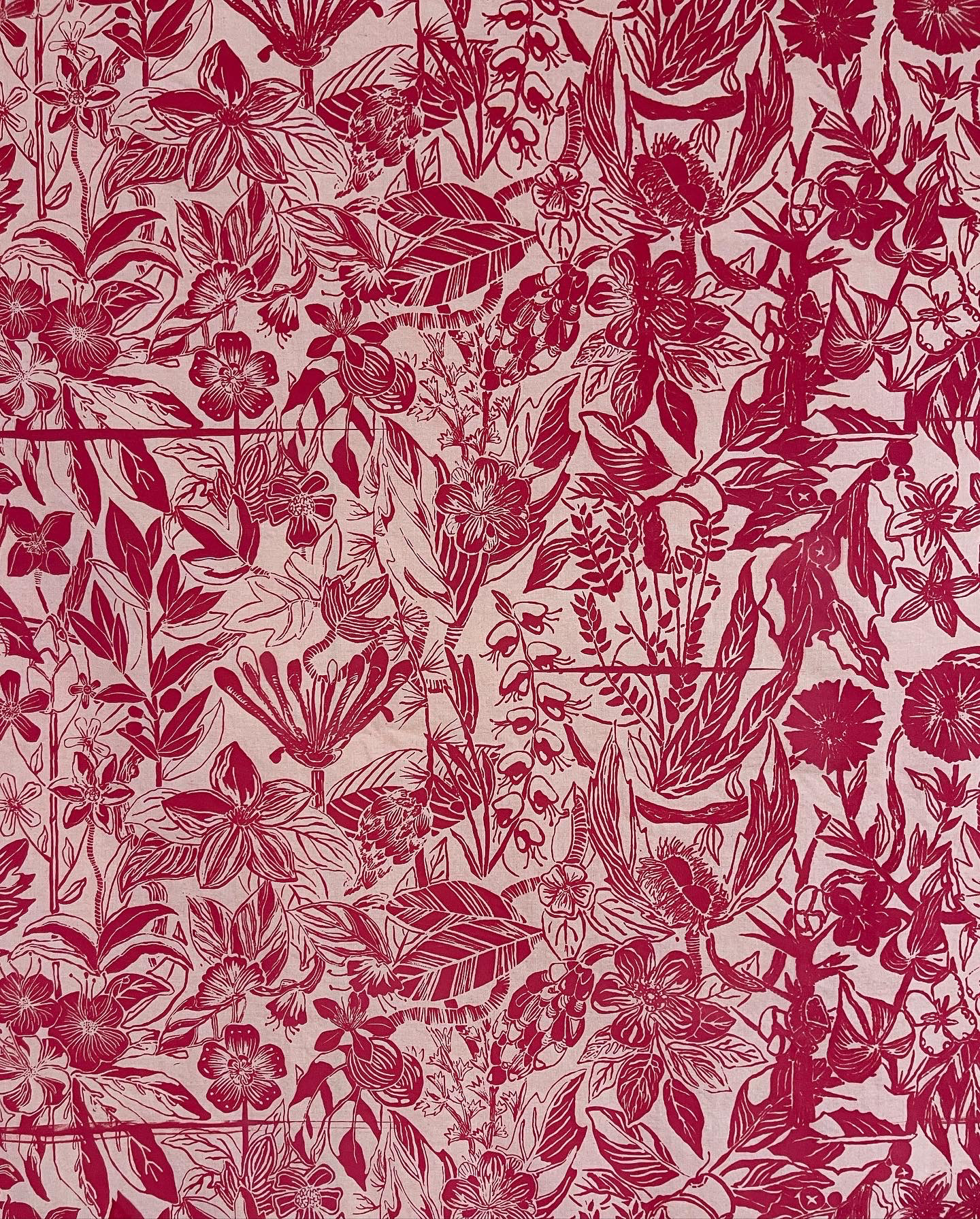 PLAID


3 variations of holographic plaids with contrasting colors on ombre dyed cotton fabrics: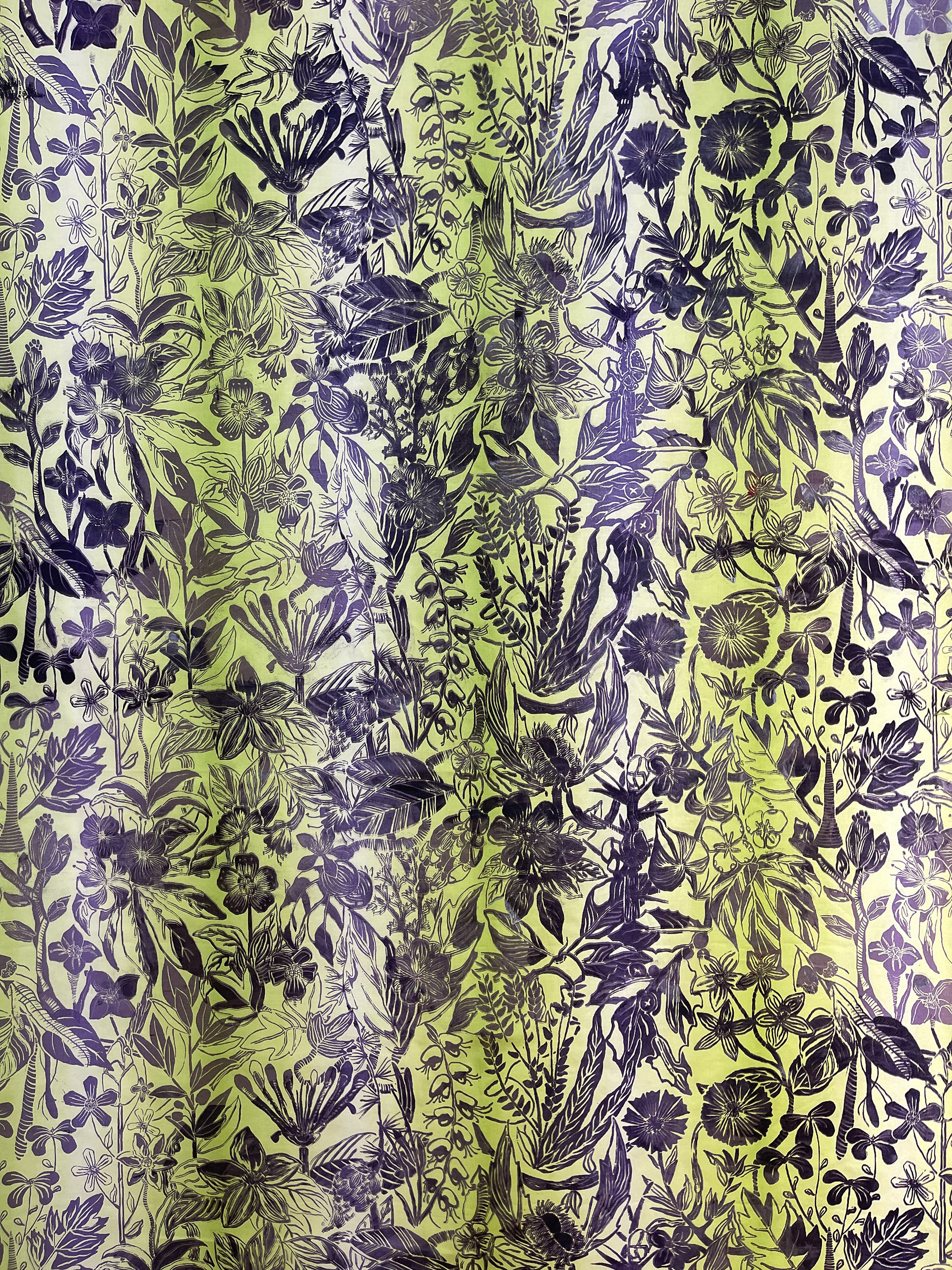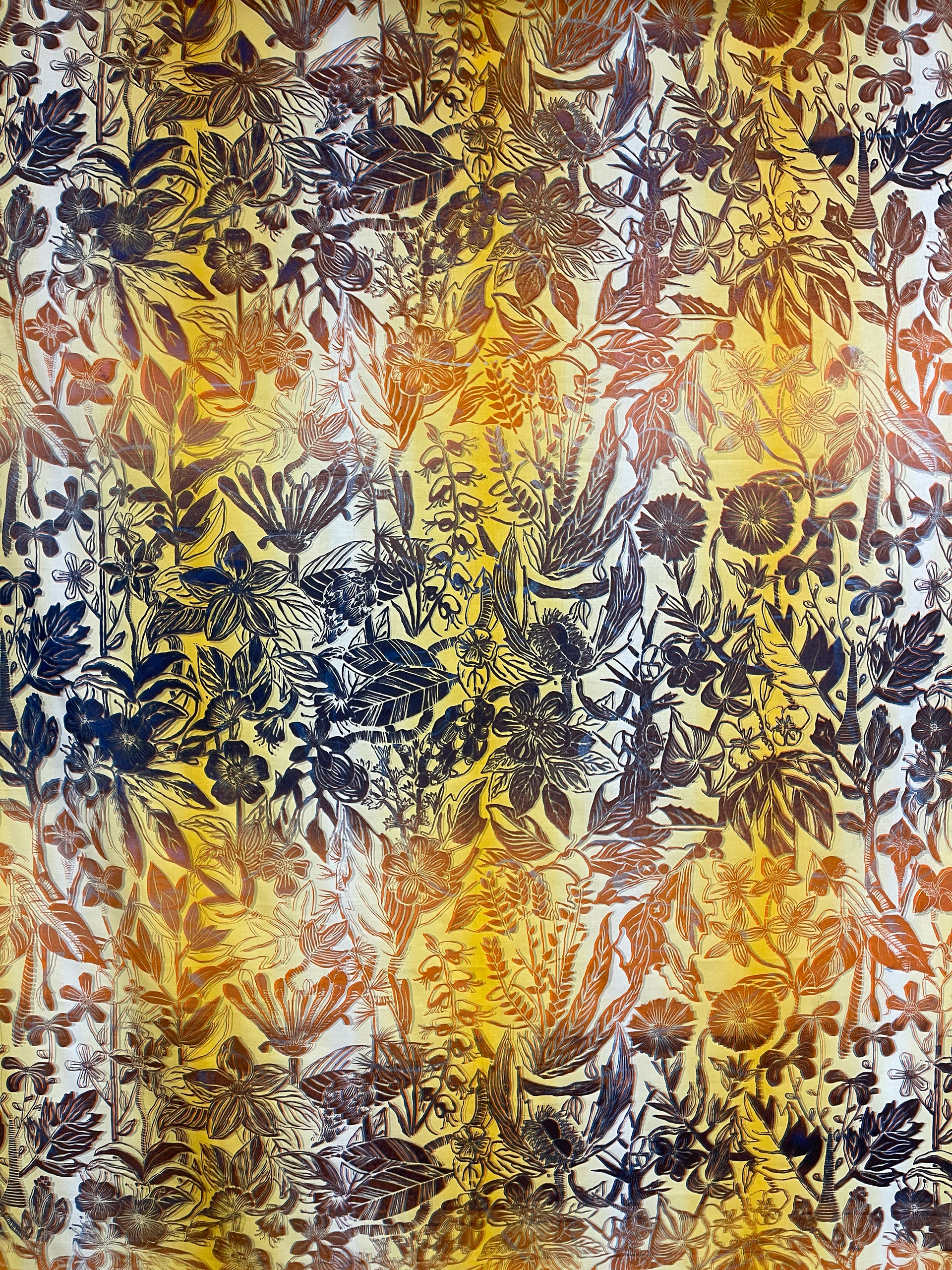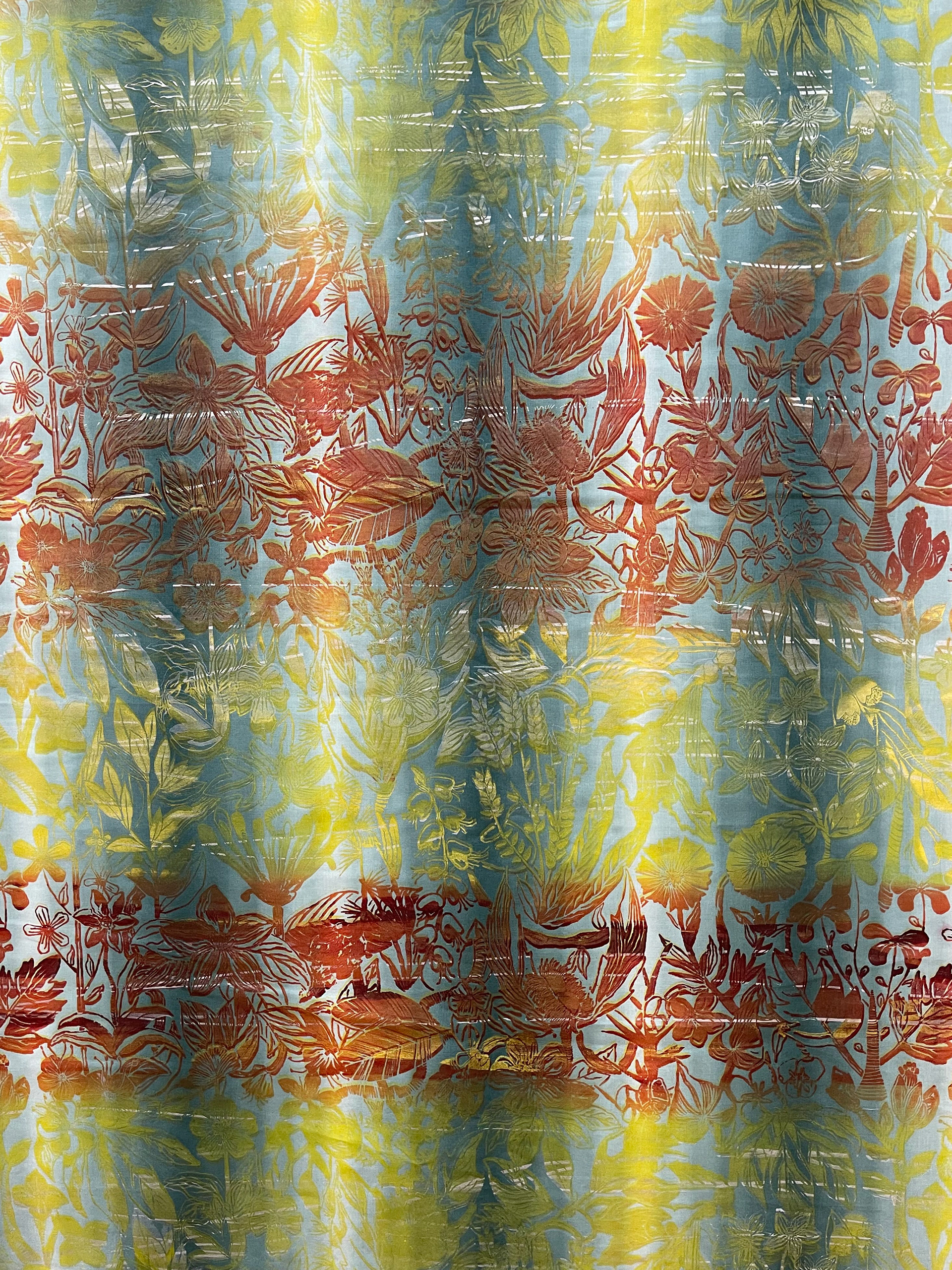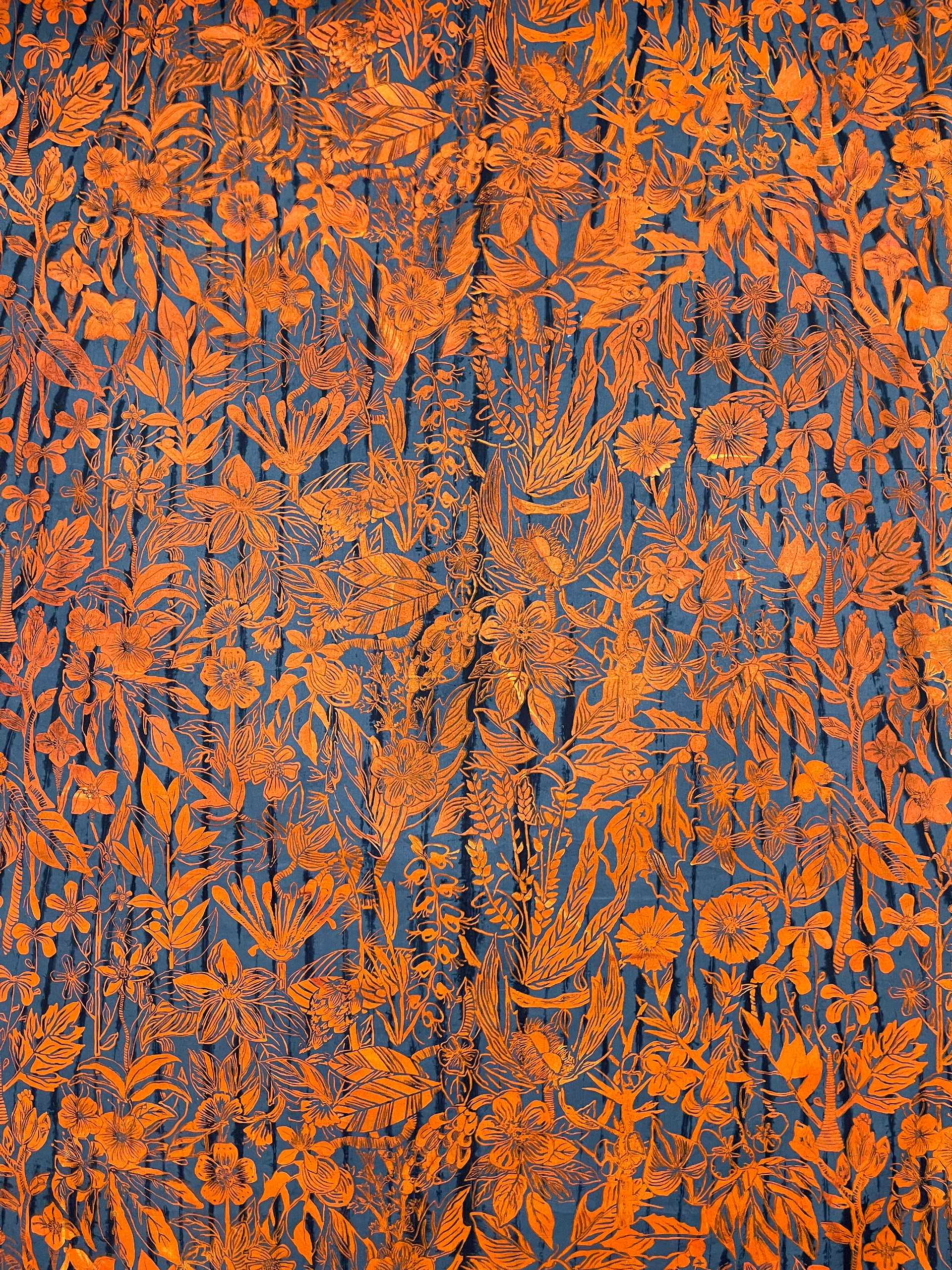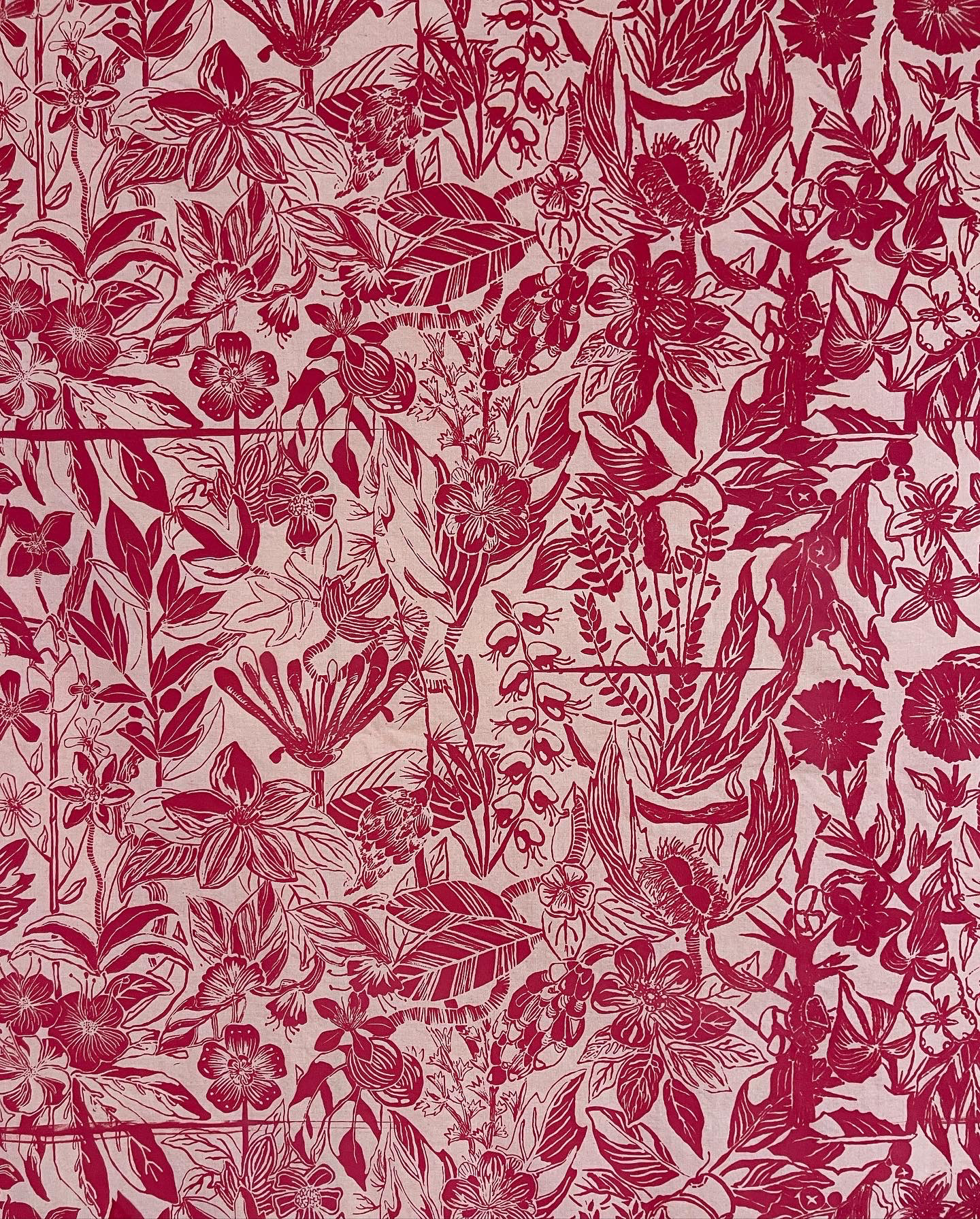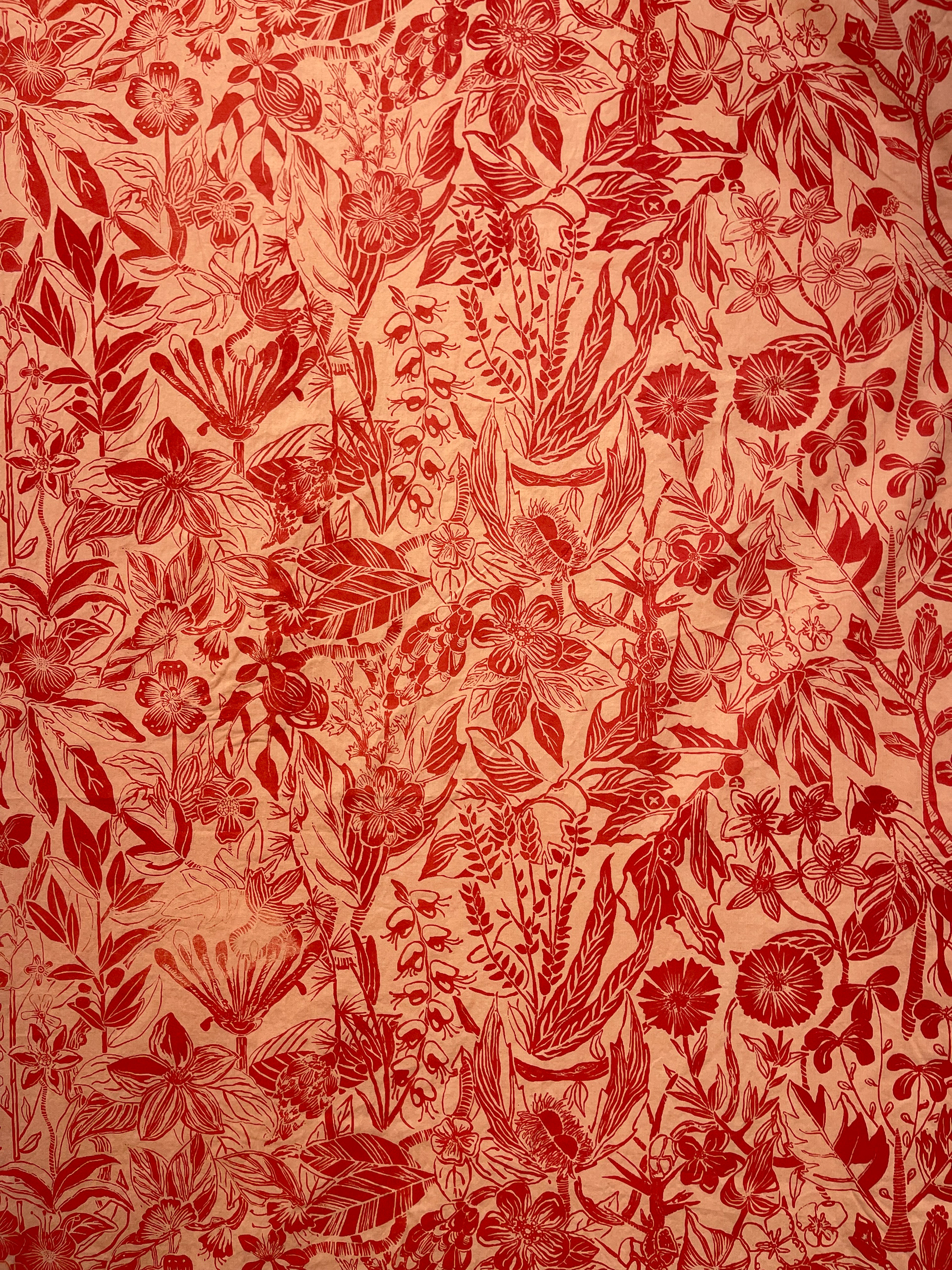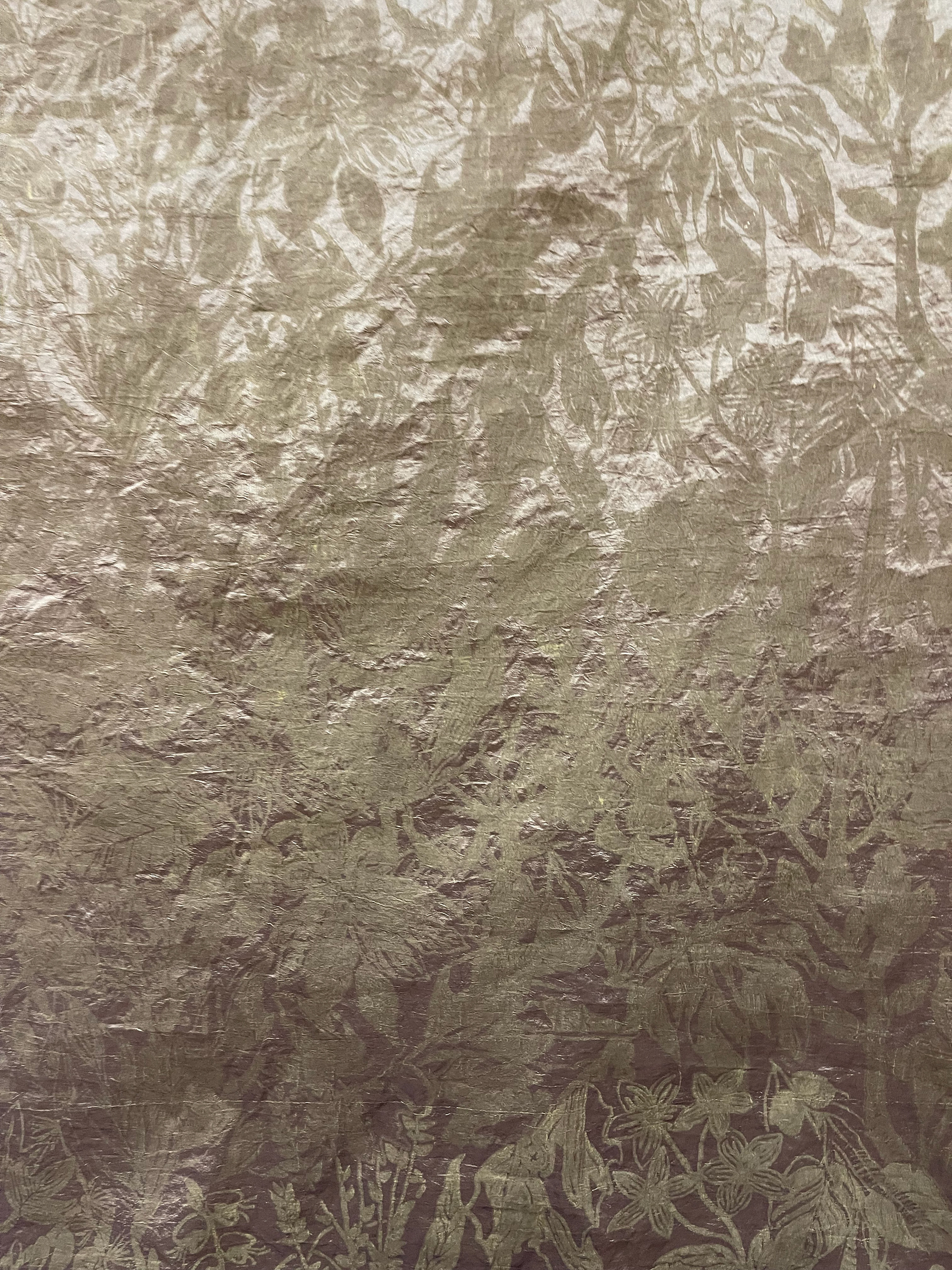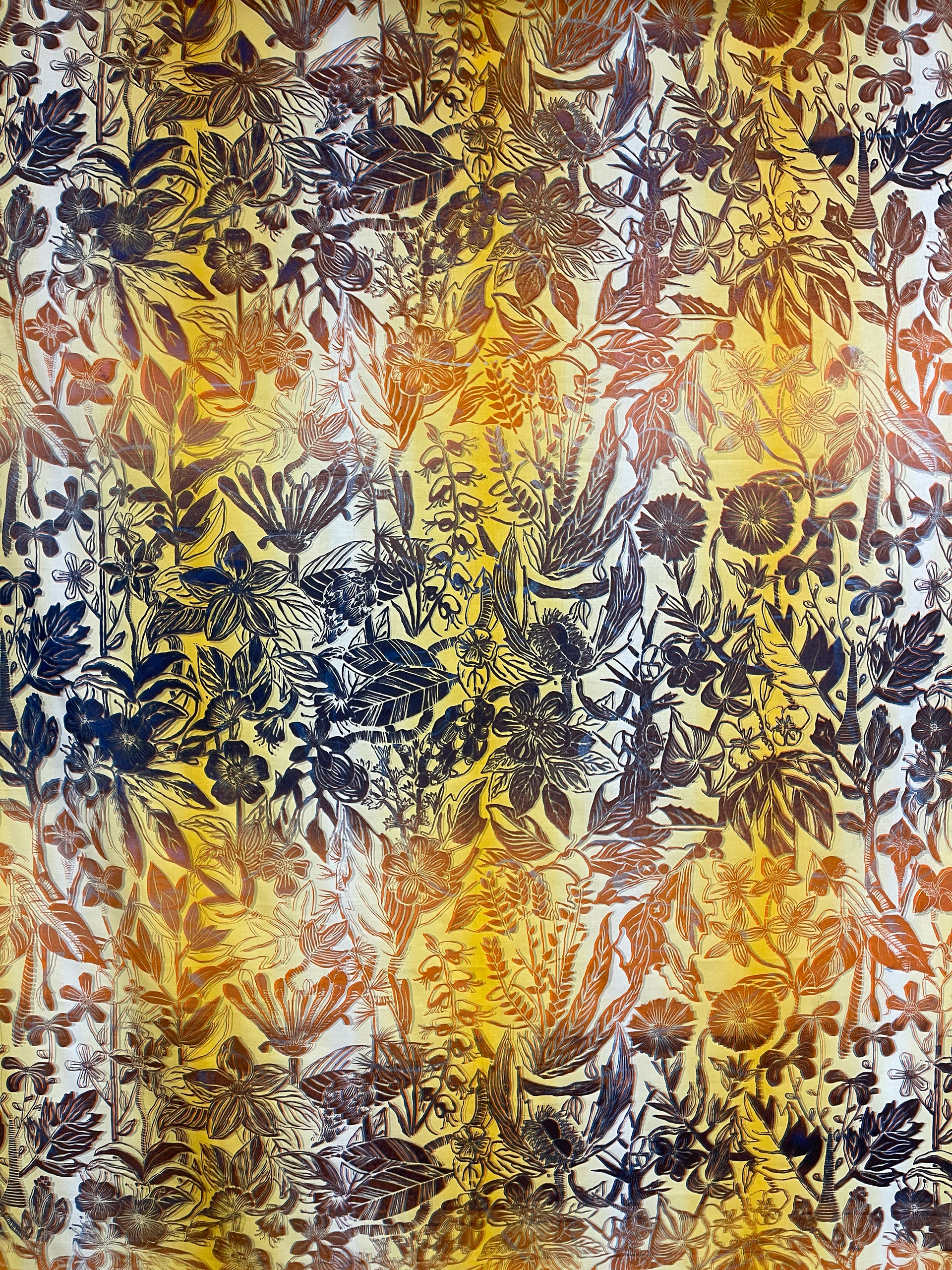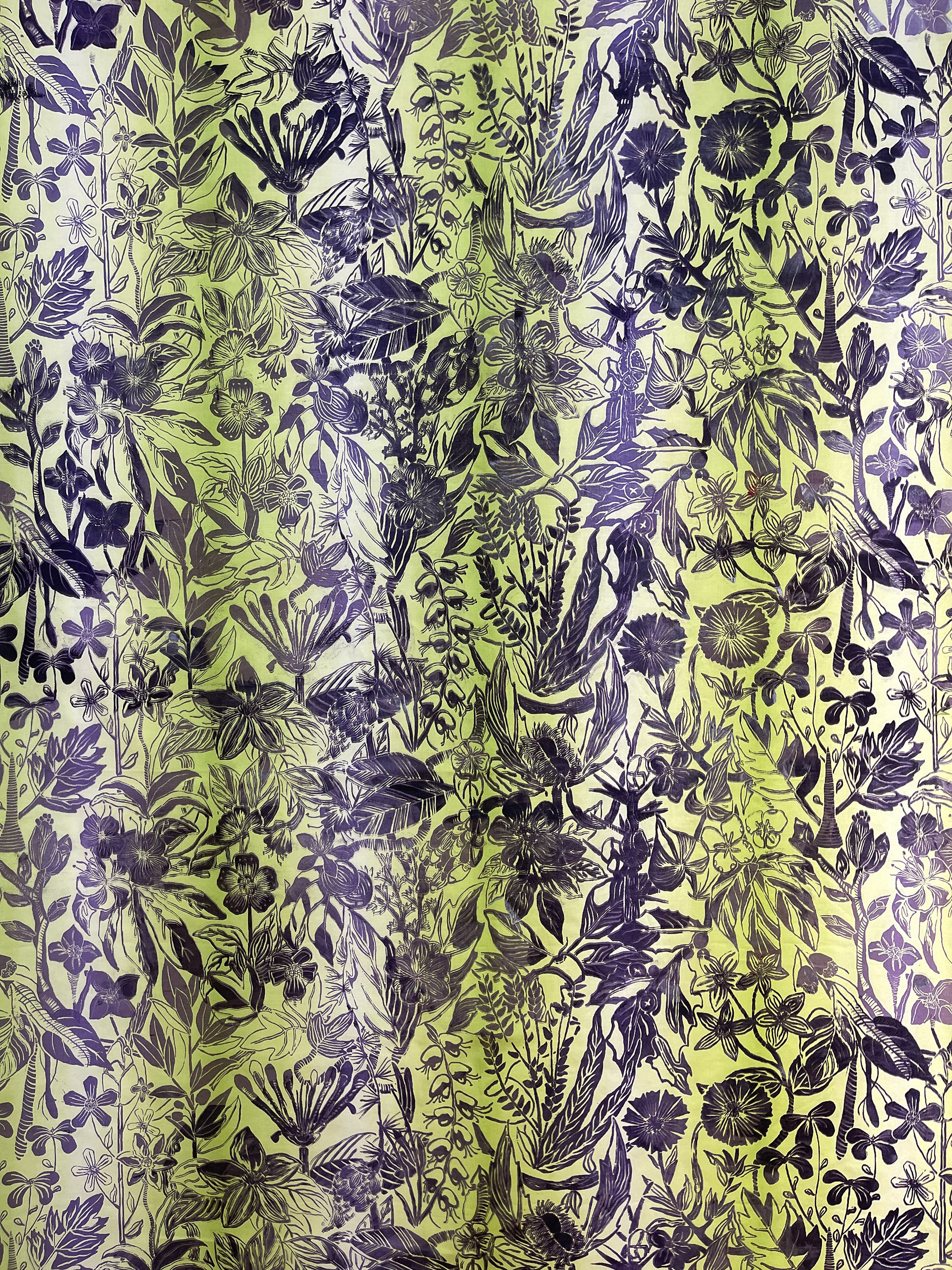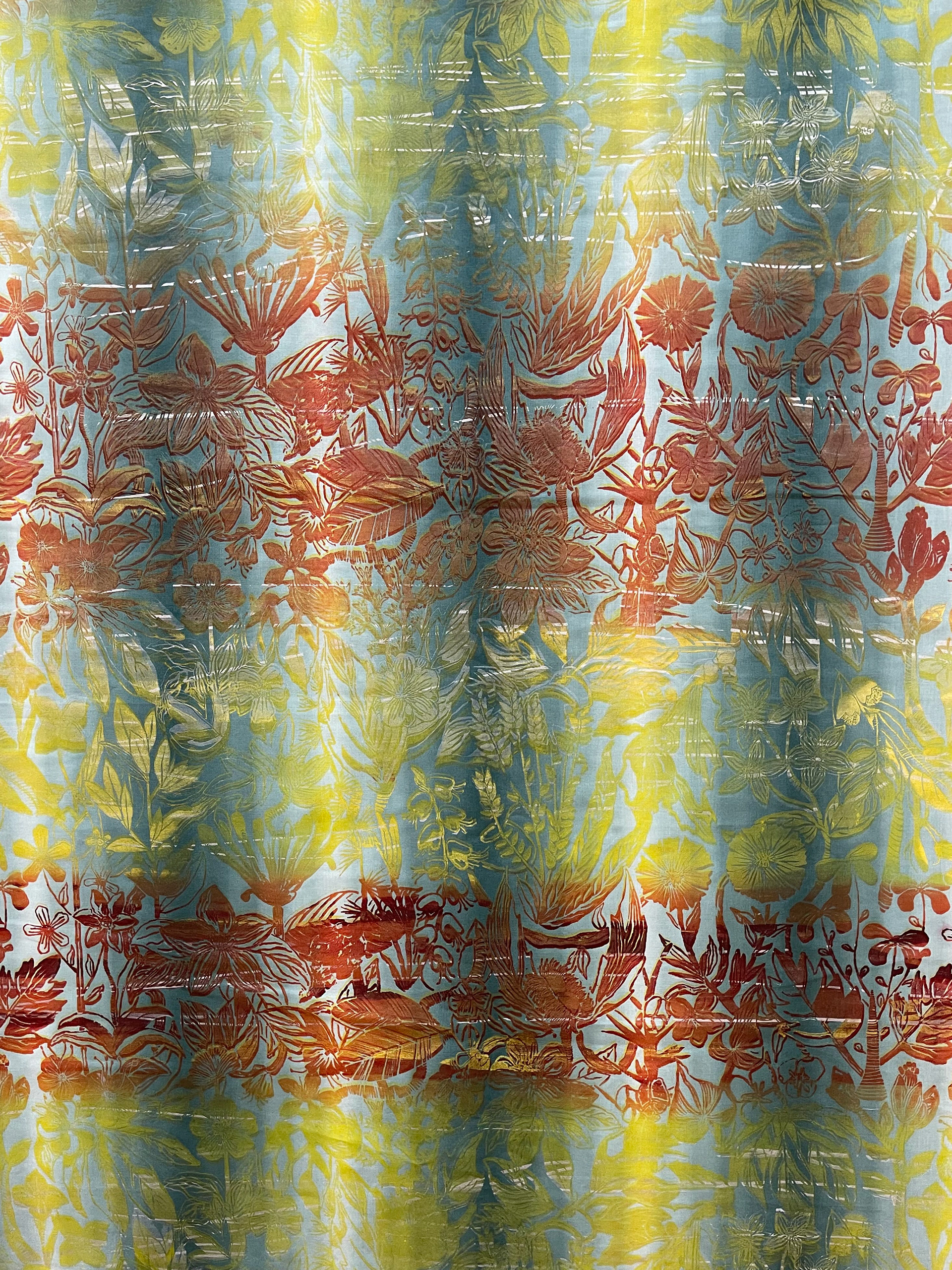 ---
INTERACTIONS WITH THE BODY
---
DRAPING the print on the body to examine how it FOLDS, CREASES, and FALLS when wrapped around the axis of the HUMAN BODY

---
COLOR THEORY STUDIES
---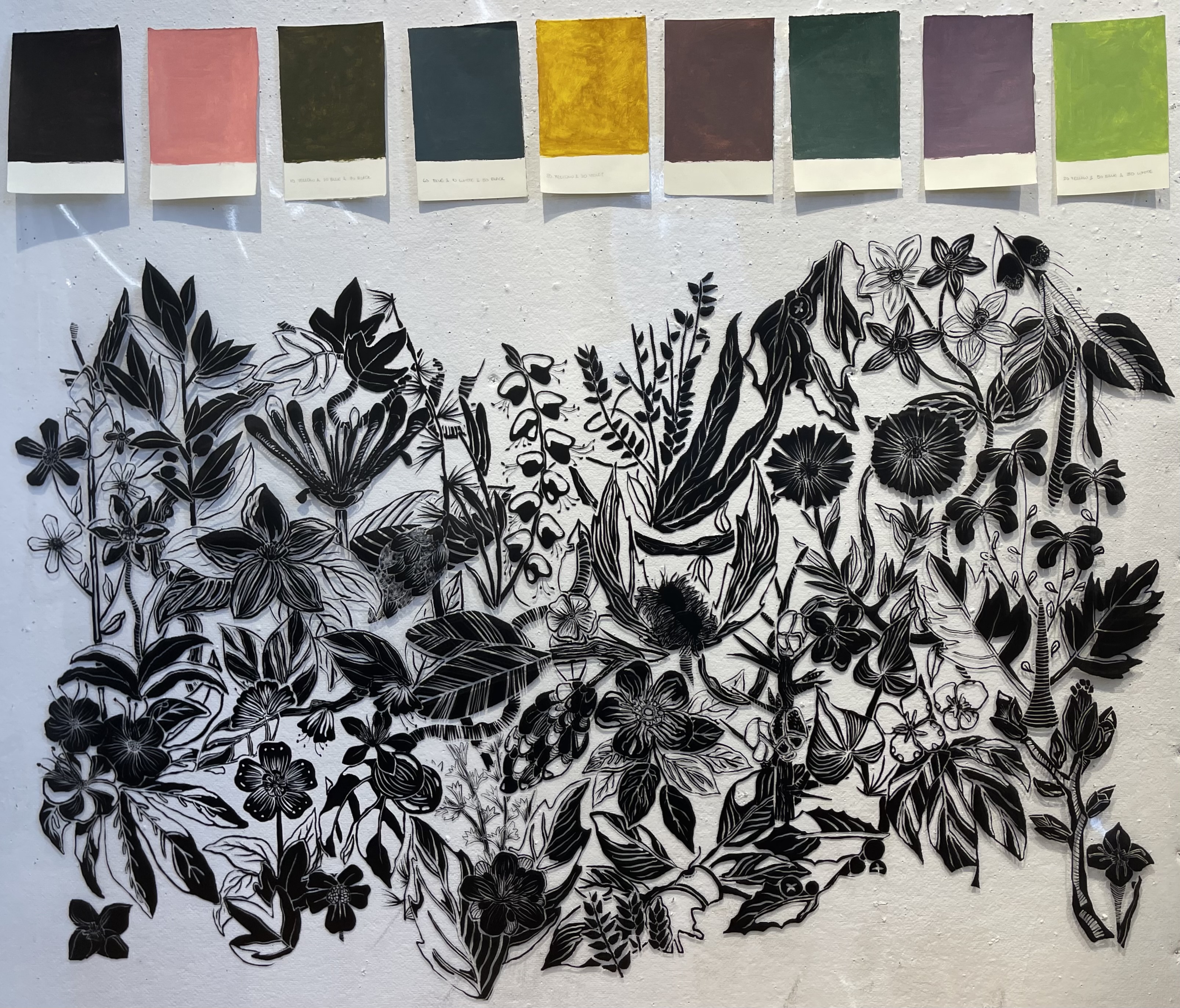 ︎︎︎Developing a COLOR PALETTE

︎︎︎Examining COLOR INTERACTIONS

(inspired by Joseph Albers' Theory of Color)
︎︎︎ The process started with creating COLOR CHIPS using GOUACHE on PAPER:

︎︎︎ And then, sampling INDIVIDUAL COLORS using DYE PIGMENTS and SILKSCREENING them onto FABRIC:

︎︎︎ Lastly, OVERLAYING COLORS in order to see how colors INTERACT when printed on top of each other:

---
DIGITAL PATTERN DEVELOPMENT
---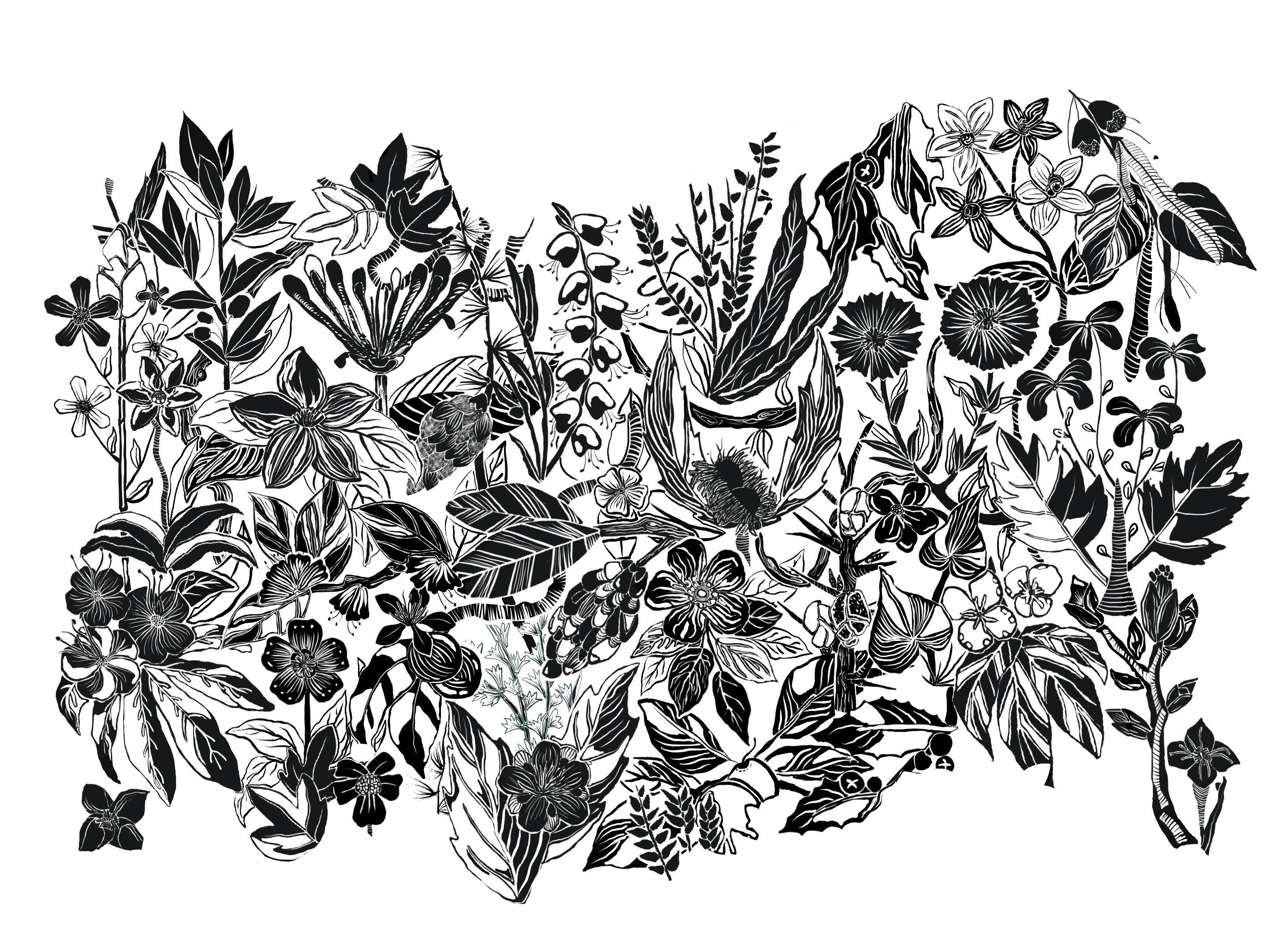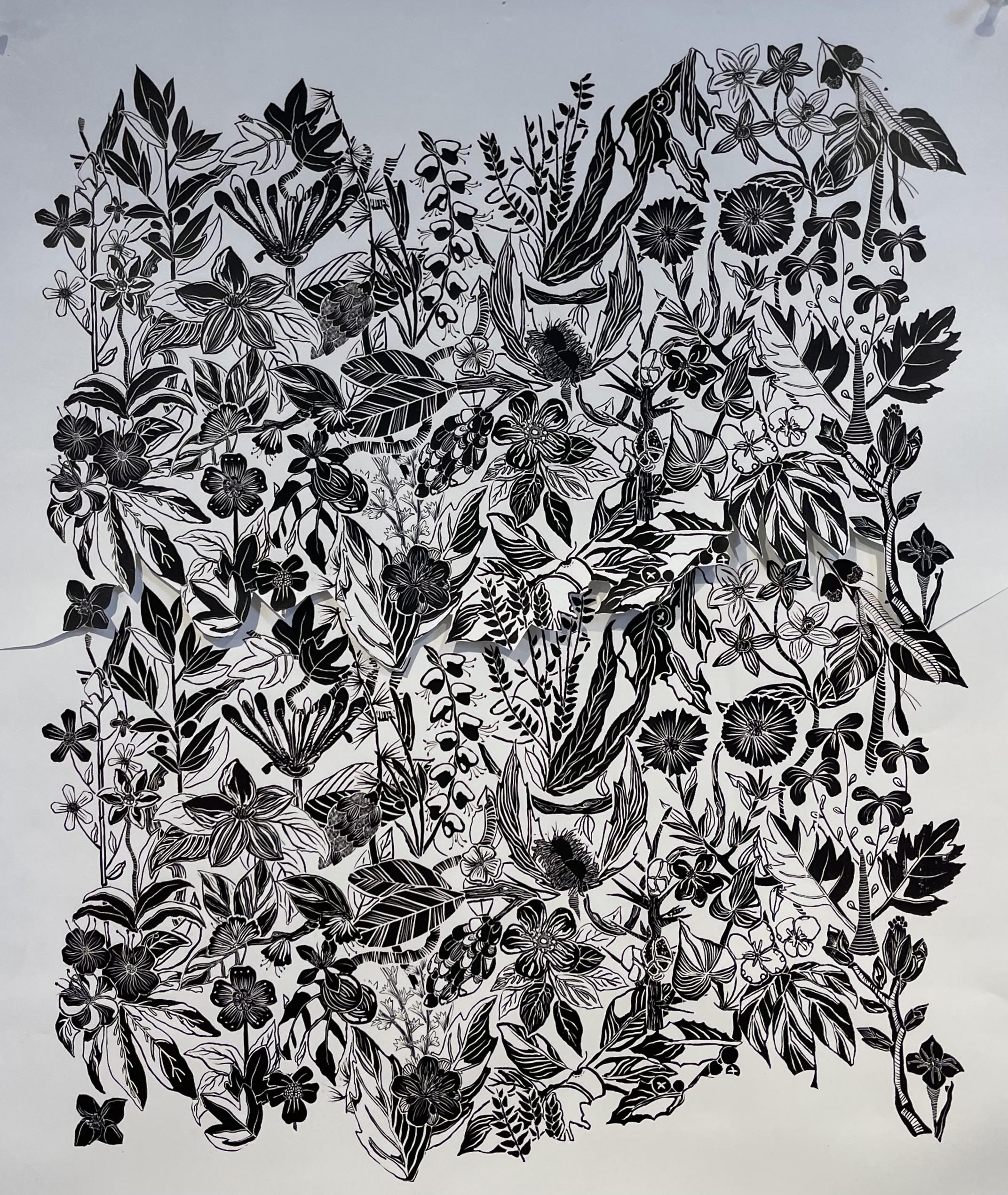 Using Adobe Illustrator to VECTORIZE each floral motif.

---
PAPER COLLAGE FLORAL MOTIFS
---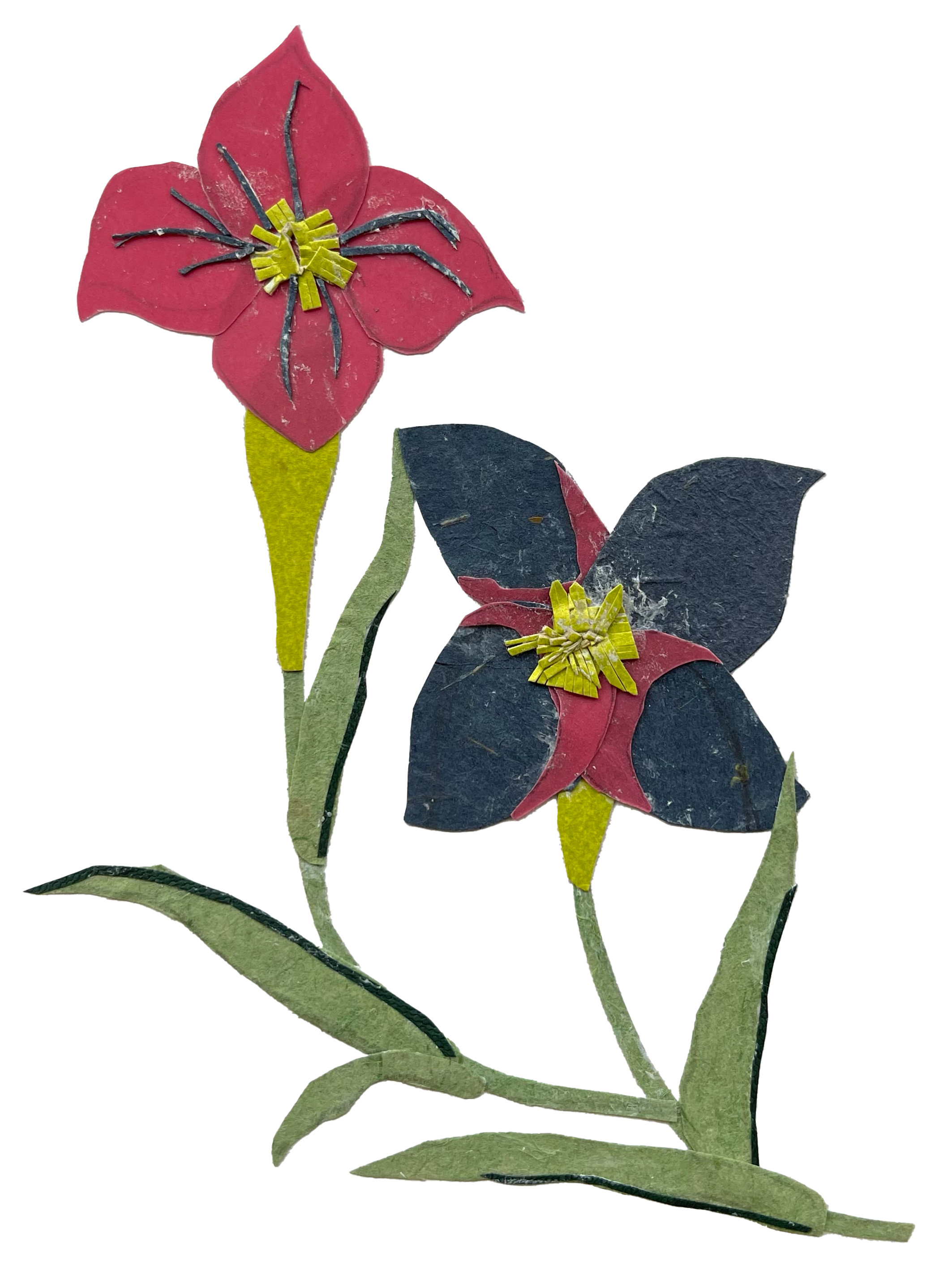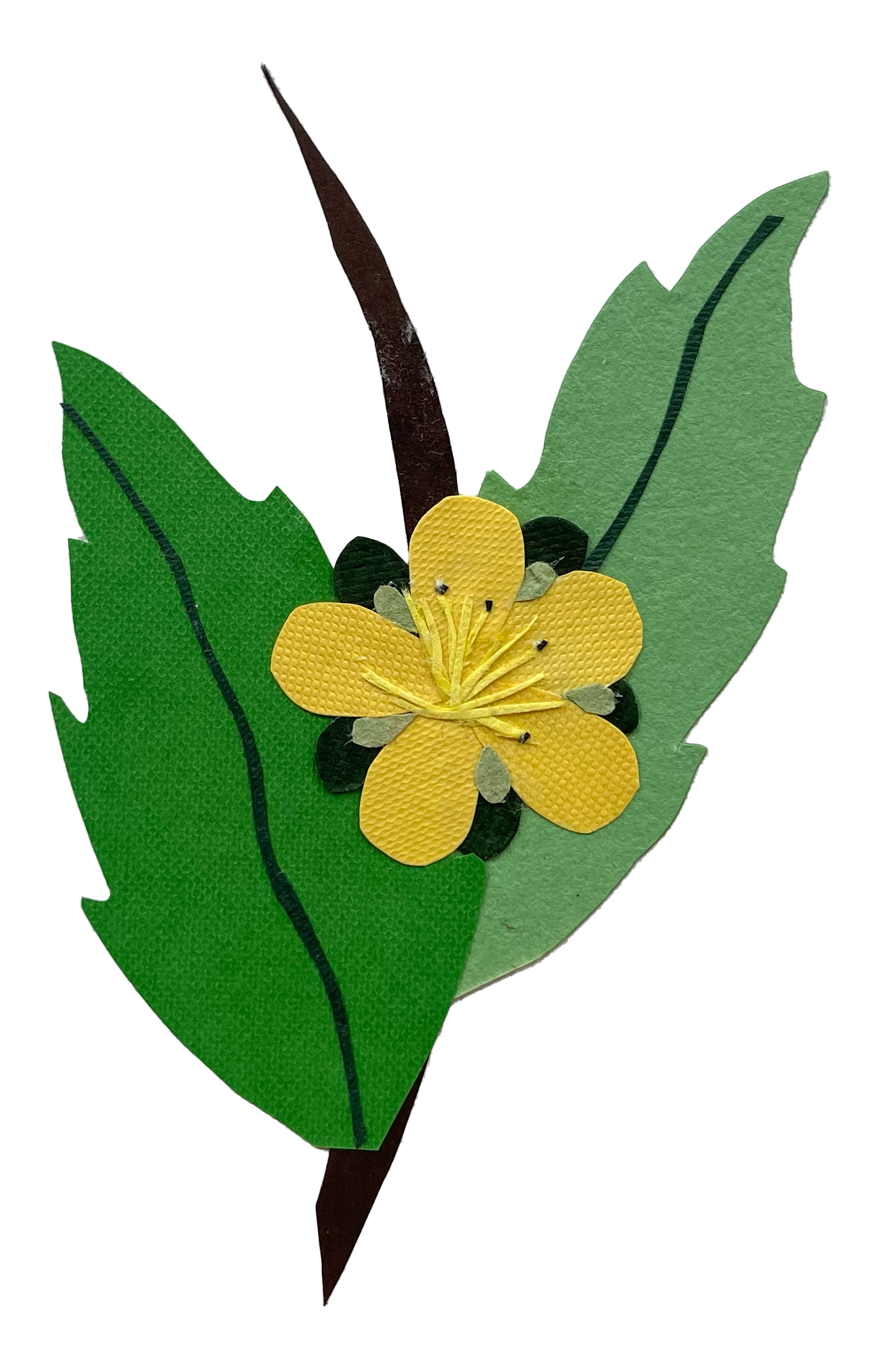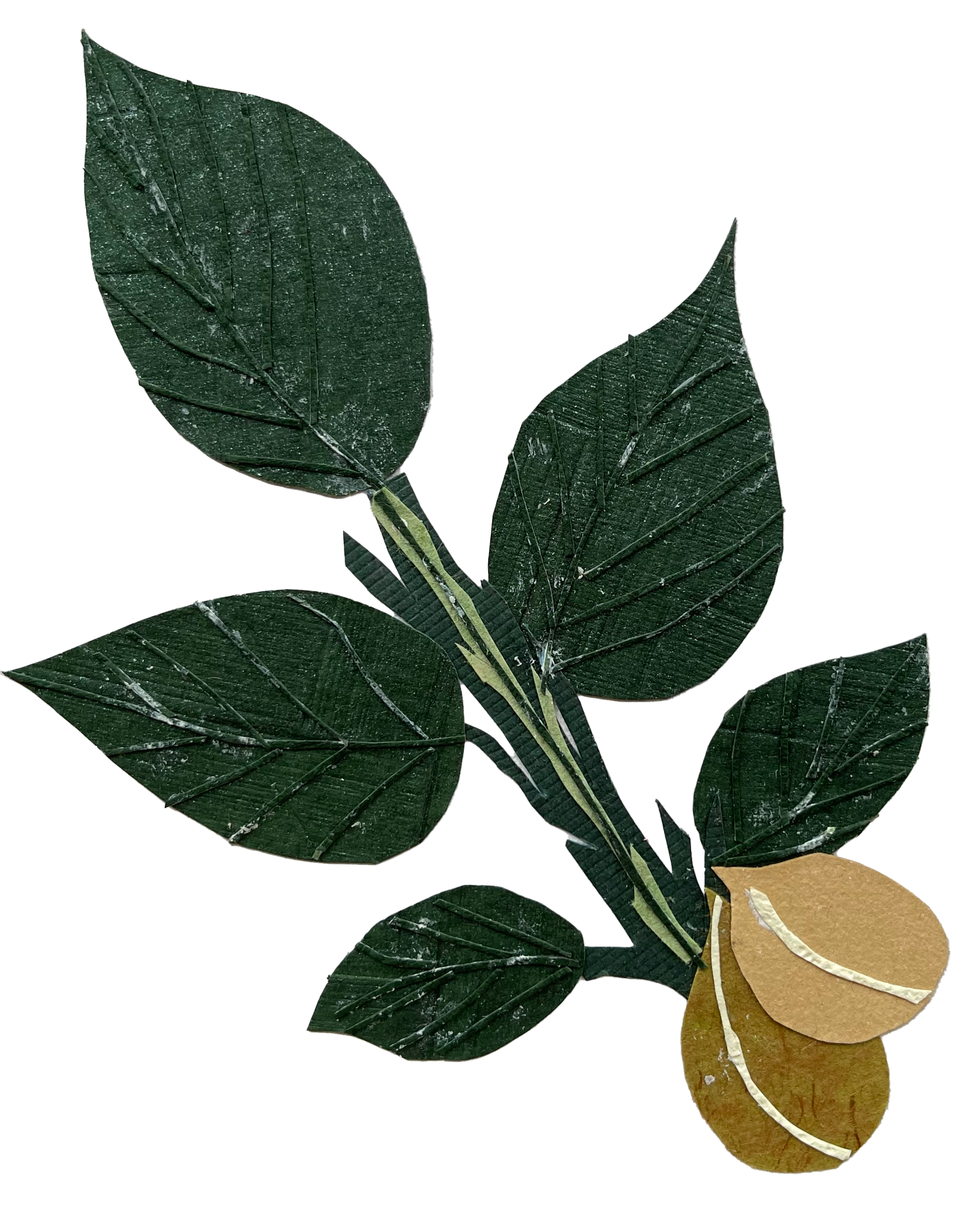 ---
PRELIMINARY SAMPLING
---
Based on the concept of abstracting architectural structures in New England to demonstrate repeat pattern development and then sampling for multiple color ways.

PATTERN DEVELOPMENT
---

LINO PRINTING
COLORWAY DEVELOPMENT


---

DIGITAL PROTOTYPING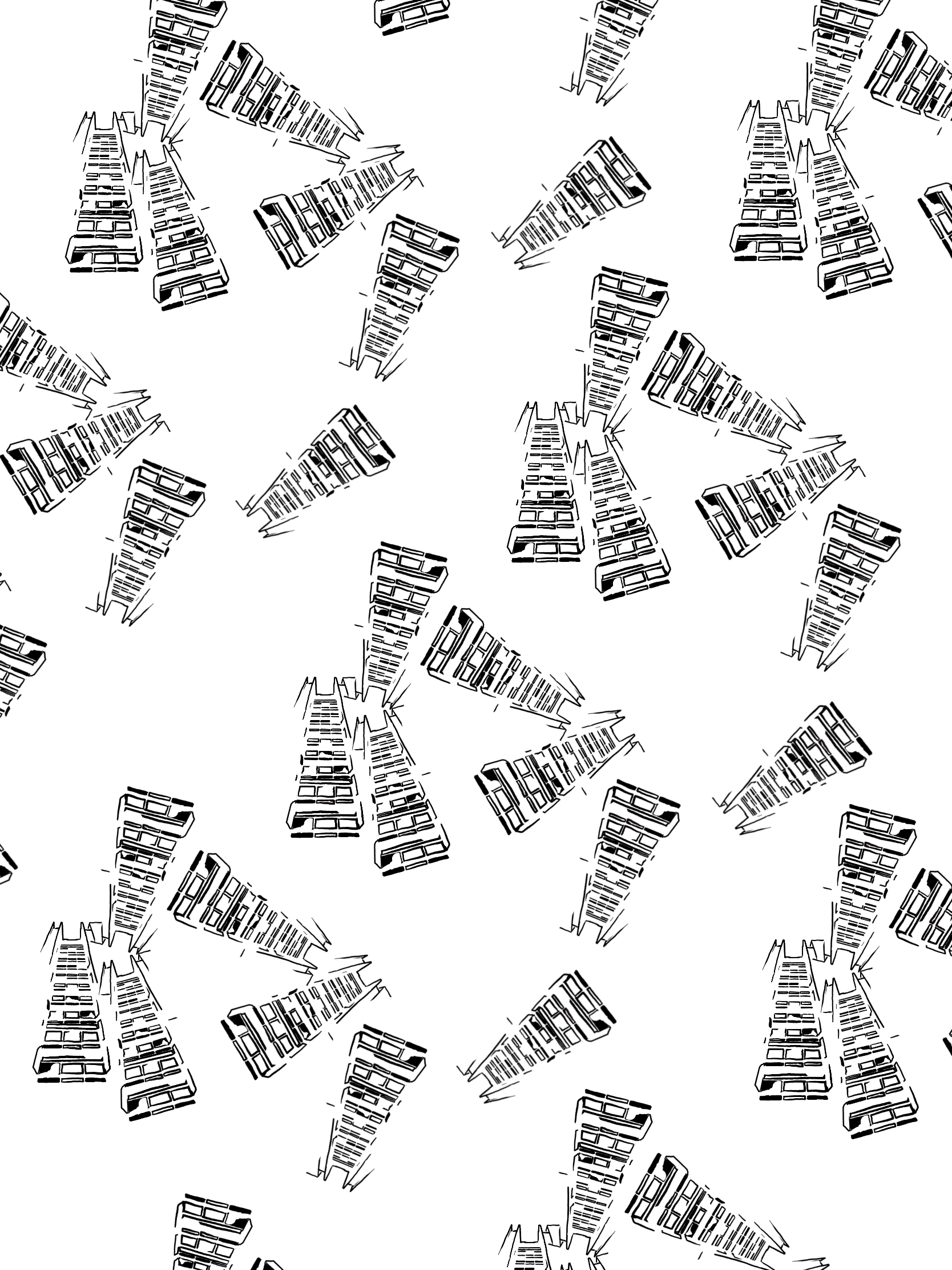 ---
EARLIER CONCEPT DEVELOPMENTS
This collection is an exploration of abstracting the buildings around Brown's traditional yet modern campus. The choice of buildings was based on the places where I have had some of the most wholesome covid-era meet-ups since being here. This collection aims are creating avant-garde geometric patterns which rely heavily on symmetry and stripes to create discrepancies within the regularity of the geometry. The choice of color is informed by the idea of happiness and child-like wonder which is now characteristic of any non-virtual interactions in my life.
---
SILKSCREENING PROCESS IMAGES
---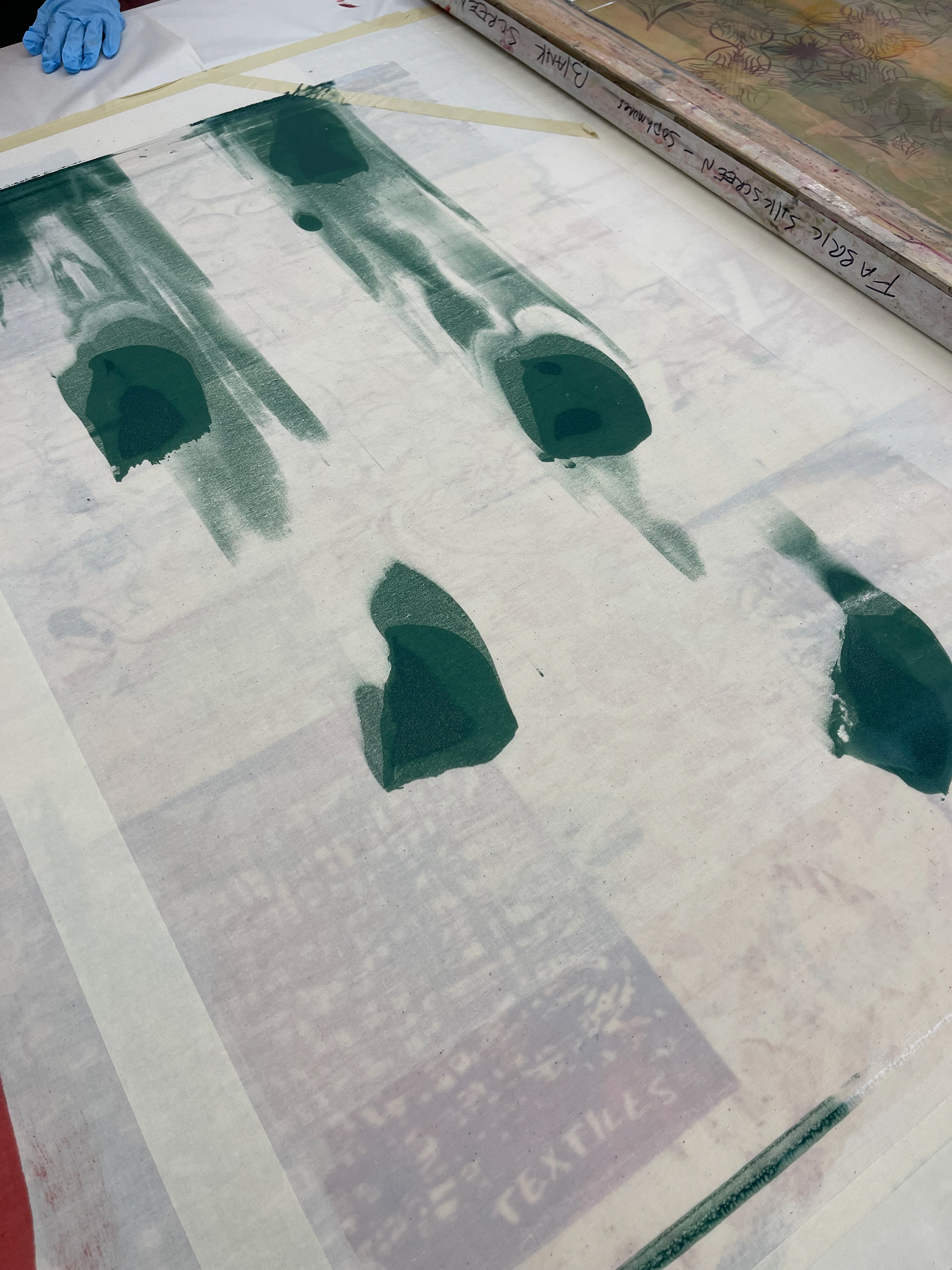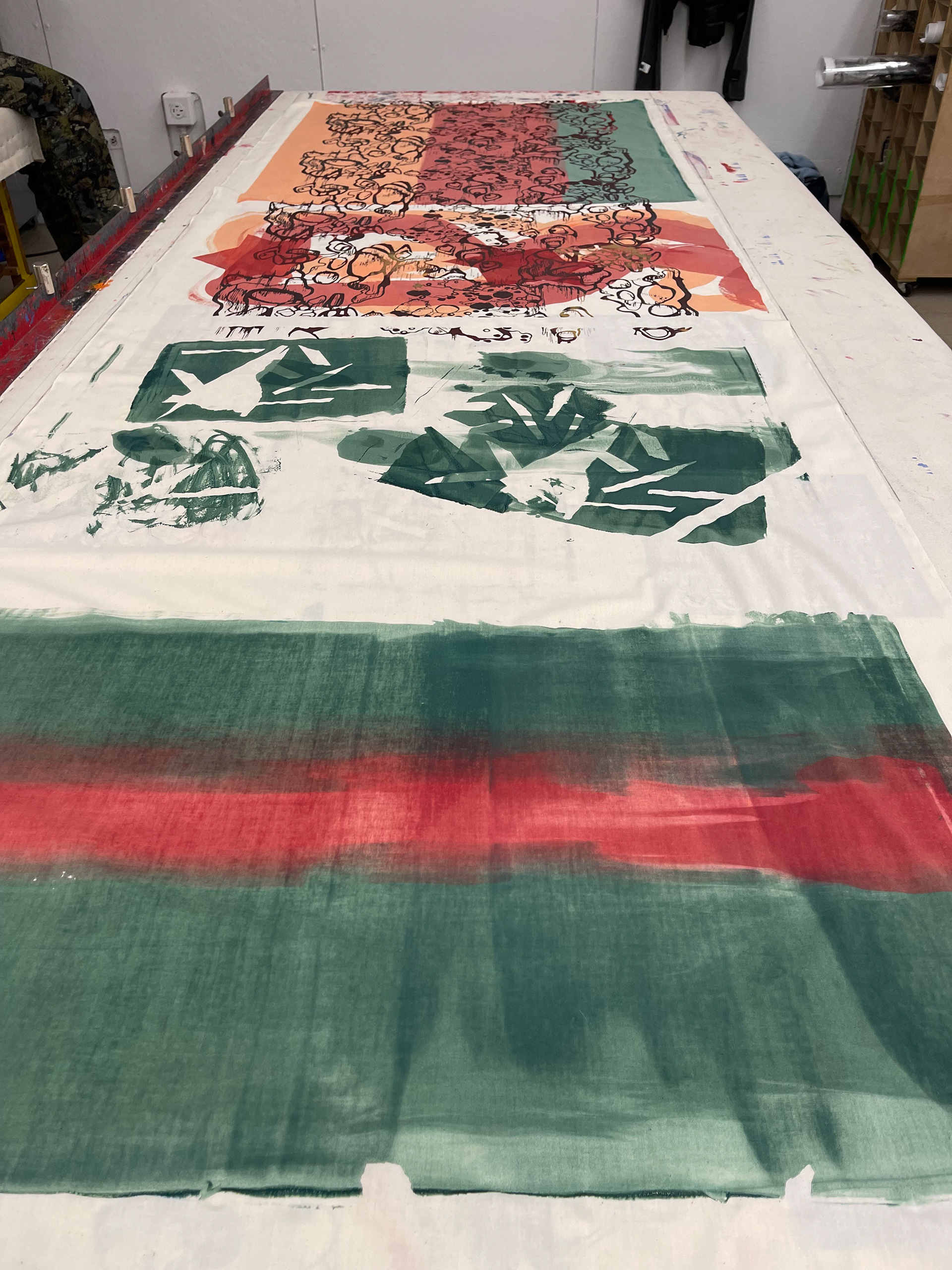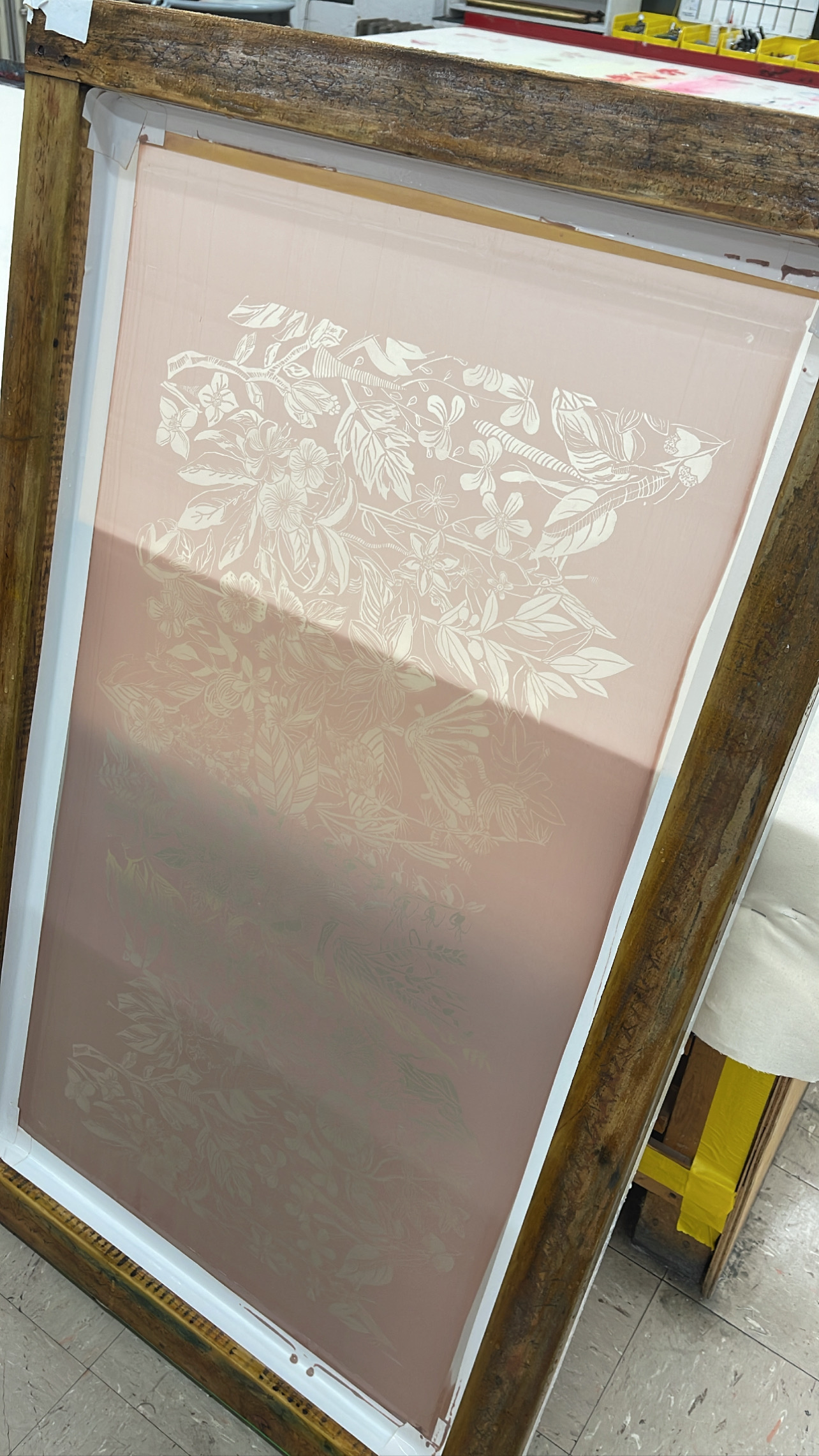 ︎︎︎FABRIC DYING

︎︎︎PIGMENT MIXING

︎︎︎MAKING THE SCREEN

︎︎︎PRINTING

︎︎︎OVERDYE TECHNIQUES
---
EXPERIMENT, EXPERIMENT, EXPERIMENT–
It was only after a very intensive process of experimentation did I reach a place of resolution with my pattern and color developments. I learn a lot of new things on the way, and loved interacting with new discoveries as they came!

Scale matters–
Working on a larger than life scale was imperative in understanding the relevance of perfectionism and care to the small little details. It also taugh me a lot about what it means to create at a large scale in terms of cultivating physical and emotional strength.

Sometimes you need to put in long hours, and stay patient through it all–
This project took me a long time. Working with silkscreens, requires a great deal of perfection and patience. Small mistakes can ruin hours of work. I was testing my own limits by seeing how much I could endure as an artist and creator.



---