---
INHERENT VICE SUSTAINABILITY PROJECT
Inherent vice, also known as inherent fault, is the tendency in an object or material to deteriorate or self-destruct because of its intrinsic internal characteristics, including weak construction, poor quality or unstable materials, and incompatibility of different materials within an object.





—American Institute for Conservation (2021)
---
Client
Museum of Art, Rhode Island School of Design
Timeline
54 weeks (Sept '21 — Sept '22)
Tools
Microsoft Suite, Museum Plus, Archiving Tools (Industrial Scanners, Cataloguers, etc.), Conservation Tools, Photogrpahy Tools
Skills
Museum Archiving, Cataloging, Course Development, Project Management, Proposal Writing, Conservation, Historical Research
---
THE PROBLEM
One of the biggest challenges that face museum administrators each day is finding adequate storage for ever-growing museum collections of valuable items.


Textiles, with their extremely fragile nature, are very challenging to store. Folds, and creases cause areas of pressure in textiles.
More than 90% of the RISD Museum's Costume and Textile collection is in storage, and over the years, many artifacts have become structurally compromised.

More than 100 of the museum's Gilded Age garments were found to have deteriorated in storage.


Despite the museum's meticulous galleries, the Gilded Age garments were stacks of shattered silks, dry-rotting cotton, degraded net, and corroded beads— all examples of inherent vice. They were useless for exhibition, storage, or teaching.


In an effort to have more in museum storage, this project aimed to store textiles in a manner that they used minimum resources, while remining preserved in our collection.

---
THE CLIENT


Established in 1877 as part of a vibrant creative community, the RISD Museum stewards works of art representing diverse cultures from ancient times to the present. We interpret our collection with the focus on the maker and we deeply engage with art and artists, presenting ideas and perspectives that can be inspiring and complex. We aspire to create an accessible and inclusive environment that fosters meaningful relationships across all communities.
THE APPROACH
This project was born of conversations about how we as conservators and curators can make our behind-the-scenes work more accessible


The Inherent Vice Project encompasses:


A Yearlong Exhibition

Deaccessioning Efforts

Collections-Care Initiatives

Community-Building Conversations

Related RISD Studio Courses


As a whole, the project reframes collections care as a reparative, empathetic act that embraces both literal and metaphorical cracks as opportunities for revealing and making room for neglected narratives.
---
THE IMPACT
ACCOUNTABILITY—
This yearlong project resulted in a myriad of changed in the museum space, with the most important being the change in the approach that the RISD Museum maintained in terms of granting increased accessibility to community members to hold the museum accountable. The yearlong exhibition in the museum provided similar insight.
SUSTAINABLITY—
Optimized storage space (by deaccessioning over 100 garments, and providing them to students for research) by redefining the goals of the items stored, maintaining objects that aid research and education first.
ACCESSIBILITY—
The students were provided first-hand access to the museum collection and storage units— a practice very few museums have ever conducted. Two apparel studio classed also offered students the chance to dissect the garments, while a textile silkscreen class created new work in response to the prompt "hidden stories." The students' artwork is presented here with a selection of deaccessioned garments to provide access to exhibition of work in museum spaces, changing the perception of museum galleries as inaccessibile and elite.
---
FOSTERING SUSTAINABLE COLLECTION PRACTICES
---
ANALYZING STORAGE UNITS
All the museum artifacts in the costume and textile department were analyzed and their conditions were assessed—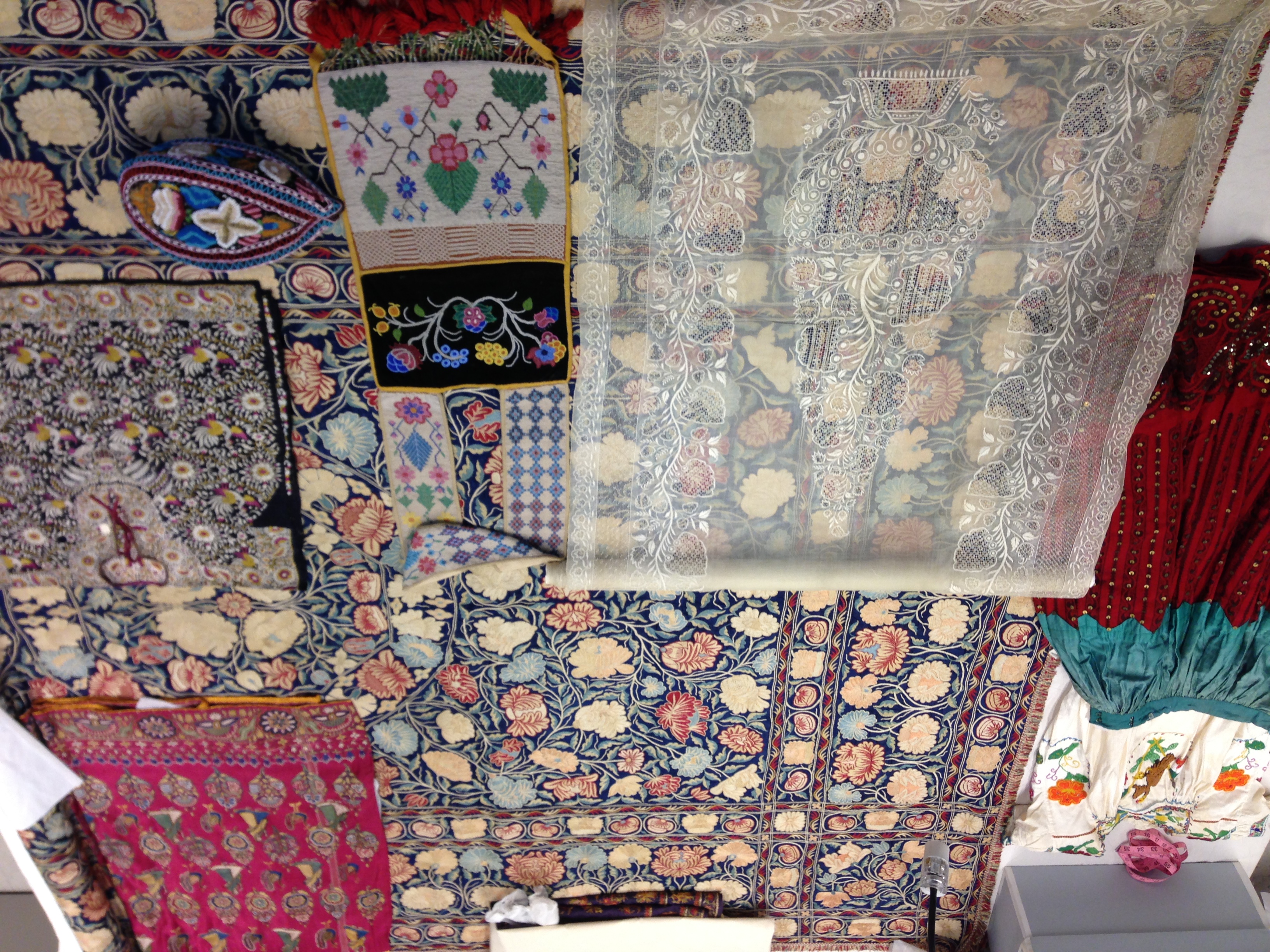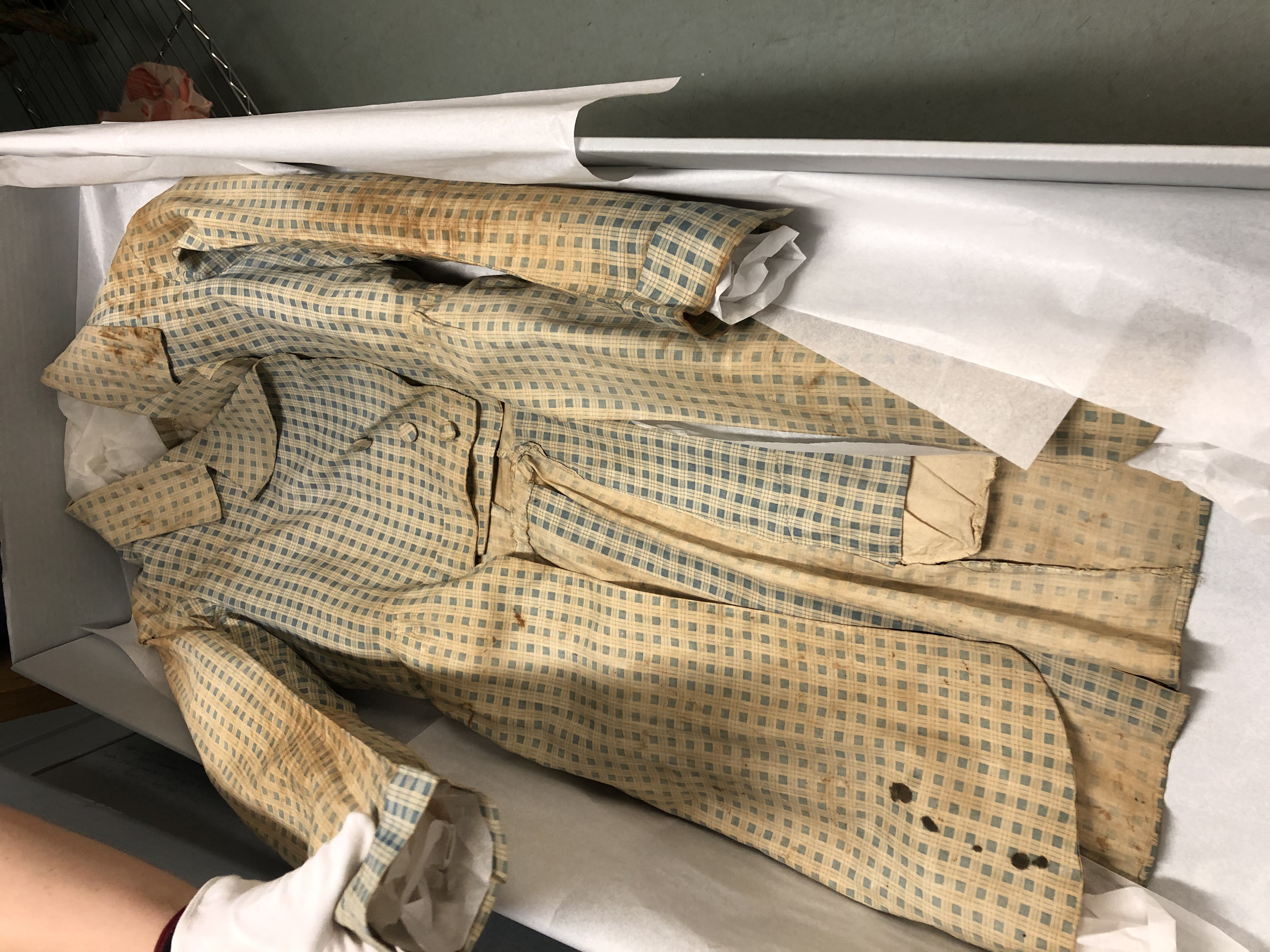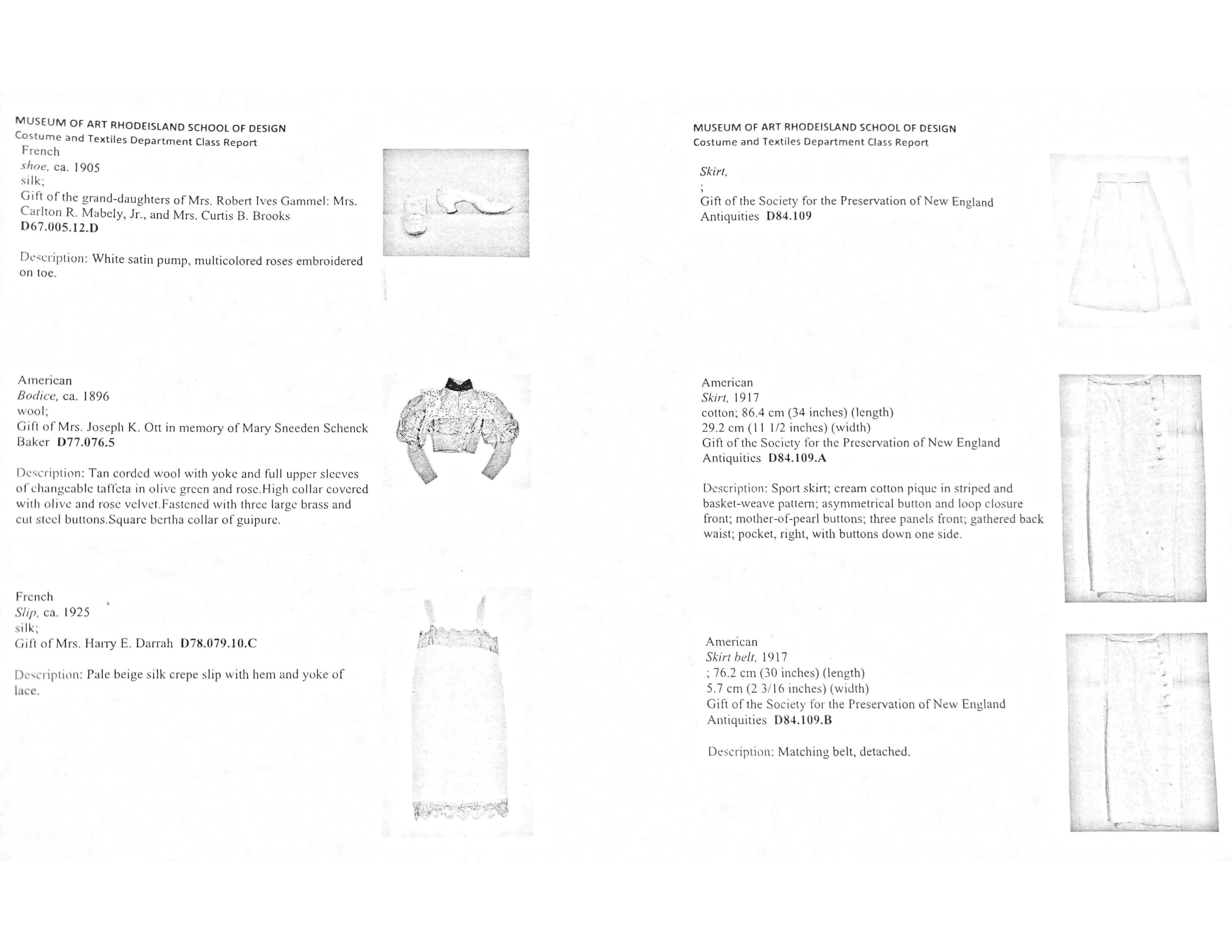 ---
CONDITION REPORTS
DEACCESSIONING GARMENTS
In the summer of 2021, we started a discussion about what to do with 31 extremely degraded garments.


Never meant to be with us indefinitely, the damaged garments were deaccession, the formal process of removal, from a museum collection.

Several of these works were recently displayed in their decaying state at the RISD Museum.
An era of wealth and opulence, the Gilded Age was a time of enormous economic growth across the United States.
Natural resources were extracted, factories were built, and fortunes were made. In this societal context, inherent vice also existed on many levels, including toxic materialism, gross economic disparities, corrupt politics, and white-supremacist social and racial hierarchies.

The inherent-vice metaphor also extends to the Gilded Age foundations of many institutions, including this museum, which was founded in 1877 by (and in many ways for) Providence's elite.
---
CREATING ACCESS
With the board's approval, we began the process of deaccessioning these garments from the collection and transferring them to RISD's Apparel Department for student use.
Instead of leaving these garments in storage, (as they were too fragile to teach from or exhibit) or pouring resources into stabilizing them (which would financially burden the institution), we decided to approach the problem as an avenue for new methods of instruction, exploration and understandings.
The garments were given to students to conduct exploratory research through— to use them, to touch them, to tear them, and to learn in this process of hand-on experimentation and research.

This was conducted in tandem with the original intent of the creation of the museum— to provide a resource for inspiration and research for students of the school.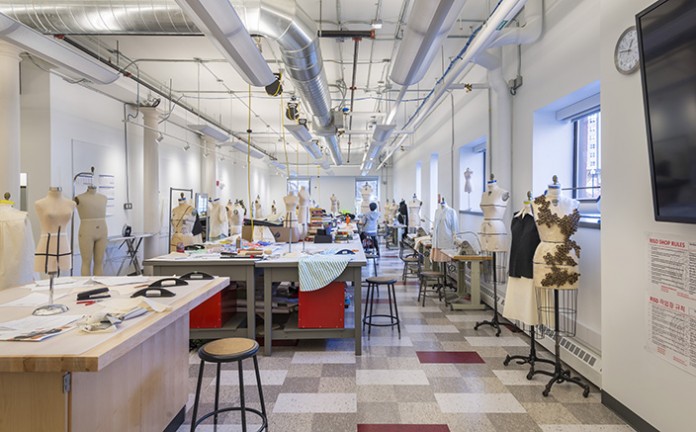 ---
CURRICULUM DESIGN
---
CONCEPTUAL EXPLORATIONS
DISSECTING A GARMENT
An an experiment to begin our explorations into the material memory of each garment, a grey women's overcoat was studied and analyzed to understand what stories lie in the weaves of each fabric. Through historical research, garment dissection, concept mapping, a few answers were uncovered—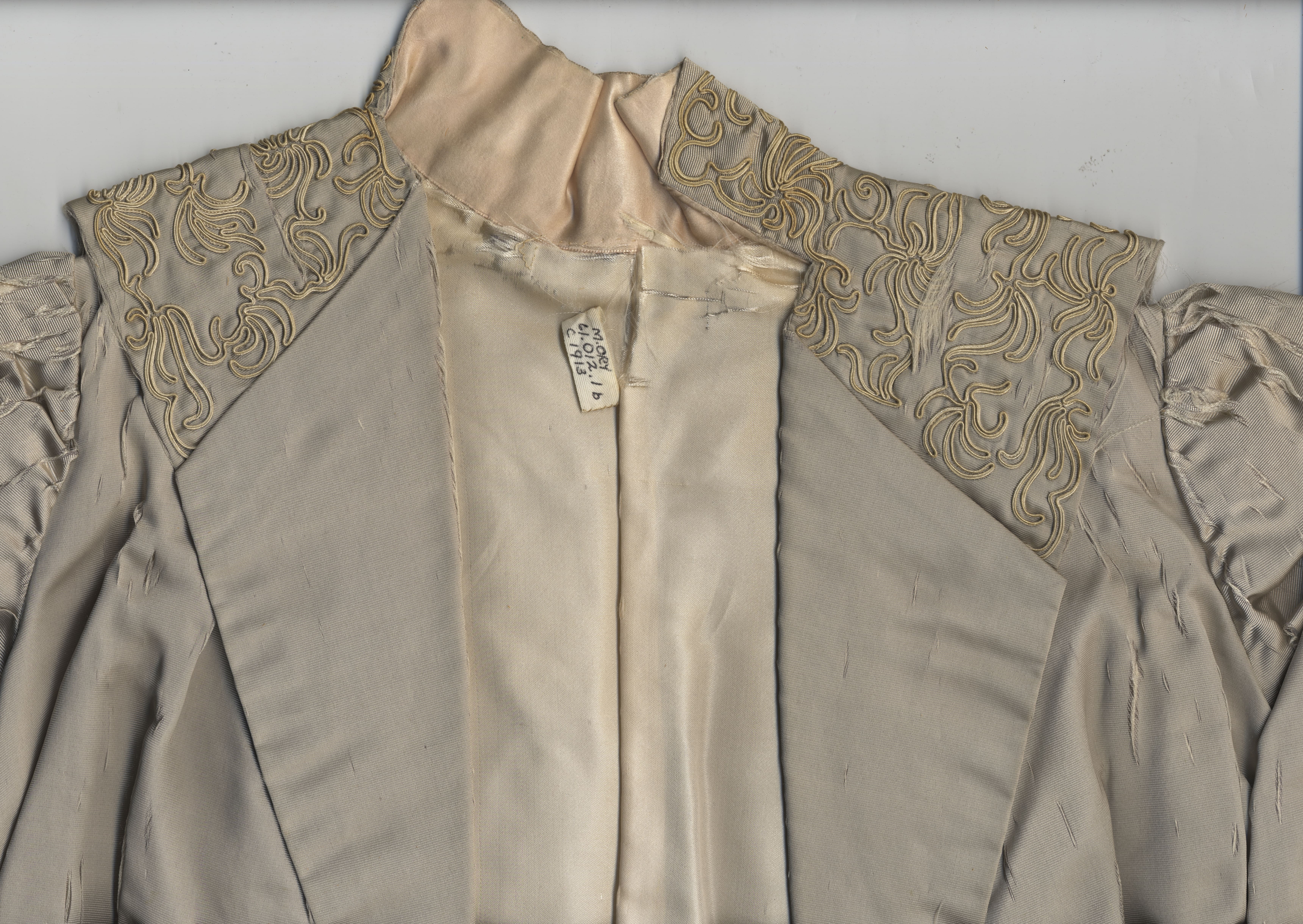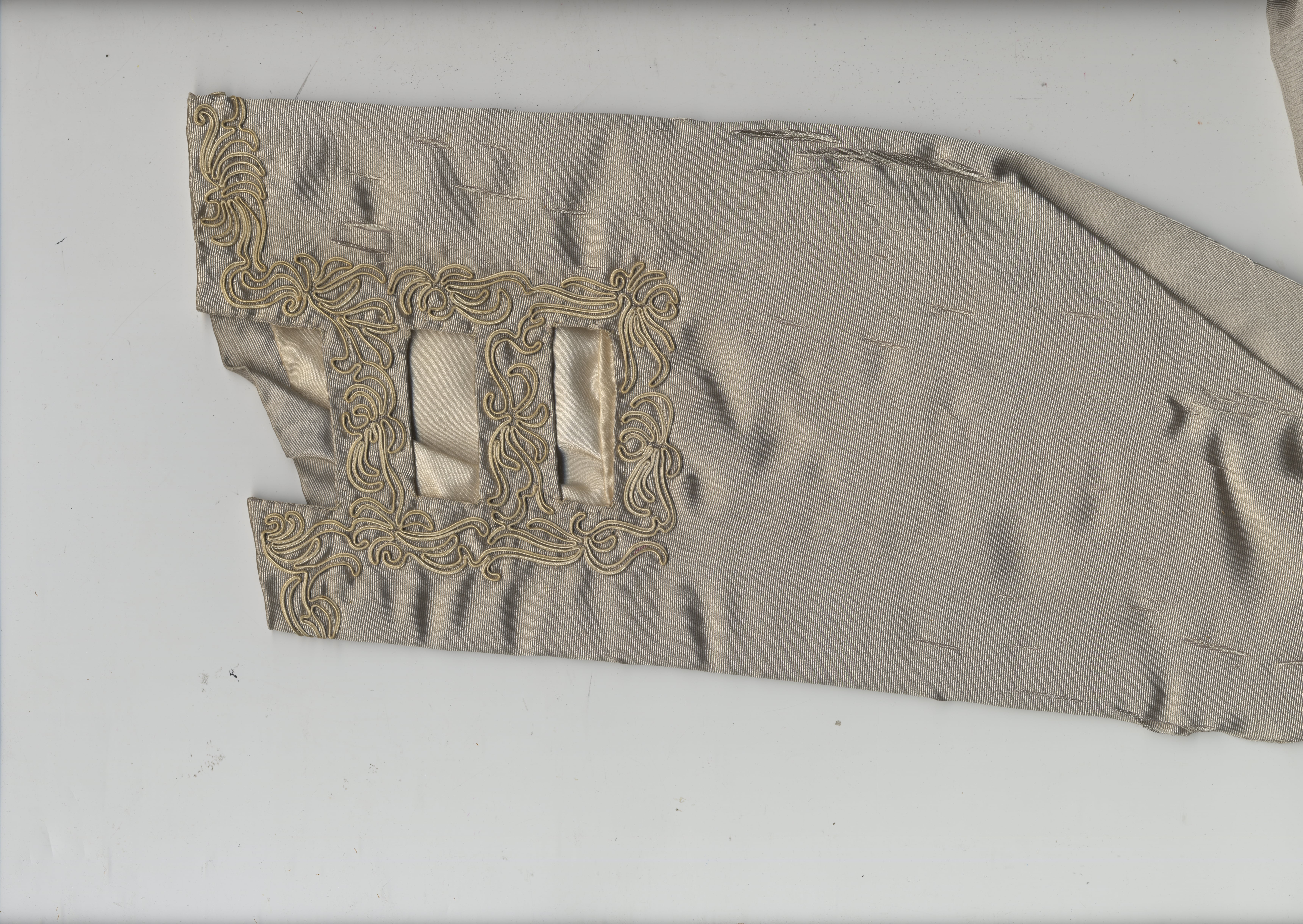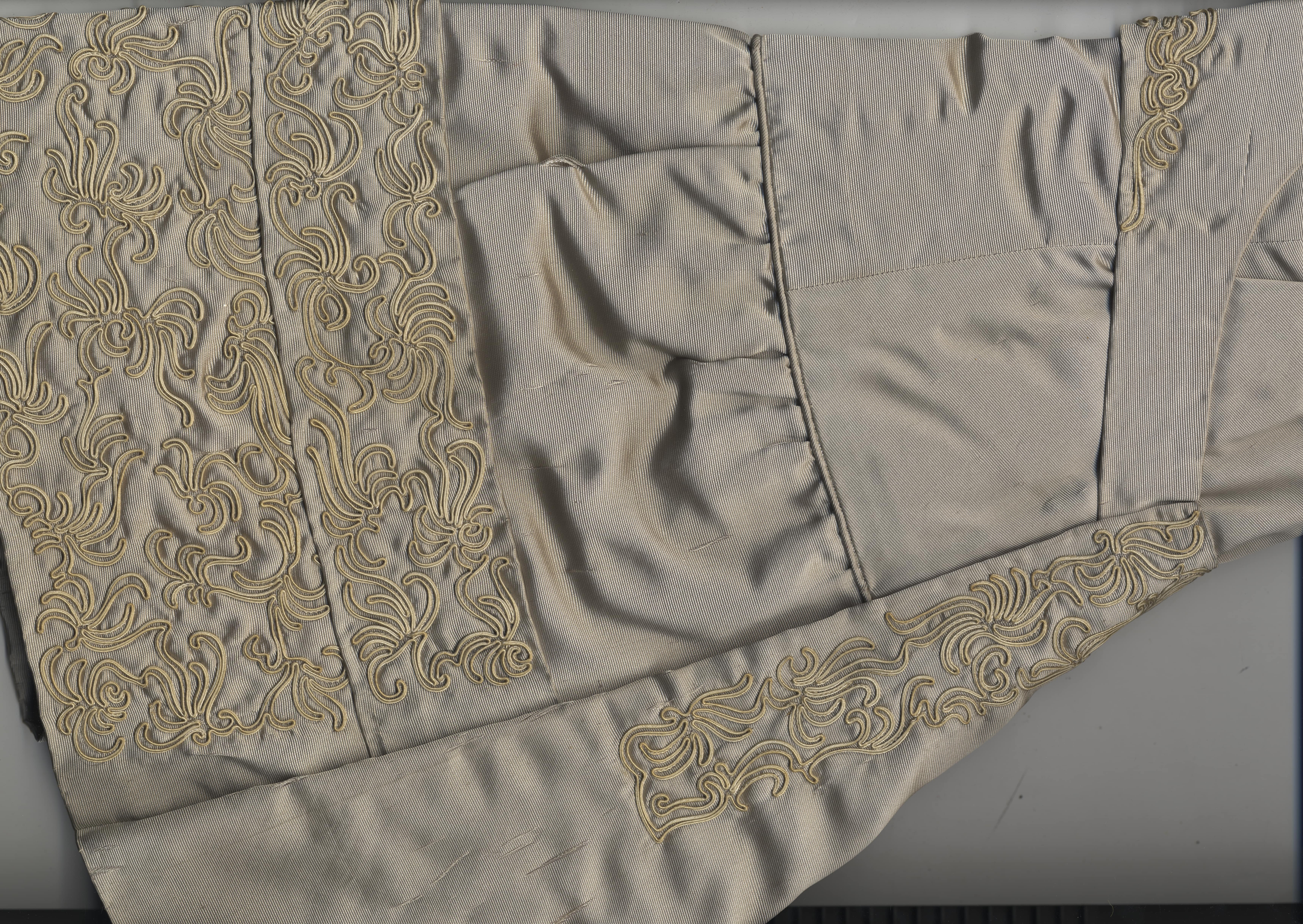 ---
SYLLABUS DEVELOPMENT
Through collaborative problem solving, a course was developed using the insight of professors and artists in several fields from around Providence, and Rhode Island. Some of the core ideas are explained here:

COURSE DEVELOPMENT—



Build knowledge about the lives of objects in museums—exploring ways to challenge and expand canonical narratives of object interpretation and care.

Explore ways to respond to and/or critique objects from museum collections in an art making practice; including appropriation, interpretation, reconfiguration, and interrogation.

Develop an understanding of the museum archive as a site of transformation, permeability, and shifting meanings.

Identify strategies for questioning and subverting institutional/ Eurocentric authority in collecting, care, storage, and interpretation within the museum archive.

Develop skills for creative problem solving, idea generation, and independent research skills.

Generate workflow for documenting creative practice. Use this strategy to create a digital documentation journal.

Compile a research journal that documents course content, your independent research, and your response to and analysis of both.

Work collectively to develop a work to be displayed in the "Inherent Vice" exhibition gallery that suggests alternative readings and articulations of the museum archive.
STUDENT LEARNING OUTCOMES—
Upon successful completion of this course, a student will be able to:
A working definition for the archive




Contemporary artists who utilize archives/collections as source and/or material




Strategies artists use to engage with archival material




Strategies for curating with care, ethical use of archival material, and decolonial practice.




Ethical questions surrounding the care and conservation of museum collections
Plan and create a final project proposal that effectively synthesizes the content of this course into a site-specific proposal/ piece/ work/ intervention

Critically analyze your own work and the work of others

Think critically about the visual language of display and make intentional installation choices that enhance the meaning of your work

Effectively document your research and creative processes

Develop a conceptual, theoretical, and linguistic foundation necessary to think about, discuss, and utilize the concepts presented in this course
RHIZOMATIC LEARNING & MUSEUM TRANSPARENCY—
The studio aims to grow as a rhizome—interconnecting processes, disciplines, students, faculty, curators, conservators, scholars, textile specialists, artists, writers, designers, and makers inside and outside of the institution.

It is a collections care initiative, a community building opportunity and an experiment in museum transparency.

It will consist of seminars, material investigations, discussions, explorations and evolve as a year-long exhibition in Donghia Gallery, at RISD Museum.

As collaborators in Inherent Vice, you will explore these thorny issues in this experimental research studio by dissecting a selection of deaccessioned garments—ethically, psychologically and materially.

We see investigation and discussion of the physical deterioration of Gilded Age garments as an opportunity to respond, reflect and raise questions regarding the pressing socio-political-environmental issues of our time, and across time.




WEEKLY THEMES
Group work, collaboration, conversation, discussion, cross-disciplinary prompts and critiques are vital to each class:



Fabric/Material (Source/Origin)




Space/Place




Worn/Wear




Care/Repair




Time/Story

Seduction/Aesthetic Force (Beauty, Error and Justice)




Relationship/Community

Transformation/Opportunity
FIELD TRIPS
The Wedding Cake House
(514 Broadway, Providence, RI 02909)
Haus of Glitter
(Hopkins Park, 97 Admiral St, Providence, RI 02908)
Tidal Resonance
(India Point Park, 201 India St, Providence, RI 02903)

RISD Museum Sound Walks
---
EXHIBITION DESIGN
---
---
SELECTED WORKS
Though museums typically present meticulously mounted garments in clean, well-lit galleries, their storage closets are full of shattered silk, dry-rotted cotton, degraded net, and corroded beads—all examples of inherent vice.
INHERENT VICE
January 29, 2022 — July 10, 2022
Inherent Vice encompasses this yearlong exhibition, deaccessioning and other collections-care initiatives, community-building conversations, and related RISD courses and creative output produced therein. As a whole, the project reframes collections care as a reparative, empathetic act that embraces both literal and metaphorical cracks as opportunities for revealing and making room for neglected narratives.
The label texts describing these once-luxurious and now-ghostly gowns address their current conservation issues as well as their origins during America's Gilded Age (1870s–1910s).
HIDDEN NARRATIVES
July 23, 2022 — January 15, 2023
A wintersession 2022 course explored the topic of inherent vice. In the spring, an apparel studio class offered students the chance to dissect the garments, while a textile silkscreen class created new work in response to the prompt "hidden stories." The students' artwork is presented here with a selection of deaccessioned garments.

The deaccessioned garments' damage is a mixed blessing. We wouldn't have had these conversations if they weren't falling apart. In storage, these pieces would have continued deteriorating; now they have been preserved digitally, considered deeply, and transformed creatively.
---
LAYOUT DESIGN
The exhibition was curated such that the garments represented hollow bodies in a gory Gilded Age scene— full of opulence masking empty lives and blood money.

The garments, hung like ghostly bodies, were deteriorating in front of the audience, in the galleries over the course of the show, representative of the inherent vice of the garments, and institutions that supported the elite, such as the museum itself.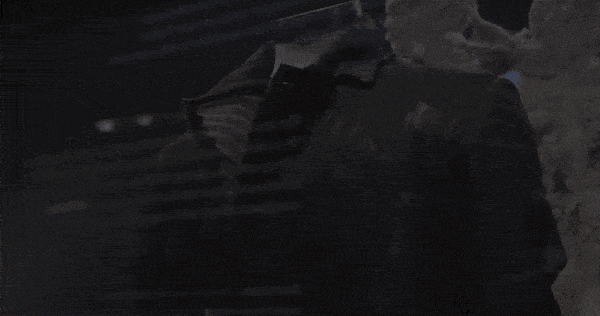 ---
APPAREL DESIGN
---
RESEARCHING THE COTTON INDUSTRY
With a profound focus on the cotton industry, an in depth analysis was conducted into the human stories of the industry across time. Using Kamala Devi Chattopadhyay's work as a framework to understand the role of the craftsman and cotton harvester in the process of garment production, this process was the springboard to further practice of engaged research and for the project—



---
DESIGNING A GARMENT
"I am, somehow, less interested in the weight and convolutions of Einstein's brain than in the near certainty that people of equal talent have lived and died in cotton fields and sweatshops."
― Stephen Jay Gould, The Panda's Thumb: More Reflections in Natural History
White cotton is worn by white bodies; but this skirt, over time, with its 'inherent vice' shed its facade of whiteness, and became brown–– brown like the bodies that made the skirt, brown like the bodies that harvested the cotton, and brown like the bodies that deserve justice.
SCANNED GARMENT—
CONCEPT SHOOT—
---
THE RELEVANCE OF COTTON
In 2018 it was projected that 400,000 Indian cotton farmers had taken their lives since 1995. That translated to 48 suicides each day, for 23 years.




Cotton is considered one of the dirtiest crops–– for many reasons, however, this reality of the cotton industry also makes it one of the bloodiest crops to have existed in the world.




Indian cotton was a force of colonial power during the British Raj; the imperial systems that were put in place almost a century ago continue to haunt the cotton industry in India.




This croquet sport skirt from the Gilded Age is but a symbol of the pristine white cotton which discolors and browns over time–– the space of the skirt a battlefield for the white and brown to interact.



---
EMPLOYING DATA HUMANISM
This skirt was a

dossier of thoughts

, a parchment which served as a space for colonial catharsis.

The process of archiving and cataloging through drawing, doodling, scribing, and scribbling created a map which pays homage to the 400,000 farmers who took their lives.

Each of them, part of this topography which hopes to bring

humanism into data representation

through mapping.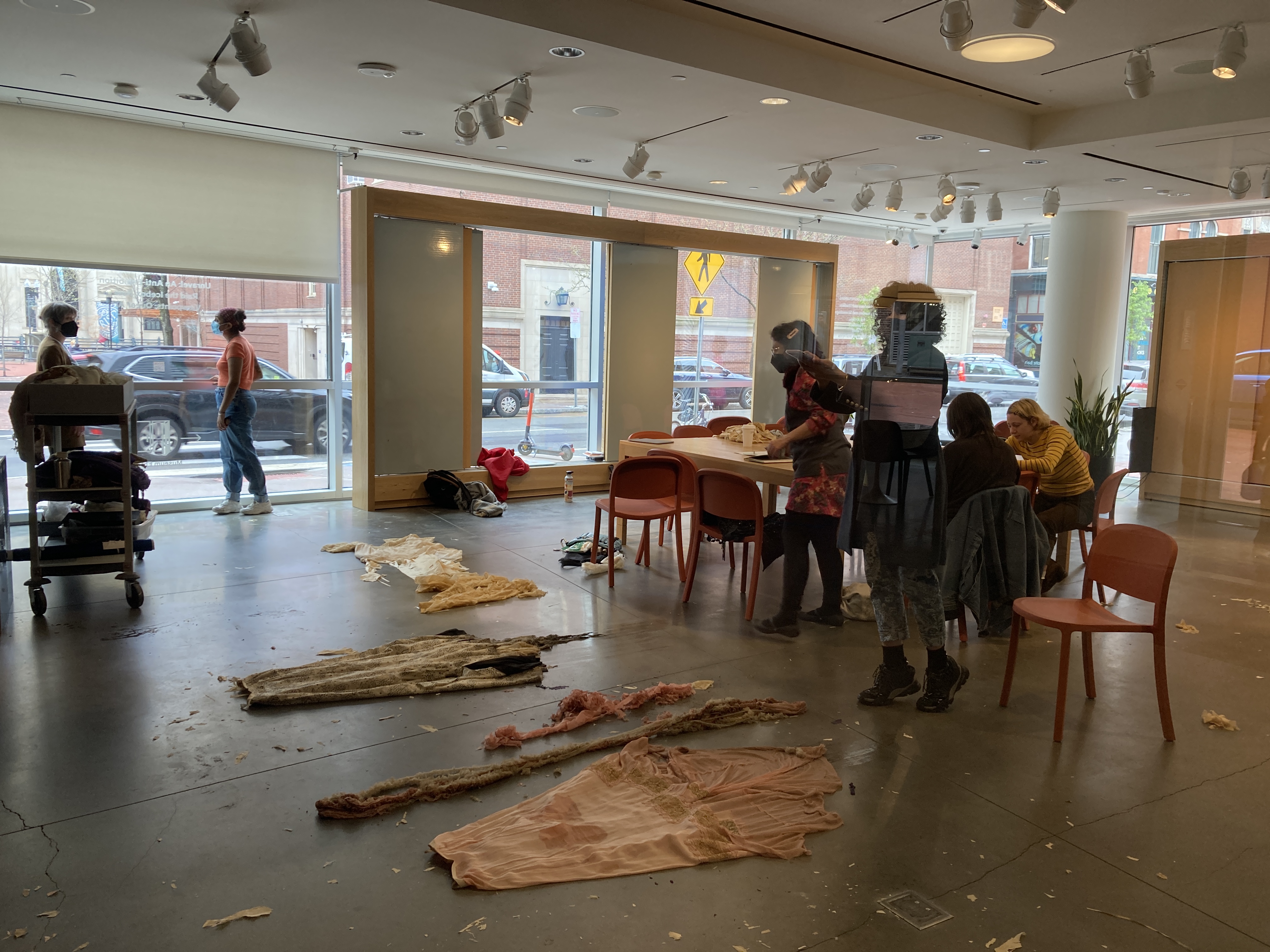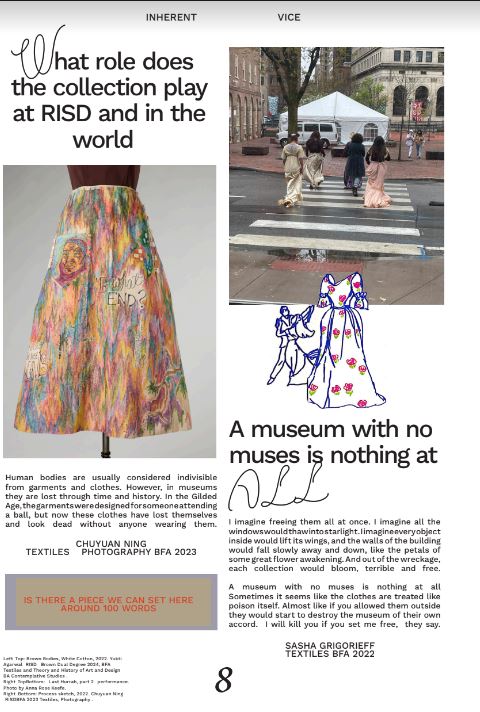 ---
A COLLABORATION ACROSS TIME & SPACE
This project was a collaboration— a collage of different bodies and hands and ideas and thoughts, culminating on the landscape of the dimity Jacquard fabric.

From sitting outside the home of the slave ship owner, John Brown's house in Providence and scribbling all over the skirt, to allowing other Brown women from the community in Rhode Island to contribute their creative hand to the contemplations on the skirt, this creation was a product of community and solidarity.

However, there was collaboration not just across space, but also time.

This skirt was made in collaboration with those who harvest the cotton, those who processed it, wove it, stitched it, and even she who wore it.

And now, this skirt possesses the

deep material memory of its travels and histories

, and the new ones which await it.
---
Collaboration!
My biggest learning during this project was that collaboration comes in many forms, and it always results in the greater work and the genesis of new innovate ideas. Collaborating was a gift I was given during these months working on this project.
---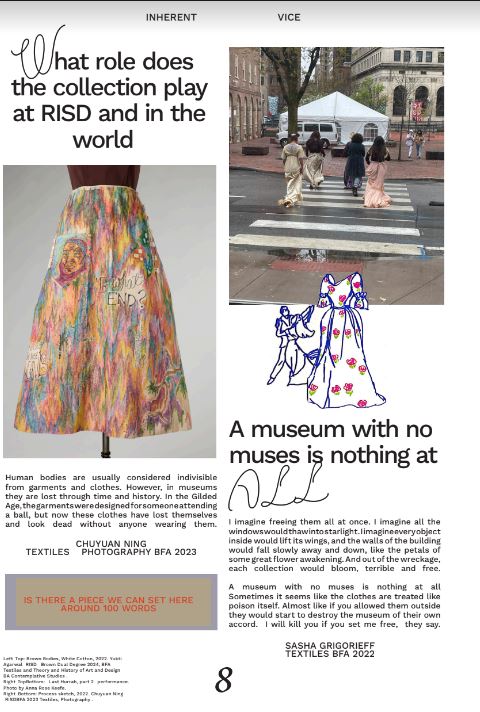 RISD Museum
Inherent Vice

Art Scope Magazine
Poignant Reflections

Art Daily
RISD Museum Presents:" Inherent Vice: Hidden Narratives"
---
DISCLAIMER:
* THIS WORK WAS UNDERTAKEN DURING A FELLOWSHIP WITH THE RISD MUSEUM
** ALL WORK PRODUCT BELONGS TO THE RISD MUSEUM
*** CONTENT ON THIS PAGE HAS BEEN TAKEN FROM RISD MUSEUM'S WEB & ARCHIVES

---