---
INTERWOVEN by MAP x MICROSOFT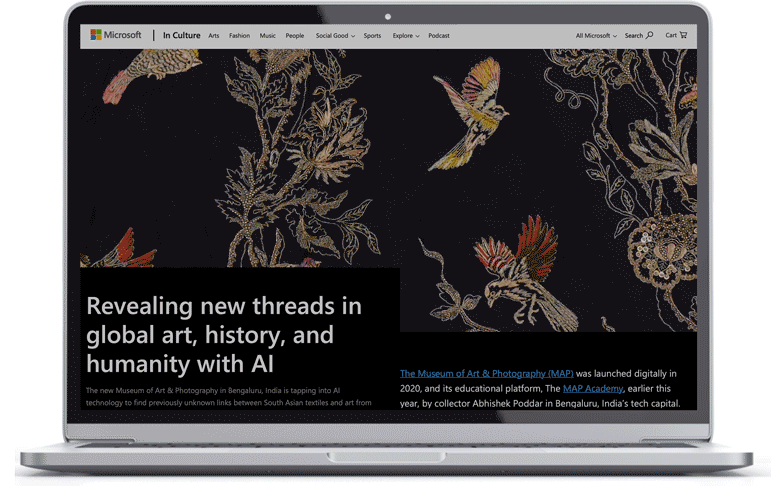 ---
Client
Microsoft Corporation
MAP Academy
Timeline
24 weeks (March-Sept '21)
Tools
Microsoft Suite, Miro Board, Adobe Xd, Adobe Photoshop, Pen & Ink
Skills
UI/UX Design, Project Management, Historical Research, Museum Curation, Machine Learning, Access through AI
---
THE PROBLEM
Access to museum spaces is often limited. In this age of technological advancement, most museum collections have online archives, however, within India, there is no formalize or general practice to digitize musuem collections to make them accessible across time and space.

As India's first digital museum, MAP Museum's project:

INTERWOVEN

takes on the central question of:


In what new ways could technology help art lovers, scholars, and other institutions to engage deeper with their paintings, photographs, textiles, and other works?
---
THE COLLABORATORS
MAP ACADEMY

The Museum of Art & Photography (MAP) was launched digitally in 2020, and its educational platform, The

MAP Academy

, in 2022. Given South Asia's deep tradition of textile creation, and longstanding history in the trade, MAP's collection is uniquely suited to showcase the worldwide spread of culture from one regional artform to another.

MICROSOFT CORPORATION

Microsoft's 'AI for Cultural Heritage' initiative leverages the power of AI to empower people and organizations dedicated to the preservation and enrichment of cultural heritage.
Microsoft supports specific individuals and organizations through collaboration, partnership, and investment in AI technology and resources. Together we seek ways in which we can help to serve as a catalyst for the preservation and enrichment of cultural heritage around the world.



THE GOAL
Developed in collaboration with

Microsoft's AI for Cultural Heritage

initiative, the platform:


INTERWOVEN

, uses machine learning to help reveal common themes and shared histories in artistic traditions from across the globe.
Underlying the tool is a robust analytic engine, powered by Microsoft AI.


Computer vision and text recognition software help distill images and descriptions of artworks into a massive database.

A machine learning algorithm parses the digitized information to discern fine patterns that link seemingly disparate works of art.
---
THE IMPACT
INTERWOVEN

is a tantalizing illustration of how human-centered technology—when it is thoughtfully and collaboratively designed—can help elevate and expand access to our collective history.
ACT ON ACCESS–– This project makes South Asian art accessible to anyone from the comfort of their own homes. It champions new, equitable futures, that allow future research in the South Asian diaspora to be enriched by new technological tools.

---
MY ROLE
As the lead from the RISD Museum's team, during my Andrew Mellon Fellowship at the Museum, I worked closely with MAP Academy to:


Manage all communications and project details




Curate the collection of 100 objects from the RISD Museum's collection to be uploaded to the repository




Assess user needs, motivations, and frustrations




Ideate and brainstorm for the creation of the platform, and user interface




Consider the role of AI and machine learning in the broader scope of South Asian textile scholarship and museum access
---
---
THE VISION
The creation of INTERWOVEN, an innovative new tool that reveals how pieces in MAP's collection connect to other artworks around the world:
Limestone carvings at The Metropolitan Museum of Art in New York

Paintings at the V&A in London

Paper fans at the Smithsonian in Washington, DC

And, much more!

Microsoft and MAP will create a web-based experience that connects South Asian textiles and textile-related artworks to the world.

This platform will foster new conversations and collaboration across borders, powered by Microsoft AI.
---
PLATFORM OBJECTIVES
Showcase South Asian Textiles to a global audience and build further engagement with the field

Utilize Microsoft AI to draw previously unknown connections between artworks and cultures

Connect South Asian Textile collections in the region to other important collections around the world to spark dialogues between different specialists and institutions

Serve as a useful tool that academics and researchers working in the field of textiles can employ in their work
---
USER-BASED DESIGN
This experience will capitalize upon widespread interest in fashion / textiles to:
Establish the global relevance of South Asian culture

Provide an entry point for Art History through visual recognition and textual data such as:
Colors

Patterns

Shapes

Weaving Techniques

Names

Dates
Starting with a single piece of artwork from MAP, users embark on a journey that crisscrosses mediums and eras, arriving at surprising and revealing points in art history.
Designed with consumers, museum professionals and textile scholars in mind, the platform will be accessible with the opportunity to uncover more in-depth connections to South Asian culture at every level of interaction.
Curators will also have the ability to create new connections over the duration of the project as engagement and new narratives evolve, and these will then be able to be seen by the general public.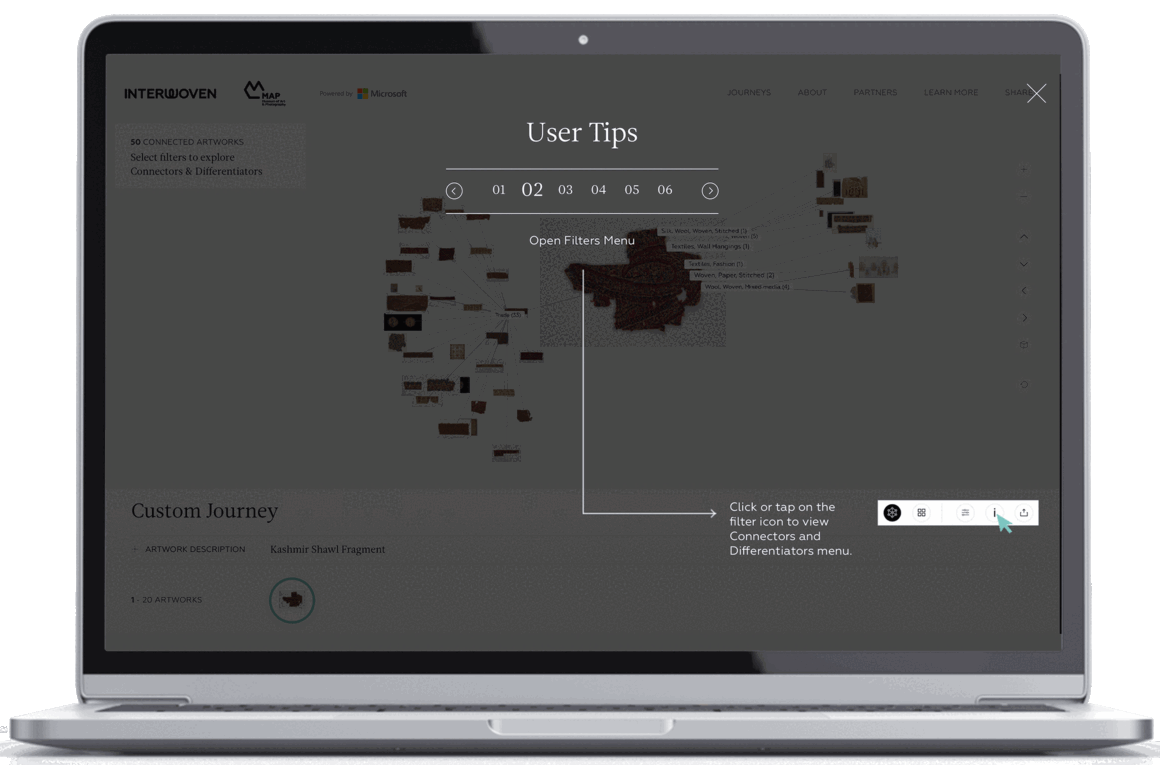 USER CATEGORIZATIONS & PERSONAS




Primary User

:

General Consumer
Anyone with an interest in art and culture can discover connections on the platform, either through open exploration or a journey curated by art scholars.
The aim for the primary user is to:


• Discover something unexpected through connecting artworks in creative new ways through AI
• Walk away with new knowledge
• Increase understanding of similarities between cultures




Secondary User

:

Academics and Researchers
For art historians and curators, the AI can help uncover commonalities that inspire new ideas and novel avenues of scholarship.
The aim for the secondary user is to:
• Use AI to identify key shifts and connections in textile design, patterns and costume within Art History across geographies and cultures
• Highlight global exchange in textile history
---
CONNECTING OBJECTS & NARRATIVES
THE ALGORITHM:
The platform will link images from South Asian textile collections to other partner collections around the world through curatedmetadata tags and categories identified using Microsoft's suite of AI tools.


HOW DOES INTERWOVEN HELP CREATE NEW CONNECTIONS?
An example curation, connecting seemingly disparate cultures and regions, reveals
"how AI can help us to stumble upon details or possible exceptions, which could go amiss in more conventional forms of art historical research."

This journey explores "the sustained economic, cultural, religious and social contact between vast geographies, through historical artefacts."


Beginning with a kalamkari prayer mat, designed in the Deccan and destined for Iranian markets, the journey traces objects such as jewellery, narrative paintings, and a portable shrine. These objects show us how the spread of religious practices across geographies was also accompanied by the spread of visual cultures, materials and artistic techniques. We see how objects from South Asia and beyond reveal sustained exchanges of concepts and iconographies over centuries, exemplifying confluences between Buddhist, Hindu and Islamic traditions in Eastern Eurasia.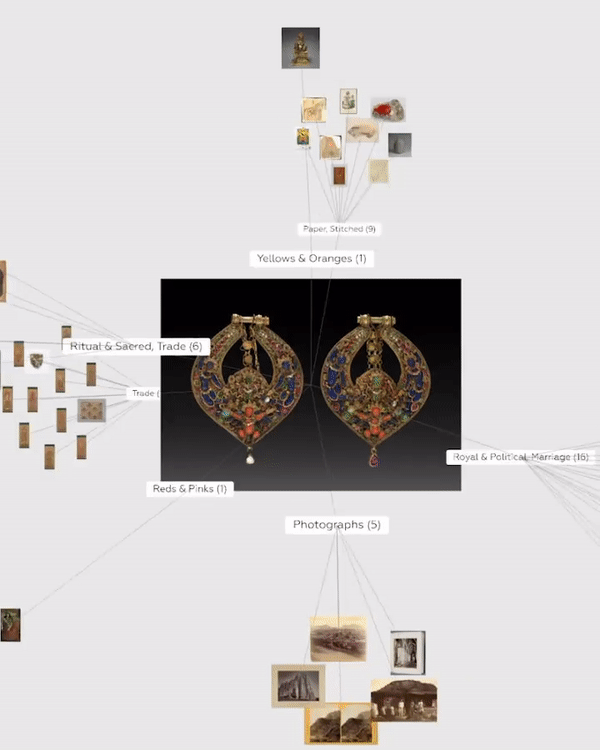 THE PLATFORM:
Interact with the LIVE platform

here

︎︎︎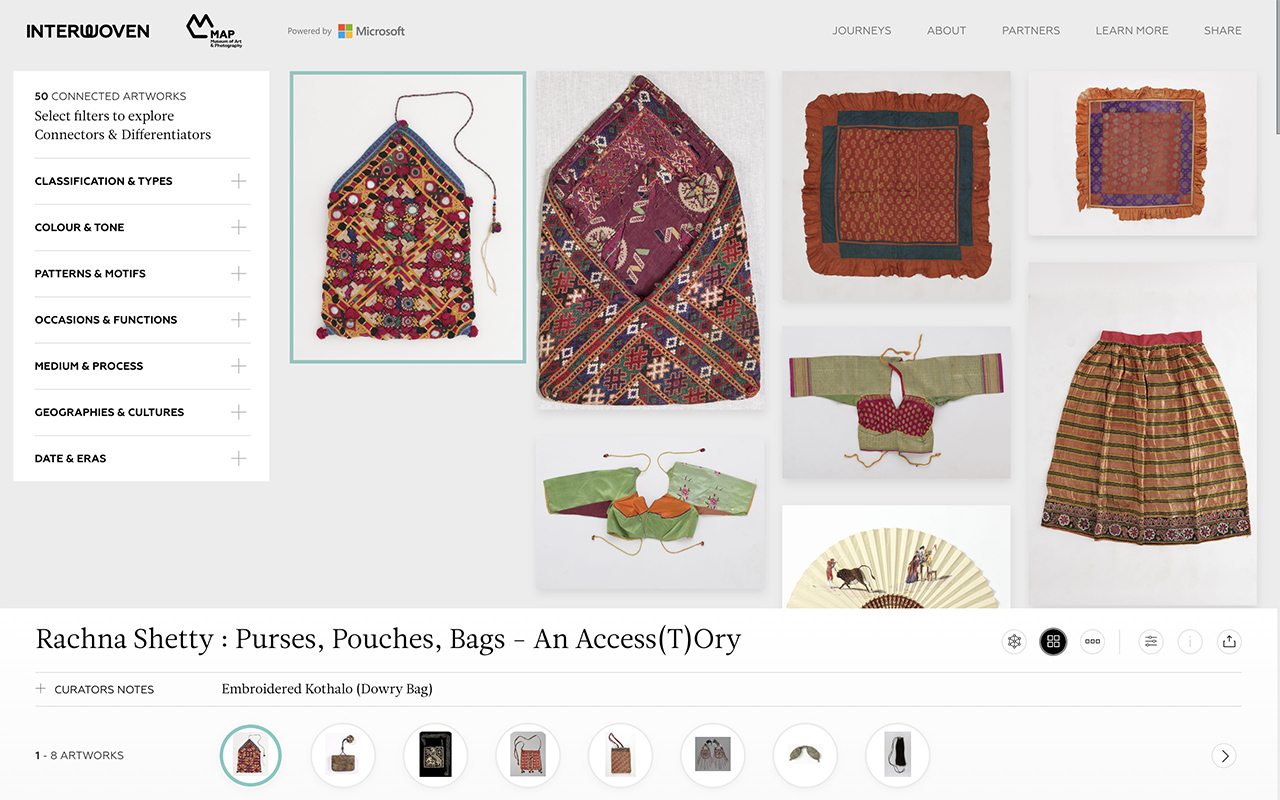 ---
ROLE OF AI
Underlying the tool is a robust analytic engine, powered by Microsoft AI.


Computer vision and text recognition software help distill images and descriptions of artworks into a massive database.


A machine learning algorithm parses the digitized information to discern fine patterns that link seemingly disparate works of art.


As new collections are added to INTERWOVEN over time, the database and set of connections will continue to grow.
---
THE RISD MUSEUM PARTNERSHIP
MAP collaborated with many museums worldwide, to develop its repository of images from South Asian and global textiles, craft, and contemporary art archives. Here is the selection of works from the RISD Museum that were curated by me: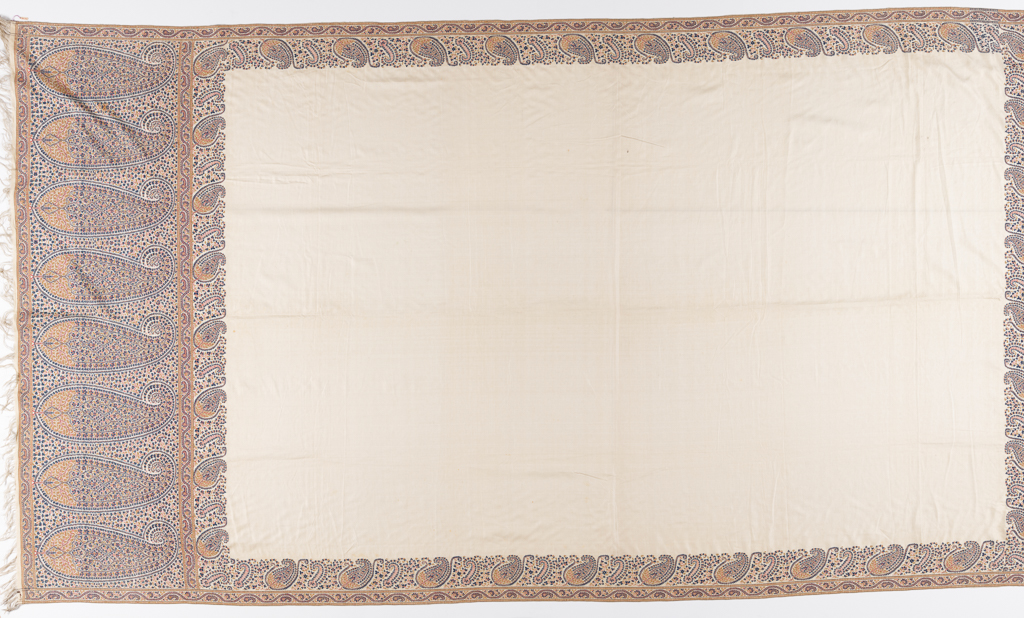 The template for cataloguing each work of art followed a strict format, to allow the machine learning algorithm to discern fine patterns connecting these collections:


---
WHAT'S BEEN SAID ABOUT INTERWOVEN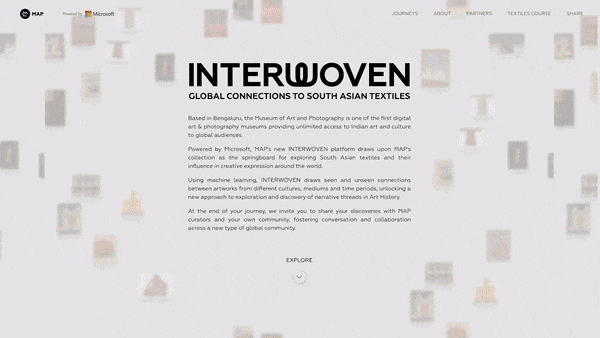 "While the project began with an idea to explore MAP's entire collection, one of the artforms that speaks so eloquently to global connections is textiles."



– Kamini Sawhney, MAP's Director
"Using technology to enhance human ingenuity, celebrate human creativity, and enable human connection is at the heart of Microsoft's work. INTERWOVEN reminds us both of the vibrancy of different cultures and how these traditions are shared in a conversation across time and place."



–Brad Smith, President and Vice Chair, Microsoft


---
---
DISCLAIMER:
* THIS WORK WAS UNDERTAKEN DURING A FELLOWSHIP WITH MUSEUM OF ART, RHODE ISLAND SCHOOL OF DESIGN
** ALL WORK PRODUCT BELONGS TO MAP ACADEMY
*** CONTENT ON THIS PAGE HAS BEEN TAKEN FROM MICROSOFT CORP, MUSEUM OF ART AND PHOTOGRAPHY, BANGALORE, MAP ACADEMY
---