---
︎ INAYA at ASSAGAO, GOA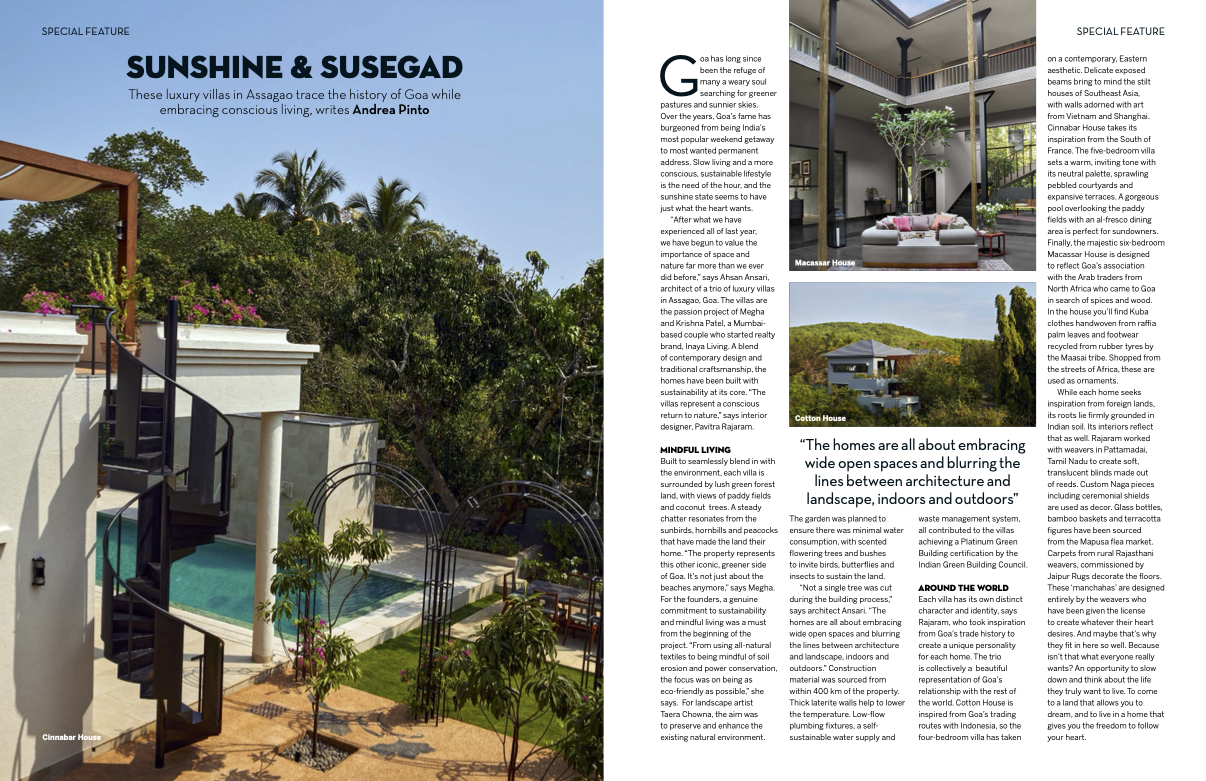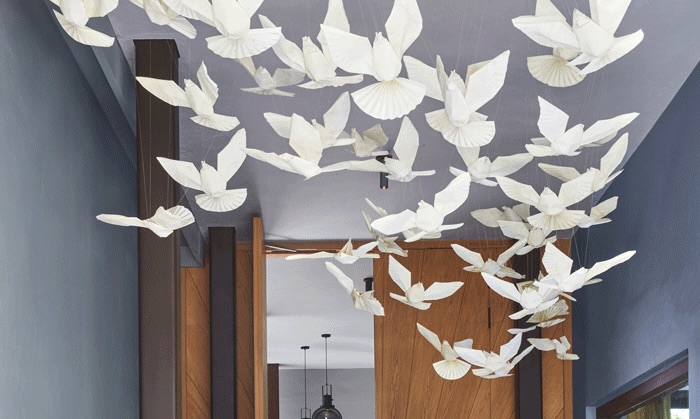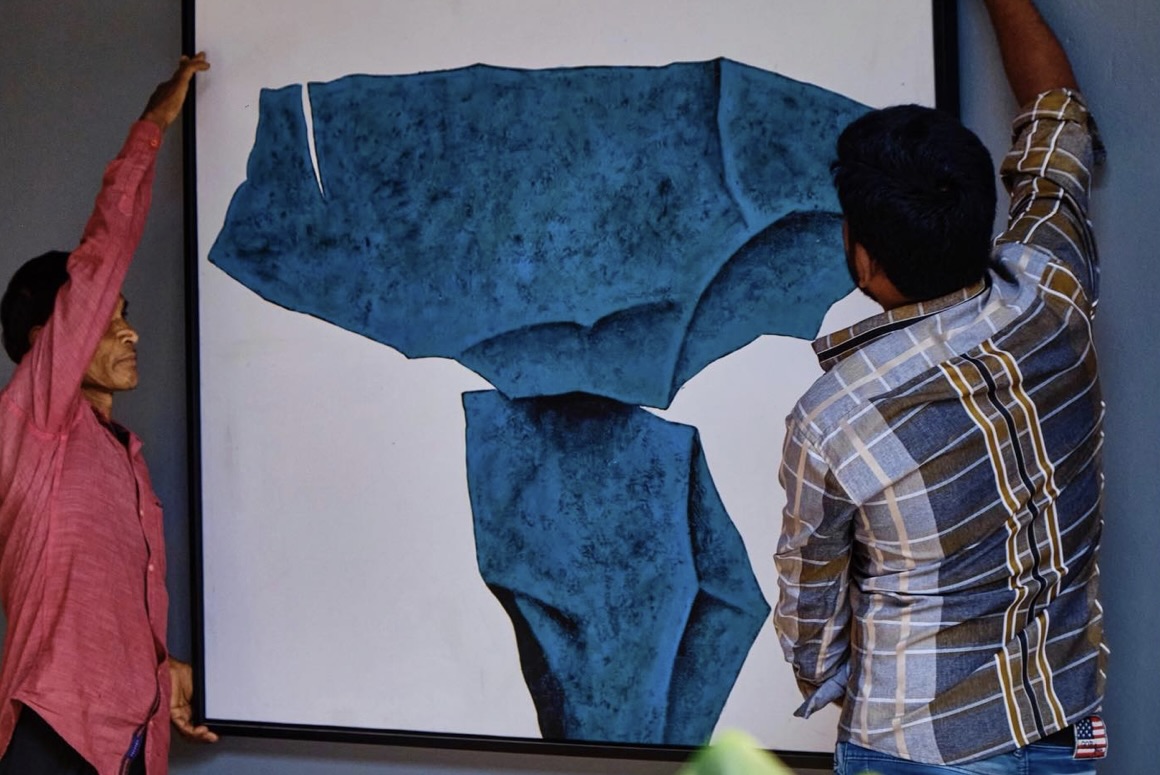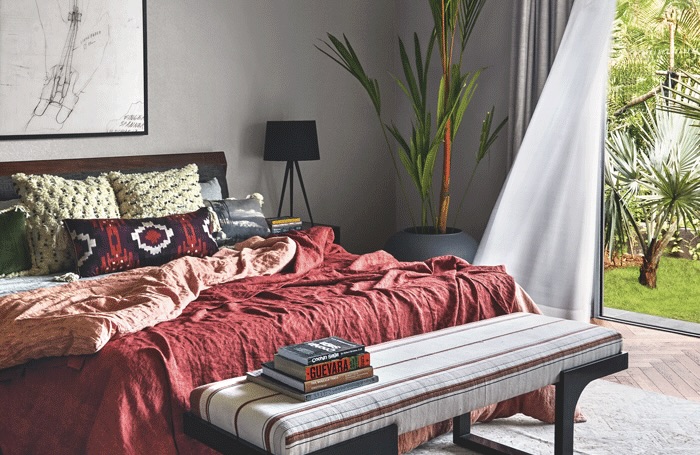 ---

Client
︎ Inaya Living

Timeline
24 weeks (June-Dec '20)

Tools
︎ Adobe Illustrator, Adobe Photoshop, Adobe InDesign

My Role ︎ Art & Textile Sourcing & Curation
︎ Concept Design
︎ Execution On Site


---
︎ THE PROJECT
Designing three concept-based villas with contemporary aesthetics through sustainable means and timeless craft to create spaces for mindful living.

---
︎ THE CLIENT

Inaya Living is a realty company founded by Mumbai-based Krishna and Megha Patel to celebrate mindful living and sustainable luxury.

Inaya Living's enduring commitment to sustainability means using local materials, green energy devices, intelligent architecture and earth-friendly design. It also means working with beautiful, natural fabrics and textiles, as well as incorporating local craft into the homes to support homegrown communities.

Krishna Patel brings a strong legacy and best practices in real estate from his primary company NESCO, which executes state-of-the-art, Platinum-LEED commercial constructions. Thanks to this expertise and experience, the homes have earned the very prestigious IGBC Platinum Certificate.

Read More︎︎︎ Instagram︎︎︎ (3K followers)

---
︎ THE COLLABORATORS

︎︎︎AHSAN ANSARI– The Architect
︎︎︎PAVITRA RAJARAM– The Interior Designer
︎︎︎TAERA CHOWNA– The Landscapist

︎ THE APPROACH
The project is rooted in a deep love for artisanal and contemporary craft to curate mindful spaces seeped in tradition.
These villas are curated carefully using local fabrics and textiles, adding character, depth and warmth, while supporting the community.
RESEARCH & SOURCING:
︎︎︎The project was based on rigorous research into Goa's history, trading routes and connections with the rest of the world before starting the project.


︎︎︎Artists, Community-Based Art's Projects, Not-For-Profts, Designers, Artisans, etc. were reserched, selected, and approached to create meaningful collaborations and time-pieces.

ART CURATION VISION:
︎︎︎ Each villa has pieces of art integrated into the open spaces: a striking neon light sculpture, or an installation of 50 birds taking flight for example.


︎︎︎ Further inside, gorgeous textiles like ikat and mashru have been used to create special, unforgettable spaces.


︎︎︎ The home is ridden with rich, intricate handiworks: Pattamaddai reed mats handmade by artisans in Tamil Nadu and Manchaha rugs handmade by the artisans of Jaipur Rugs to name a few.


︎︎︎ Wooden lattice work windows, custom cane and old Burma teak doors, and large open spaces allow sunlight to filter in without raising the temperature of the house.
---
︎ THE IMPACT
SUSTAINABILITY––
︎︎︎Achieved a platinum-rated Green building certificate by the IGBC: a testament to sustainable building practices.
︎︎︎All building construction materials were procured locally and from within a radius of 400 kms in order to reduce the carbon footprint.
︎︎︎Biodiversity was preserved and enhanced: not a single tree was cut during the entire construction process and the garden is planned to ensure there is minimal water consumption.
REFORESTATION––

︎︎︎The villas are built in Assagao, an area which used to be a forest but over the years of urbanisation, much of it has been destroyed.
︎︎︎One of our focus points was bringing nature into the project. The porjects started with the question: 'can we bring this forest back?'
︎︎︎Not only did the team safeguard all the trees on the property, but they enhanced the existing foliage by bringing back some of the greenery that had been lost. Local flowering trees and plants were replanted to attract birds and butterflies.


"You could actually see the difference as the project progressed, the peacocks, hornbills, lots of sun birds, drongos and butterflies – they all started coming in. It was like watching nature regenerate." – Pavitra Rajaram


LOCAL EMPLOYMENT––


︎︎︎The work force was employed largely from the local area, employing more than 100 people in the 3 years it took to develop the villas.

---
ART CURATION

︎ COLLABORATING WITH CONTEMPORARY ARTISTS
Collaborating with some of the most famous Indian contemporary artists, the site-specific installations created were relating to the space, traditions and histories of the land on which these houses were built.

︎︎︎ The textile piece is by BOSHUNDHARA MUKHERJEE, her iconic style mixed with ideas of Goa's heritage.

︎︎︎'Freedom' the installation of origami birds is by ADITI ANUJ, alluding to the rich fauna in Goa.

︎︎︎The light installation, 'The Rivers of Goa' is by YAAZD CONTRACTOR, speaking to the water and land of the union territory.
---
︎ SOURCING HISTORICAL TEXTILES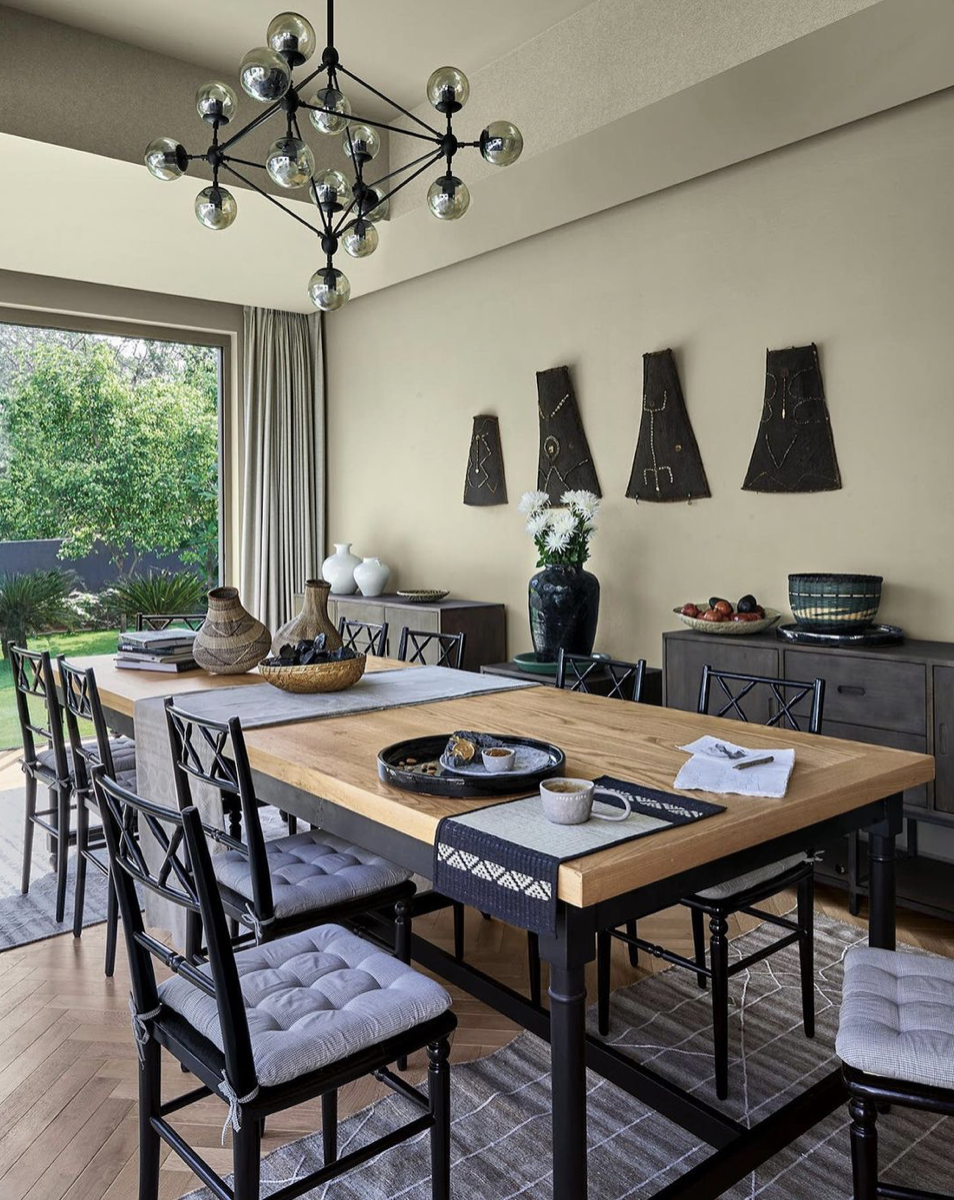 Rare, historical textiles from the Asia were sourced to enhance the house with rich tradition and history.

︎︎︎ Historic PUNJABI IKAT from current-day PAKISTAN

︎︎︎ A vintage SUZANI wall-hanging sourced from ISTANBUL
︎︎︎ The classic central Asian embroidery technique is practiced mainly by women.

︎︎︎ Extremely rare, and hard-to-find CEREMONIAL SHIELDS from NAGALAND

---
︎ COMMISSIONING STATEMENT TEXTILES
For certain spaces, textiles were commissioned to enhance the area, while supporting local causes, employment, and traditions.

︎︎︎ The first two images have flat-weave rugs from THE DARI PROJECT. Supporting Indian women, these rugs are made from fabric waste.

︎︎︎ The following images are illustrating the JAIPUR RUGS' Manchacha's: rugs woven out of the creative imaginations of women in India.

---
︎ SOURCING CONTEMPORARY, MINIMAL ART
A wide collection of minimal, contemporary art was procured, to supplement the rich textiles, and furnishings, by providing a modern touch to traditional craftsmanship.
---
︎ IN-HOUSE ART CREATION
Certain spaces required specific artworks that complemented a certain mood, color palette and style. These artworks were made in-house through collaborations with local artists.
---
︎ BESPOKE WALLCOVERINGS
A carefully curated collection of wallcoverings were used to enrich certain spaces.
---
︎ CUSTOM FLOORINGS & FITTINGS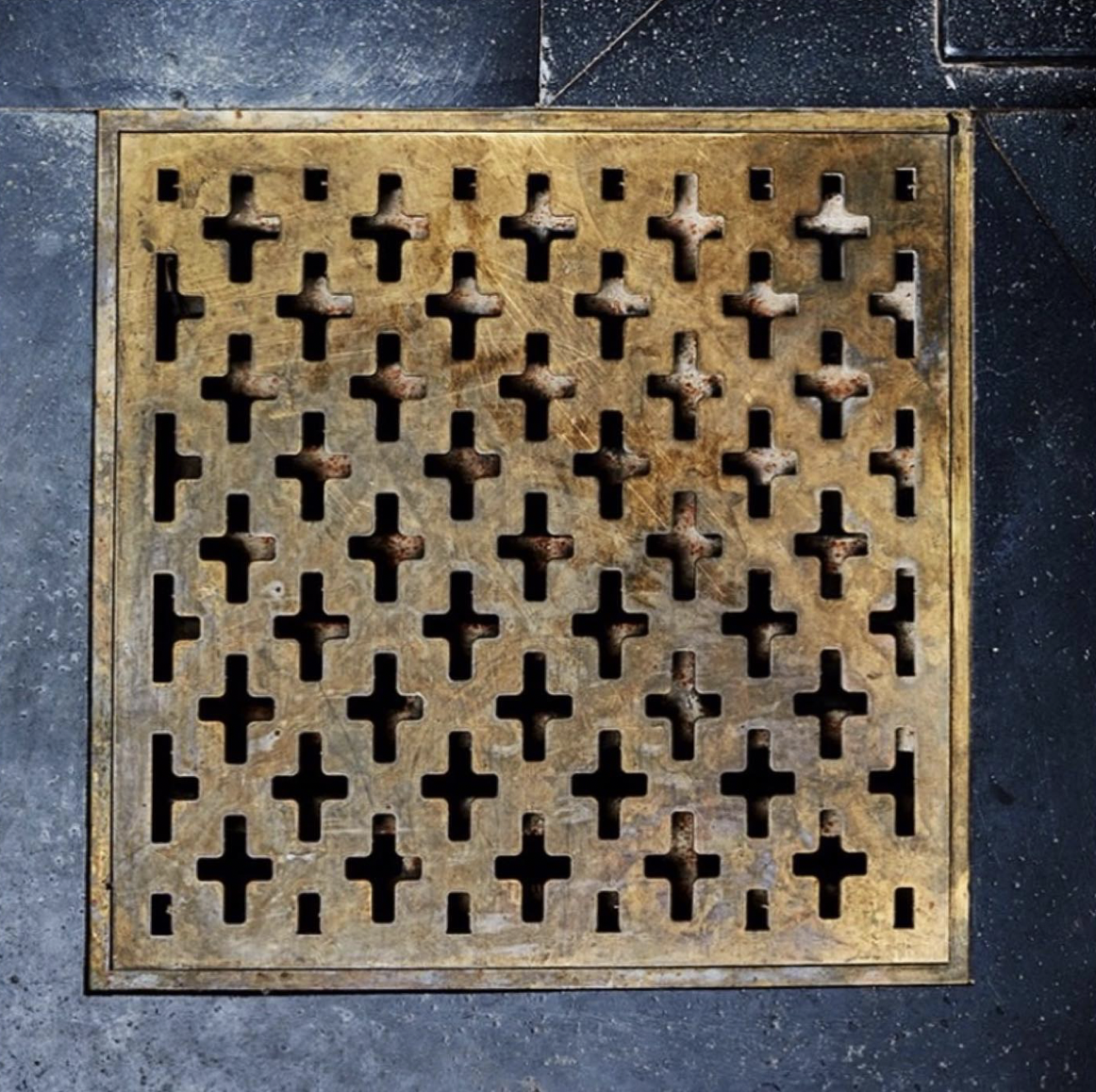 Every little detail was considered– from the bespoke CUSTOM FLOORING in this outdoor area, to the DRAINAGE COVERS in each villa (as seen in the 3rd image)
---
CONCEPT CURATION

︎ COTTON HOUSE
Cotton House is thoughtfully curated, sensitively designed, and showcases a beautiful blend of contemporary design influences from India and beyond, that speaks to the global traveller.
This is a smart home that celebrates the effervescence of tropical living with a lush landscape and a profusion of airy indoor-outdoor spaces enveloped in gardens that bloom through the year and perfumed creepers that fill the night air. A private pool, generous terrace and garden-courtyard complete the scene.
The beauty of craftsmanship surrounds you in every part of the home, with gorgeous textiles like ikat and mashru used in an elevated, contemporary way, as well as artefacts, artworks and accents handpicked from the souks of West Asia, bazaars of the Far East and local Goan markets that punctuate special, unforgettable pieces.
Read More︎︎︎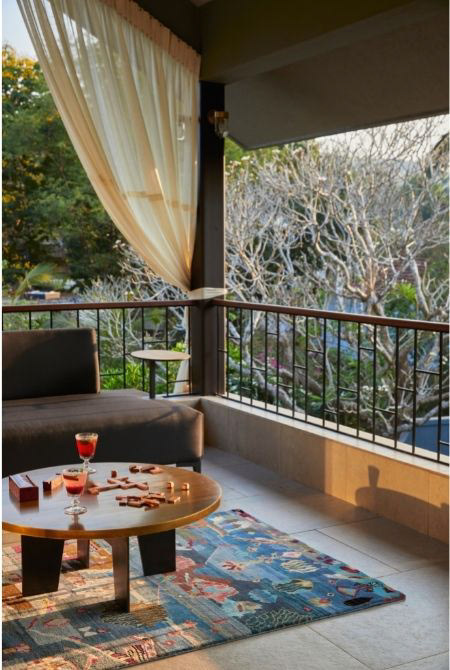 ---
︎ CINNABAR HOUSE
Cinnabar House is a wonderfully expansive, sun-drenched 5-bedroom villa that embodies the soul of the Mediterranean coast in the heart of Assagao. Set in a lushly landscaped private estate, it offers endless views of paddy fields, palm trees and hills—and so many perfect corners and perches from which to take them in. With its large, gracious rooms flooded with light, this smart home sets a warm, inviting tone and plays with a sensuous palette of neutrals and abundant use of natural textures.
This villa is designed to optimise your time in the sun, with a sprawling pebbled courtyard and three beautiful terraces for effortless entertaining at any time of day (or night). A luxurious pool along the side of the villa offers unbroken views of the fields stretching to the hills beyond, and a large deck as well as a generous al fresco dining area by the poolside is perfect for lingering brunches and nights under the stars.
Read More︎︎︎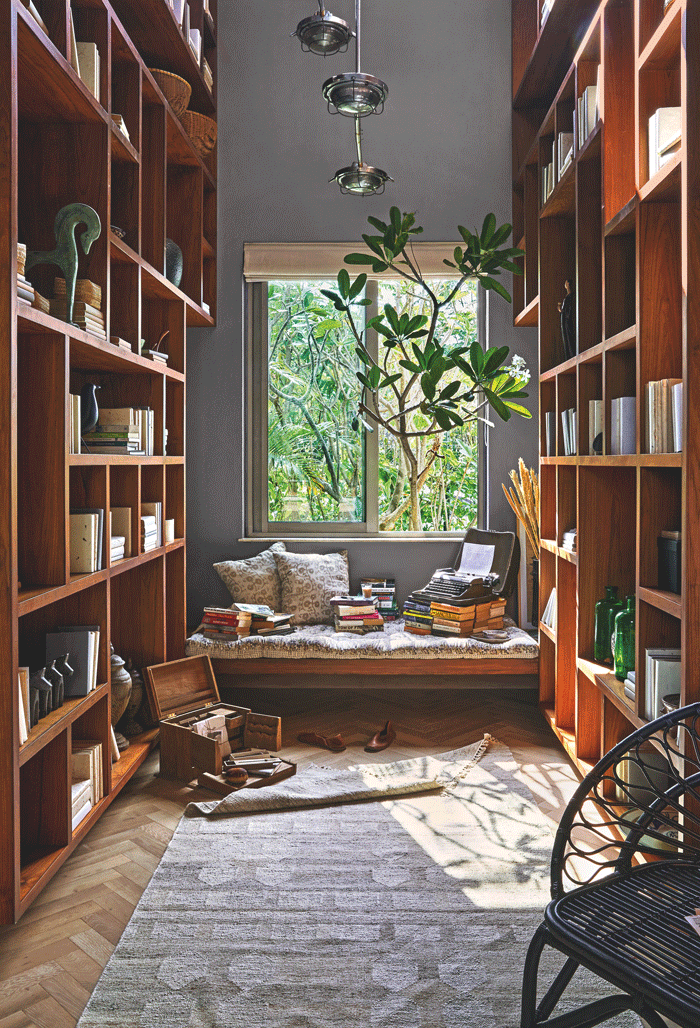 ---
︎ MACASSAR HOUSE
Nestled in the tall, dense woods of Assagao, Macassar House is a romantic and glamorous 6-bedroom villa that welcomes in the dappled light and hushed beauty of the forest at every turn. With sophisticated flair and dramatic reveals, this smart home brings in a beguiling mix of design influences from Asia, Africa and Arabia, whether it's in the Bismarckia palms that dot the garden outside, the intricately woven, antique tribal rugs in the living room or the sensual crushed silk curtains in the bedroom. At the heart of the home is a delightful private courtyard awash in a pattern of sunlight and shadows through the day, a warm, versatile space that's perfect for entertaining, dining or even as a stage.
Read More︎︎︎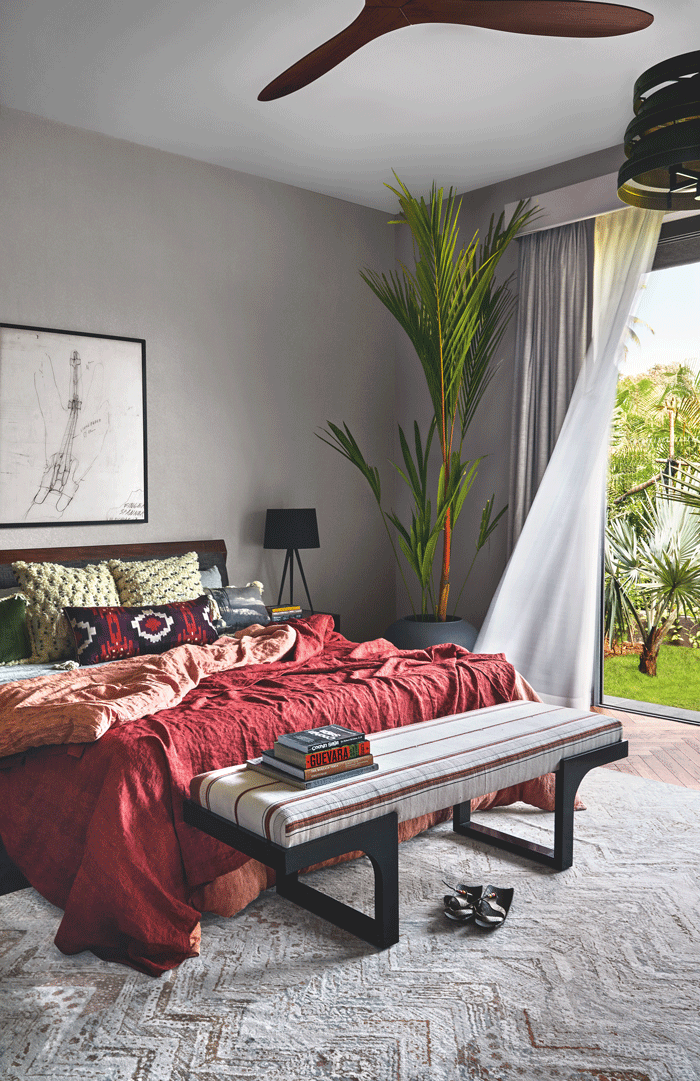 ---
MAGAZINE FEATURES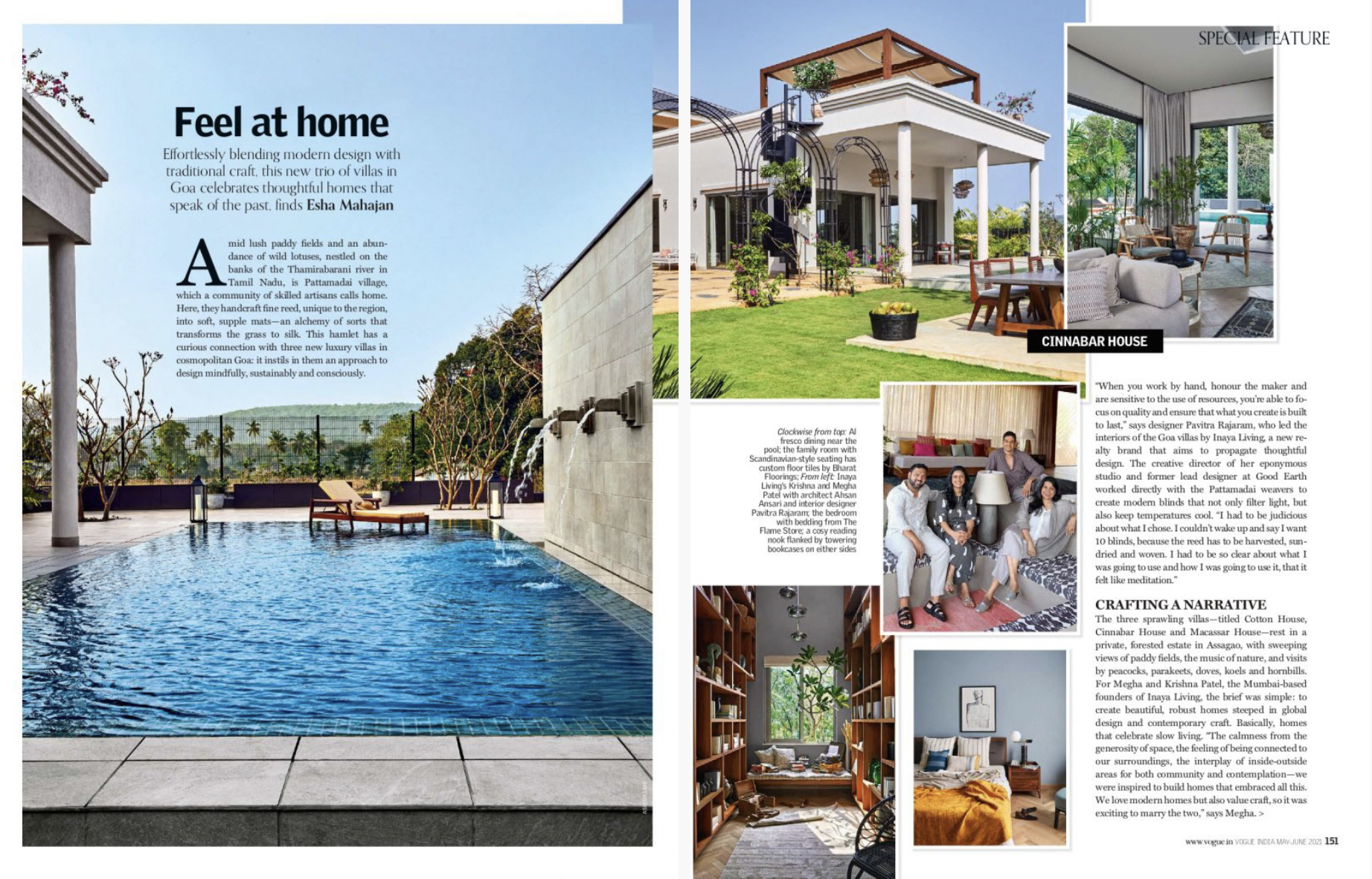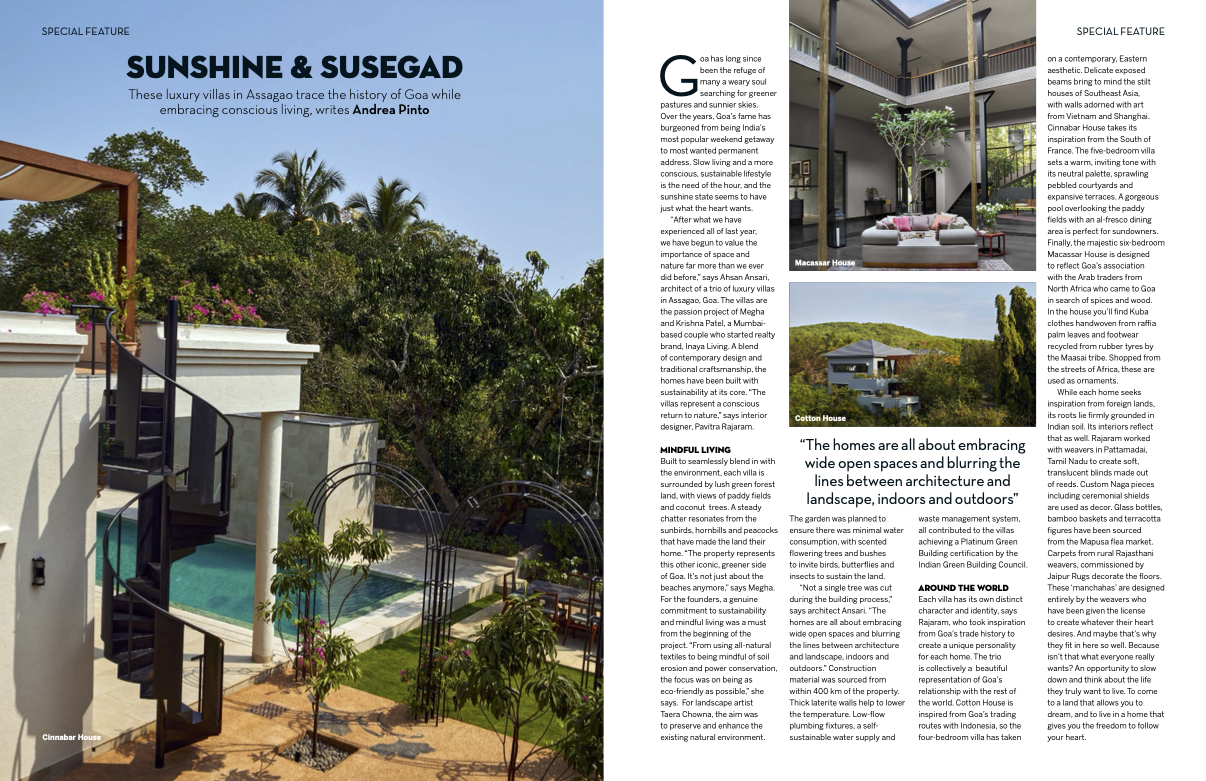 ︎
VOGUE
(MAY-JUNE 2021 ISSUE)
︎
CONDÉ NAST TRAVELLER

(MAY-JUNE 2021 ISSUE)
︎
ARCHITECTURAL DIGEST
(JULY-AUGUST 2021 ISSUE)
---
Artisans are designers who have impeccable craft–
The exposure to craftspeople through this project taught me that indigenous and local crafts are in fact works of fine design.



Collaborations require compromises and allow for more beautiful work to arise–
Working across firms and with community partners allowed me to learn to listen to others, and create and grow with them, through a conducive back-and-forth of ideas, beliefs and strategies.



The only way to design is to design sustainably–
This project was the perfect example of how beautiful and luxurious design can in fact be sustainable and beneficial to the local communities and peoples who are part of the process, even when done in the commercial space.



---
---
DISCLAIMER:
* THIS WORK WAS UNDERTAKEN DURING AN INTERNSHIP WITH PAVITRA RAJARAM DESIGN
** ALL WORK PRODUCT BELONGS TO INAYA LIVING
*** CONTENT ON THIS PAGE HAS BEEN TAKEN FROM INAYA LIVING, VOGUE & ARCHITECTURAL DIGEST, AND IS THE CREATIVE & INTELLECTUAL PROPERTY OF THE AUTHORS, DESIGNERS, AND CREATORS.
---