---
"DESI—GNED"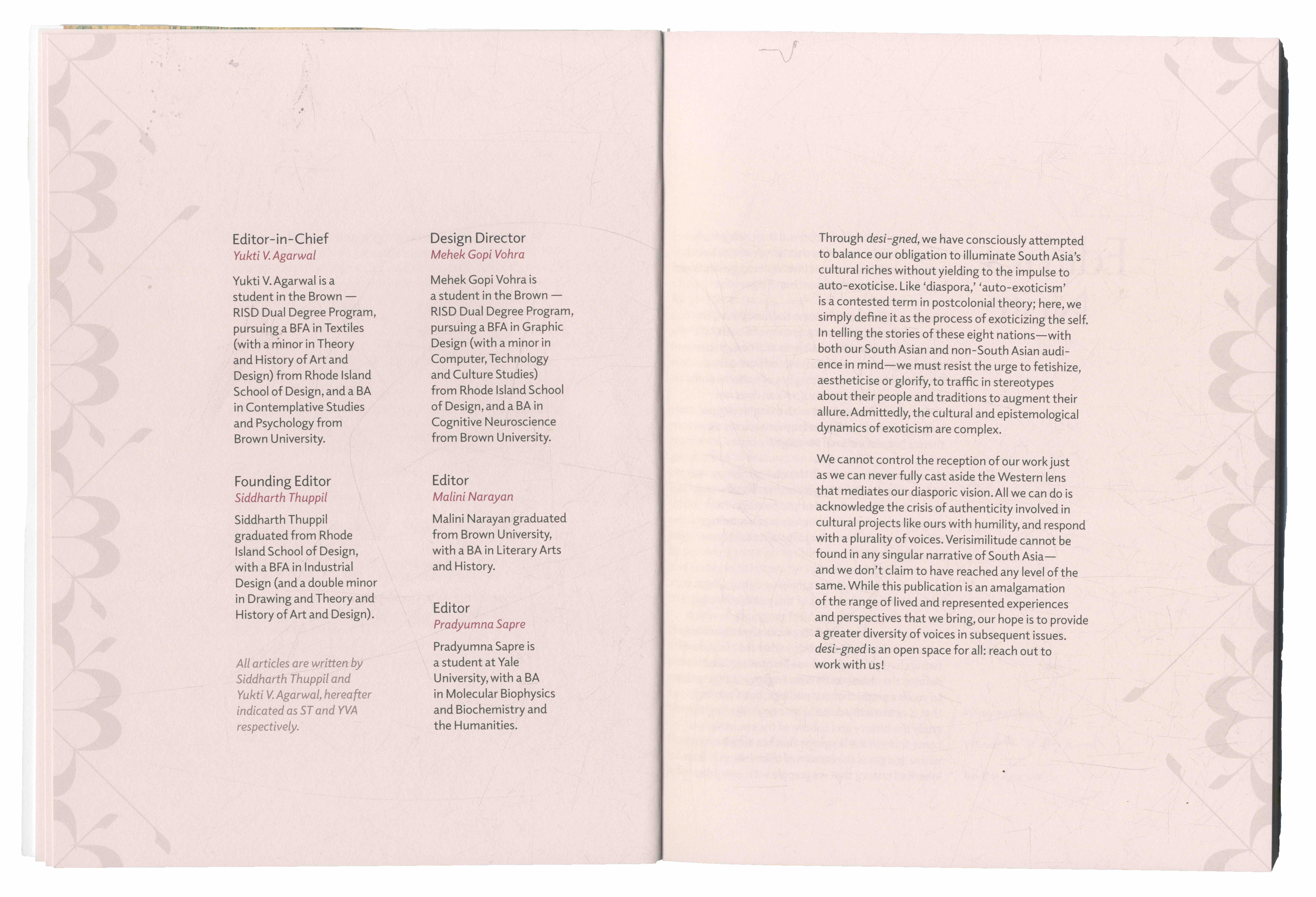 Client
Brown University and Rhode Island School of Design

Timeline


100 weeks (2021 - 2023)



Tools


G-Suite, Adobe InDesign



Skills


Team Management, Content Creation and Curation, Creative Direction, Editorial and Print Design, Community Outreach, Fundraising.



THE PURPOSE
Publishing New England's first publication focusing on the South Asian diaspora for global audiences, to present untold stories and build appreciation for the arts and cultures of South Asia.
Online publication on the Internet Archive ︎︎︎

More about "desi-gned" in the Brown Daily Herald ︎︎︎

---
THE TEAM

The publication was launched at Brown University, Rhode Island School fo Design, and Yale University, and the team comprised current students and alums. I focused on managing the entire project— from communicating with stakeholders and collaborators to distributing workloads amongst the team.


Yukti Agarwal—

Editor-in-Chief


Siddharth Thuppil—

Founding Editor
Mehek Vohra—

Design Director
Malini Narayan—

Editor


Pradyumna Sapre—

Editor

I was engaged in the process of developing and curating content— from writing many articles, to sourcing all images for the content. All content was written by Siddharth Thuppil and Yukti Agarwal, and edited by Malini Narayan and Pradyumna Sapre. I worked to collate all the articles and tie them together cohesively.

The design aesthetic of the magazine was developed with Mehek Vohra. I worked on designing individual articles based on the vision that I had for those articles, and provided constant feedback on the work developed to ensure the design was in line with the mission of the magazine.
THE APPROACH

With a small team, each person was involved in many tasks. We wanted to create a path that future editors could use to publish subsequent issues of the magazine. As the Editor-in-Chief, I was involved in all aspects of development:

Content Development:
Research and writing the articles (with references and credits) including exensive editing and fact-checking, as well as concept curation to present the content cohesively.
Creative Direction:
Curating the concept, content, and final look of the publication, including image sourcing, illustration, and editorial design.
Printing & Publishing:
Partnering with a local printing press to produce 400 copies of the publication with focus on sustainable design through considerations into paper quality, inks and coloring, and binding.



Fundraising & Strategic Partnerships:
Reaching out to many academic and cultural organizations and groups around the New England to fundraise so that this publication could be free on any financial barriers to entry.
Event Programming:
Collaborating with the RISD Museum to launch the publication in the Grand Gallery with a curated museum intervention, with live South Asian music, revised museum labels presentations, etc.
Circulation:
The publication was accessioned in many collections (including the

Providence Public Library,

John Hay Library, and

Thomas J. Watson Library at the Metropolitan Museum of Art

), and distributed to high-profile donors, musuem curators, faculty, and studnets of the universities.
---
ESTABLISHING IDENTITY
---
The publication's visual identity was developed with the designer to ensure it was rooted in South Asia's rich cultural heritage, while embodying a contemporary look to contextualize the collegiate spaces from which this work was developed.
MOTIF

The pattern is a marriage of the traditions of kolam (floor murals made using rice powder) from the South and jali (Arabic inspired stone curtains that are carved into arches and windows) from the North— the two most dominant aesthetic cultures from South Asia that comprise a multitude of sub-cultures and identities. It was used within secton dividers in the publication, and throughout promotional materials and signage.

LOGOTYPE

The logotype maintains the minimalist and contemporary look of the publication through the use of a consistent typeface. The variations, such as the use of the shirorekha (the upper horizontal line that joins composite characters), allude to the ornate aspects of the Devanagri script (that is widely used in South Asian languages).
GRAPHIC

The use of eight different stamps, one from each of the eight South Asian countries, was used consistently to develop a brand identity. The chosen stamps represent all the different aspects of South Asia's design culture, from architecture and painting to flora and fauna. This graphic was used to provide a bold, yet fun visual identity to the publication— dismanlting ideas of elitism and sombreness associated with academic dossiers.
---
MARKETING ASSETS
---

The branding and marketing assets were used to ensure that the publication was easily and widely recognizable to people around Brown and RISD's communities. With wide circulation there was success in developing recognizability around campus and even globally.

PACKAGING
Developing an openable cover to package sponsor's copies in. The package was optimized to reduce cost.
SOCIAL MEDIA
The publication, and the launch event were advertized on platforms such as Instagram and Facebook, and shared by many Newsletters, Newspapers, and Listserv Platforms.
NAME TAGS

All attendees of the launch event were invited to wear the customized nametags to faciliate more conversation and dialogue.
POSTERS
The event was free for all, and posters were circulated to increase attendance.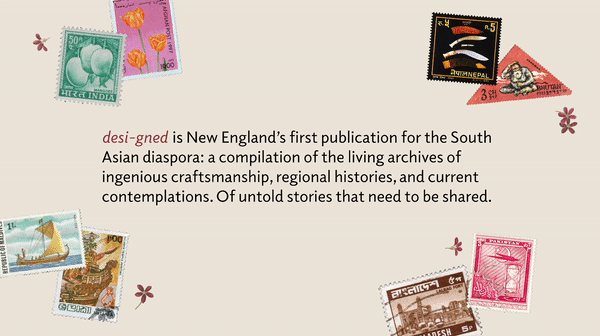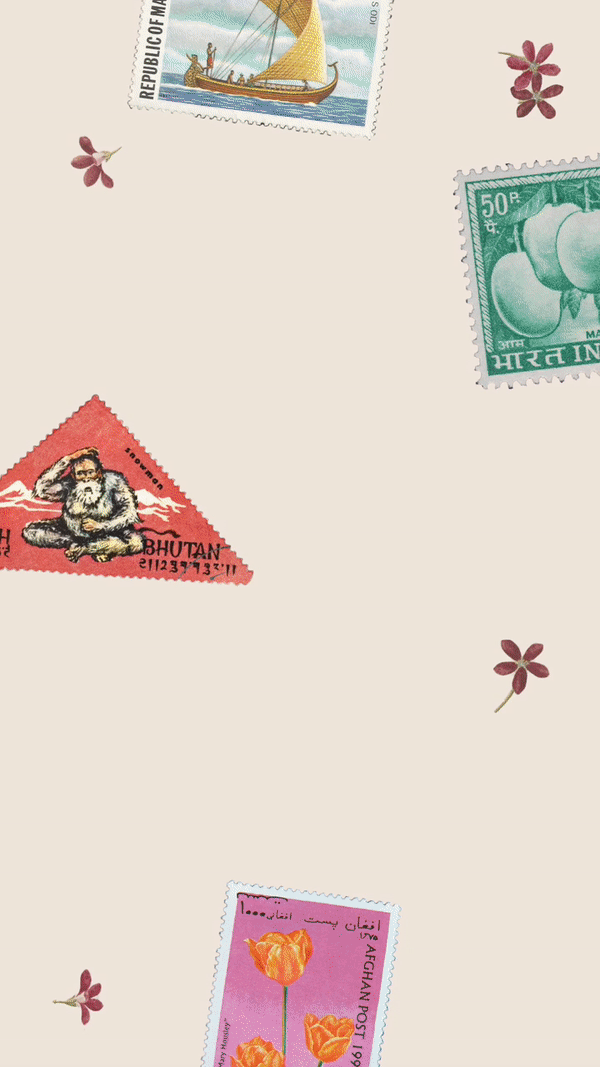 ---
PRINT & PUBLISHING
---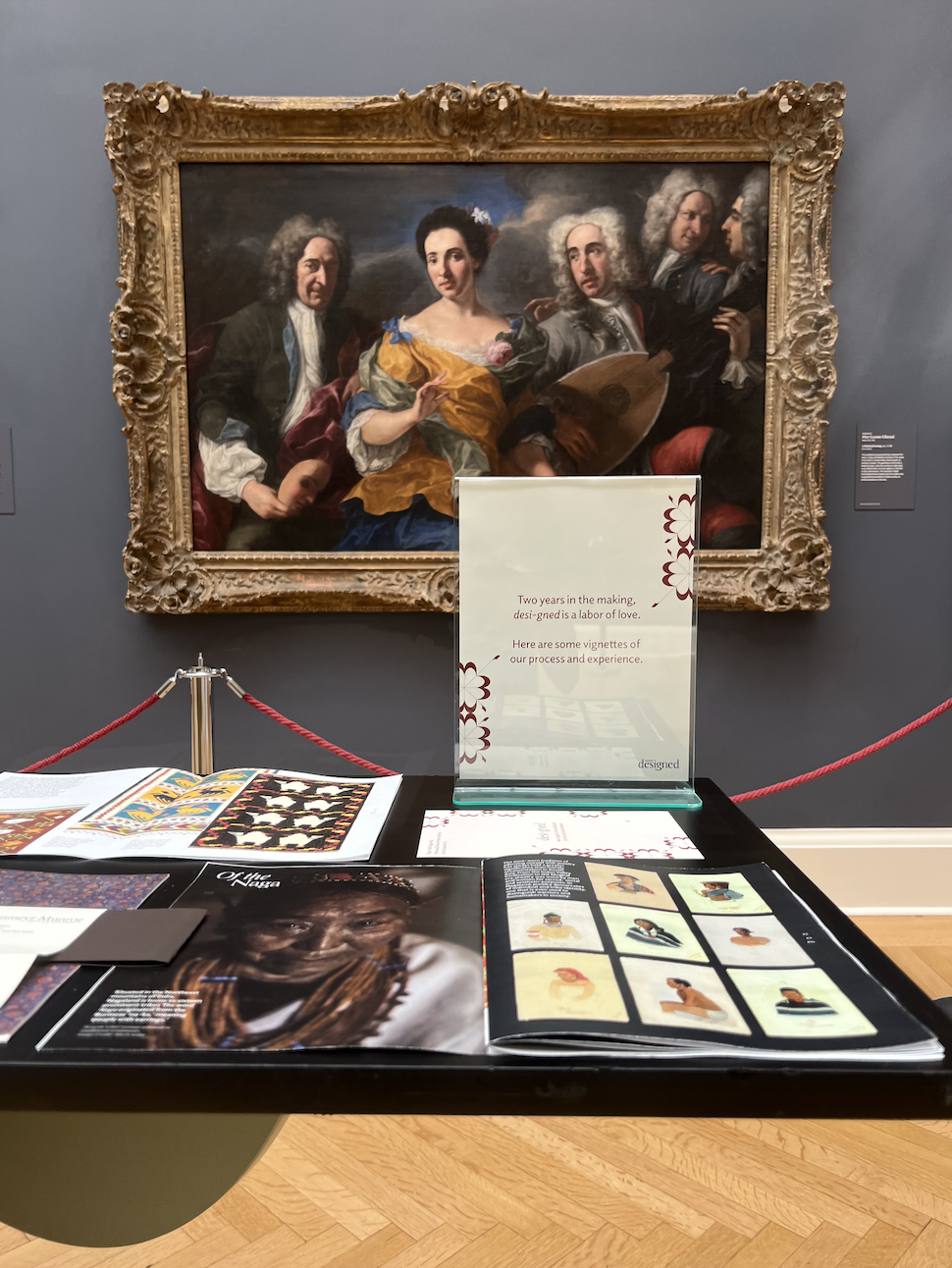 400 copies were printed by GHP Media, West Haven, Connecticut. We worked collaboratively with the publishers to identify papers, ink, and binding specifications. Based on pre-flight checks, we also had to work to replace many images to produce high-quality prints.

Paper Quality— Accent Opaque 70# Vellum
Size— 7.65 in x 9.9 in
Ink— 4/C Throughout
Binding— PUR Perfect Bound
---
FUNDRAISING
---
This publication was made possible due to the fundraising attempts we underwent. After contacting more than 200 people and organizations around New England, we received funding from many organizations.

As a result of the amount of copies we could produce, we worked towards accessioning the magazine in many public collections, including:


Providence Public Library
John Hay Library
John Carter Brown Library
Rockefeller Library
Thomas J. Watson Library at The Metropolitan Museum of Art
Providence Athenaeum
RISD Museum Library
The Fleet Library at RISD
Pembroke Center for Study of Women and Gender
---
LAUNCH EVENT
---
In collaboration with the RISD Museum, Saxena Center at Brown and Fleet Library at RISD, this event was a space for students to connect with artists, faculty, and staff who work in the areas of print and publishing, South Asian studies, and art and design research, as we celebrated with drinks, charcuterie, and live classical and contemporary South Asian music at the RISD Museum's Grand Gallery. The event was attended by over 200 people.


It is ironic that we were in the European galleries, celebrating a publication whose entire work has been focused on revisiting South Asian artifacts and stories from Euro-American archives that often overlook subaltern truths. The narratives of European culture are told without mention of their colonial origins. Histories of resource extraction and non- European aesthetic formativeness are rarely referenced in the architectural epicenters, or 'grand' galleries of museums.
Our response was to conduct a museum label intervention called "(Re)Painting Histories"


"(Re)Painting Histories" attempted to problematize and acknowledge the realities of cultural exchange, and sometimes even erasure, evident in the production of the works on view in this gallery. From Rembrandt's Mughal influences to the South Asian origins of the color yellow, we worked to curate a journey through the RISD Museum's collection far beyond what is exhibited on the walls of the Grand Gallery.
---
PERSEVERANCE!

More than anything, this project taught me the importance of persevering in the face of adversity and failure. Over the two years I spent on this, I learnt more than I could have ever imagined.

Marketing is a vital part of the each project–
Marketing, advertising, and lobbying are just as important, if not more, to catalyze change and instigate more people to participate in making change.

Management—
As one of the largest projects I have managed, it was an endearing project to take the lead on. I learnt a great deal about how to work around hectic schedules of college students, and create attainable goals to achieve for all team members.
---
---