---
CONTEMPORARY CHANEL
---
Timeline


3 weeks (Nov '21)



Independent Project

Tools


Silk wool, mohairs, and linens yarns




Silver Reed Single-Bed Knitting Machine




Adobe Illustrator, Pointcarré



Skills


Knitting, Pattern Drafting, Handseaming, Draping, Digital Prototyping, Colorway Development using Yarn Mixing



---
THE PROBLEM
Wovens are mostly cut-and-sew garments– they contribute to large amounts of fabric waste.


Can a woven garment be reimagined as a fully-fashioned knitted garment in order to enable more sustainable practices by reducing factory cut-room waste?



---
THE IMPACT
Designing for impact by creating a framework for exploring garments in a sustainable manner to avoid fabric waste from cut-and-sew fabrics.
SUSTAINABILITY–– The garment was made as a fully-fashioned knitted garment. This reduces factory cut-room floor waste (estimated at 60 billion m2 annually) in an attempt to be more sustainble for the planet.
THE APPROACH
The process of developing this garment included rigorous market research to understand the intricacies of luxury fashion's product design. The garment's design was rooted in researching and understanding a specific historic product, while contextualizing that design in another era of aesthetics to create a timeless and elegant product.

Phase 1– Research
Included primary and secondary market research into a Chanel bustier top from the 1990's, and design research into the 'retro bollywood' movement in India from the same decade.
Phase 2– Prototyping
Comprised intensive hands-on color swatching and yarn mixing in an iterative process, in addition to using industry-specific software to draft knit patterns. This stage focused heavily on assessing the structural integrity of knitted fabrics when attempting to recreate a woven as a knit.
Phase 3– Designing the Product
The garment was designed using shaping techniques on a single-bed knitting machine to create a fully-fashioned knit catering to the body of the traditional 90's Chanel consumer.



---
PHASE 1– RESEARCH
---
MARKET RESEARCH– "CHANEL"
Investigating the tweed bustier top by Chanel, showed first on the 1993 Runway, through market research into colorways, pattern construction, and advertisement campaigns.
DESIGN RESEARCH– "RETRO BOLLYWOOD"
The 90's was the 'retro bollywood' era in India. Old photographs from the period were collected and used as inspiration when reimagining the original design of the bustier.

---
PHASE 2– PROTOTYPING
---
SAMPLING & CONCEPT WALL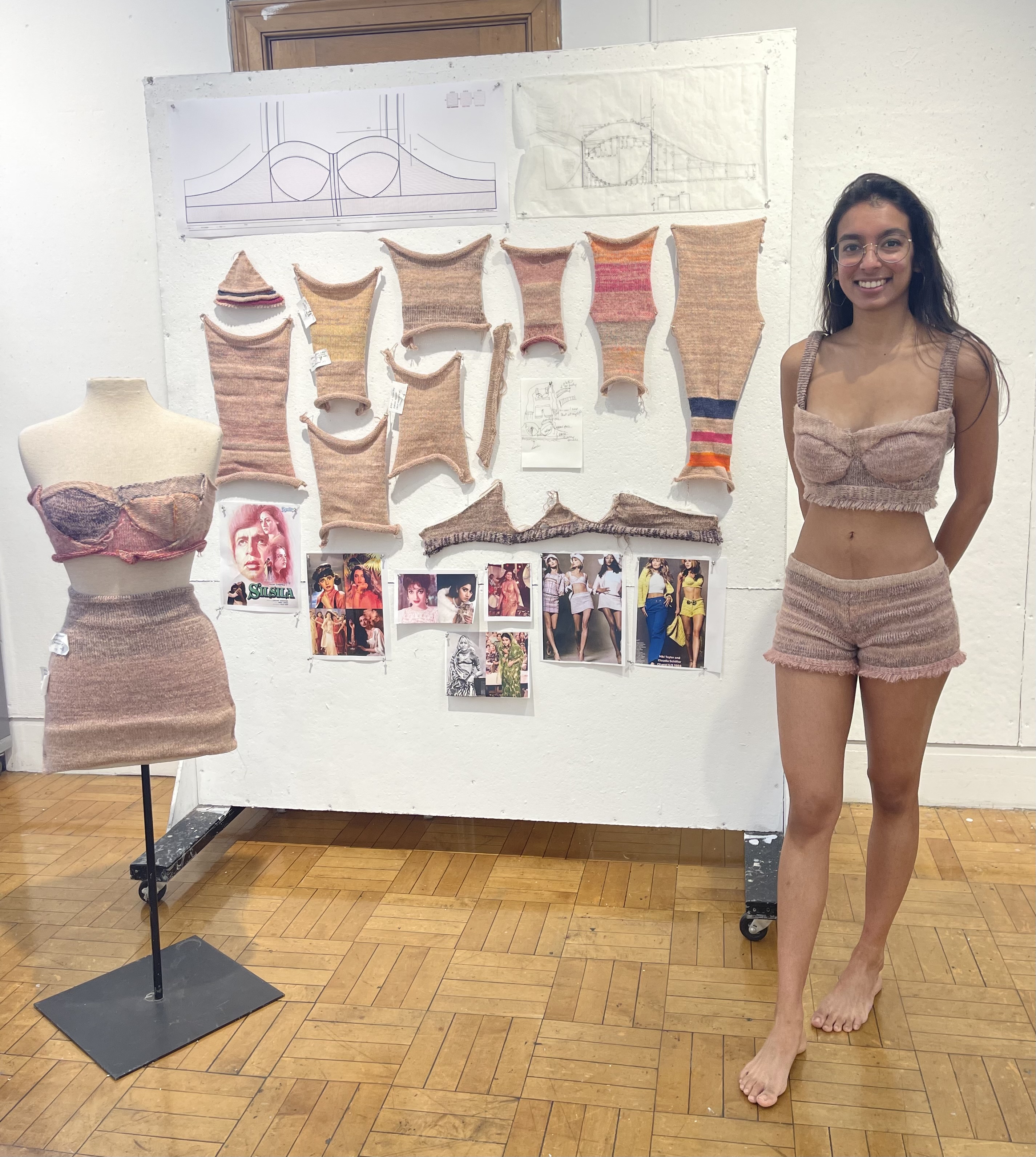 ---
DIGITAL PATTERN DRAFTING
Using Adobe Illustrator and Pointcarré a knitting pattern was developed based on sampled colors to create a clear draft of the pattern as an aid when developing the fully-fashioned knits.
---
PRELIMINARY COLOR SWATCHING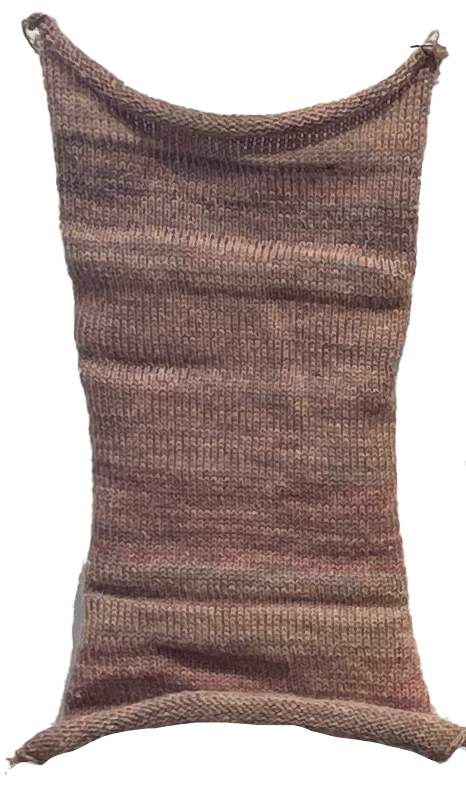 The color of the fabric was given great consideration. Over 25 samples of different yarn combinations were tested before selecting 3 colors which were used in different parts of the garment to provide an melding of colors with added visual comlexity.
---
PHASE 3– PRODUCT
---
SAMPLE DEVELOPMENT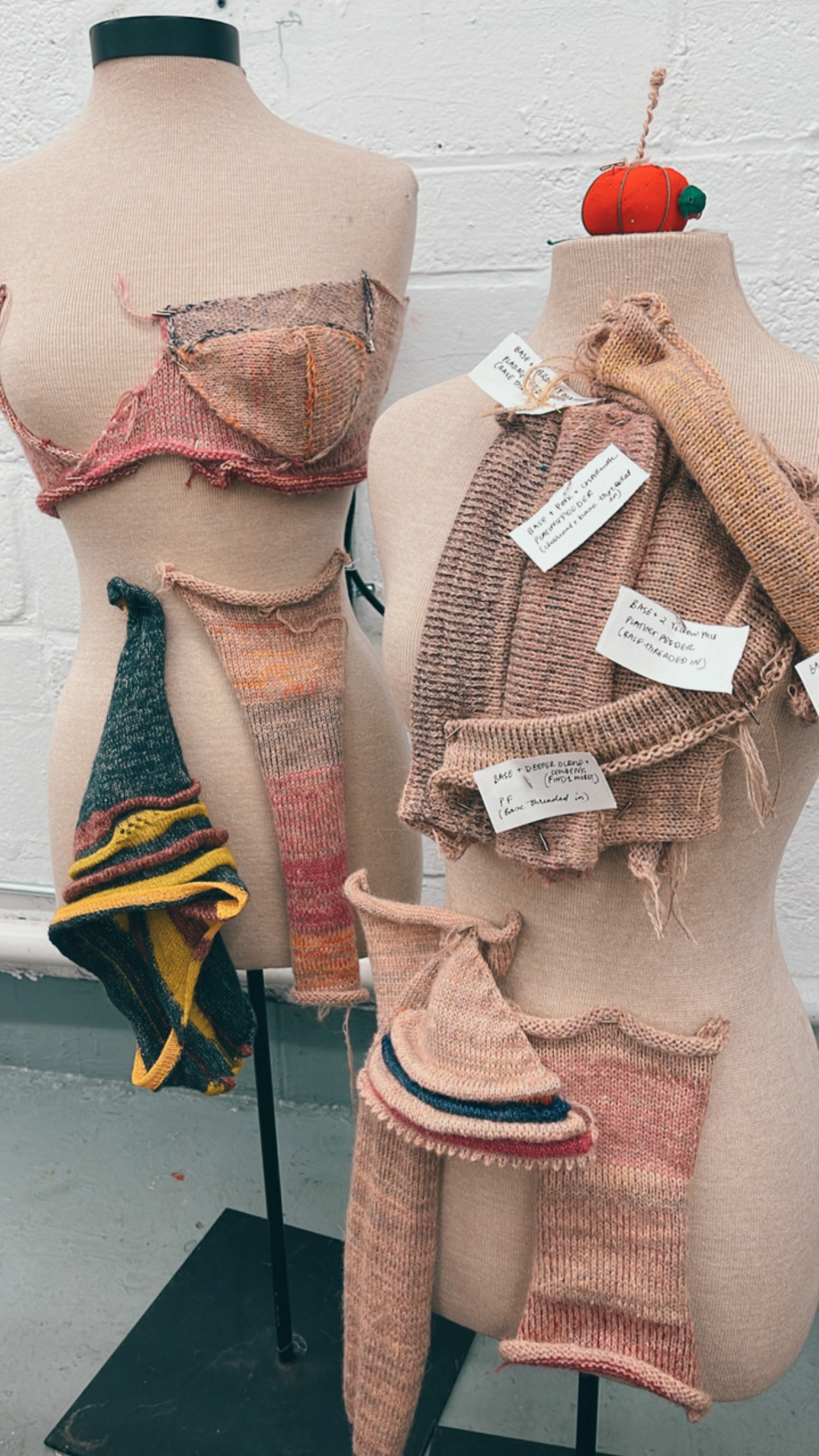 The garment was constructed by individually handcrafting each section as fully fashioned knits which were hand-seamed as done in the Chanel ateliers.
---
STUDYING THE GARMENT IN MOTION
The garment was deconstructed and studied carefully, to be remade in a manner such that it was tailored to the body in knitted fabrics instead of woven fabrics.
---
EXPERIMENTS IN COLLAGING
As a quick experiement, a new idea of multi-coloured brassiers were developed using the plating feeder, to adapt this timeless design into more contemporary 'teen' aesthetics as seen in brands such as Victoria's Secret, Hot Topic, and Garage.
---
The human body is the most important factor to account for–
Unlike other apparel projects I have undertaken, I wasn't focusing as closely on the hman body as I usually do, since most of my focus was redirected to deconstruting the garment itself. However, a more human-centered approach is much more important in understanding garments and apparel.

Hands-on market research allows new discoveries to unravel–
During the process, I was surprised by the amount of nuances in the garments I was studying and recreating. I did not expect them– tehey simply were part of the process of experimentation and research.



---